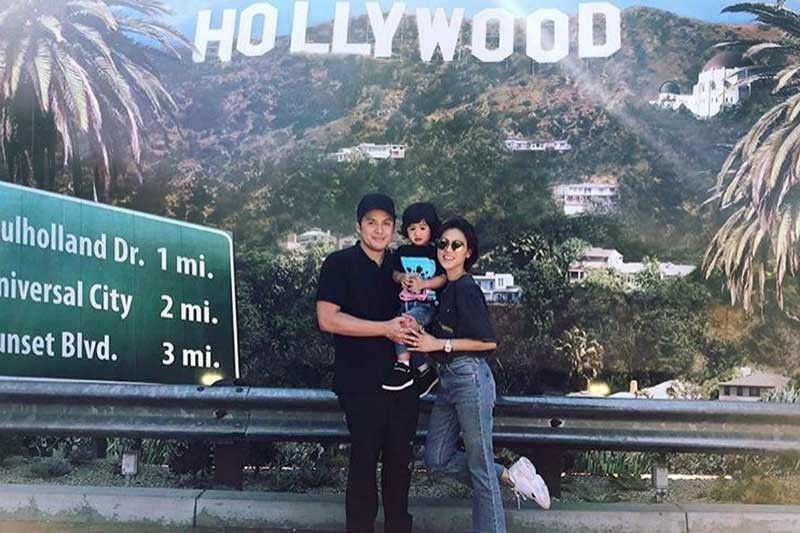 Director Paul Soriano with wife Toni Gonzaga and their son Seve during a recent family vacation in the States. 'My First Love was the person I chose to spend the rest of my life with…the moment I knew that it was my last.'
How Aga & Bea made Paul's dream come true
CONVERSATIONS
-
Ricky Lo
(The Philippine Star) - October 14, 2018 - 12:00am
It's a small world, after all. So says the song that welcomes visitors to any Disneyland in the world.
And so it is in the case of director Paul Soriano and Aga Muhlach. Did you know that Paul was two years old when his father, Jeric Soriano, directed Aga in the 1984 landmark "youth-oriented" flick Hotshots, the sequel to Maryo J. delos Reyes' Bagets which also topbilled Aga (including Herbert Bautista and Raymond Lauchengco, plus Gary Valenciano).
"I was seven years old when I saw Hotshots," recalled Paul who has just directed the Aga Muhlach (as he referred to the actor) in First Love, co-produced by Star Cinema, Viva Films and Ten17P (Paul's own company named after his birthday, Oct. 17, which also happens to be Bea's birthday and the opening date of the movie).
"I have watched Hotshots several times," added Paul, along with Aga's other starrers, as part of Paul's preparation for First Love which he described as "a dream come true" made possible by Aga and Bea. (The movie was shot entirely in Vancouver.)
Lest Conversations spoil the suspense, no clues will be given as to what happens to Aga's and Bea's characters. Just find out for yourselves.
A love story calculated to pinch moviegoers' hearts, First Love departs from Paul's other movies which tackled more serious themes, such as Transit (the plight of an OFW), Thelma (about a track-and-field athlete; for which he won Best Director), Dukot (about a kidnapping case), Kid Kulafu (about the rise of Manny Pacquiao) and Siargao (Best Director and Second Best Picture winner in the 2017 Metro Manila Film Festival).
In this Conversation, Paul talked about the long and winding road to the fulfillment of his big dream.
How was work on First Love compared to work in your previous movies?
"This was the most challenging film I've ever worked on. It was a battle to make this film a reality, but it was all worth it at the end of the day. I'm so humbled to say that I was able to experience working with one of the best actors in Philippine Cinema, Aga Muhlach. I've always wanted to work with him and I worked hard to make this happen. It took three years of pitching concepts and stories to Aga, but none of them really worked out. But Aga always told me, 'Let's find the right story because I really want to work with you.' And he was true to his word."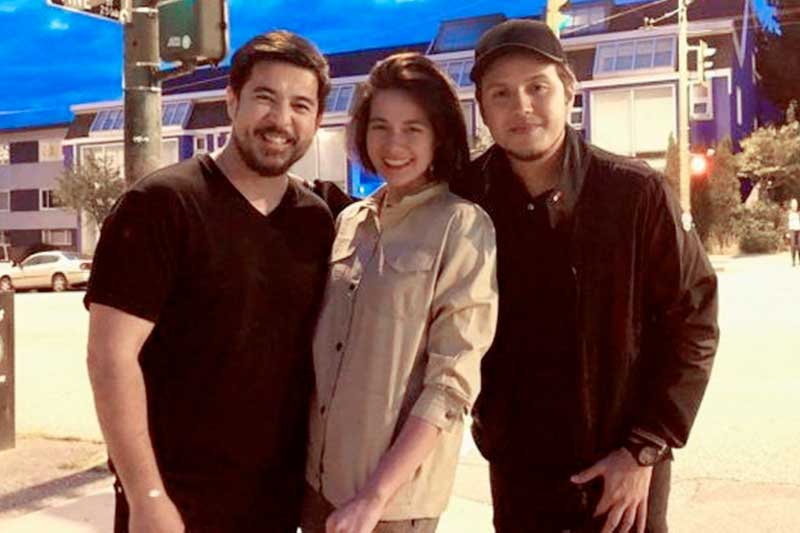 'I worked hard and fought my way to earn the right to direct an Aga Muhlach in First Love,' says Paul. 'And there's Bea Alonzo, one of the best actresses of her generation. The dream got bigger when she agreed to be a part of the film.'
So how did you finally find the "right" story?
"I pitched more concepts to him. There was even a time when I was in Los Angeles and I found out he was in Las Vegas. The next day after he said he was free to meet, I drove from Los Angeles to Las Vegas just to pitch him a concept and again he told me, 'Let's work on the concept, but I really want to work with you.' Then weeks later, I thought of this concept. He invited me to his home and I pitched it to him. Before I could even start my pitch, he told me one thing, 'Paul, I want to work with Bea Alonzo.' When he said that, I knew this was the right concept because in my presentation which I had printed out, I had a photo of him with Bea Alonzo. I worked hard and fought my way to earn the right to direct an Aga Muhlach and it was a dream come true."
How did Bea get into the picture?
"Then there was Bea Alonzo, one of the best actresses of her generation. The dream got bigger when she agreed to be a part of the film, and I knew I had to make the most of this moment, to fight and work hard to make sure this story got told. Bea is a genuine professional who seeks only perfection in her craft; she's serious about her work and that's all I could ever ask for. Bea made my dream come true and I'll forever be thankful and grateful to her for this, for trusting me with this project."
And how was the experience of finally working with Aga and Bea?
"It was an amazing experience to see these two great actors create their characters right in front of me. Aga and Bea were very collaborative and very generous; they did everything I asked them to do, they would also even suggest their own ideas on how they would want to attack their characters which made the story better. They came every day to the set prepared and ready to go, ready to work. What I really appreciated the most was they gave their all to this film, I could feel their passion and dedication every day on set."
When did you become aware of Aga's reputation as a fine actor (which of his movies have you seen)?
"The very first film of Aga that I saw was Hotshots, which was directed by my father, Jeric Soriano. I fell in love with that film. I was about seven years old when I saw it. Growing up, being around the industry because my grandfather Nestor De Villa being an actor and my father being a director, the name Aga Muhlach I would always hear; his name was always associated with box-office movies, top-rated TV shows and one of the country's top endorsers. He was always winning an award and today is known as one of the best actors in Philippine Cinema.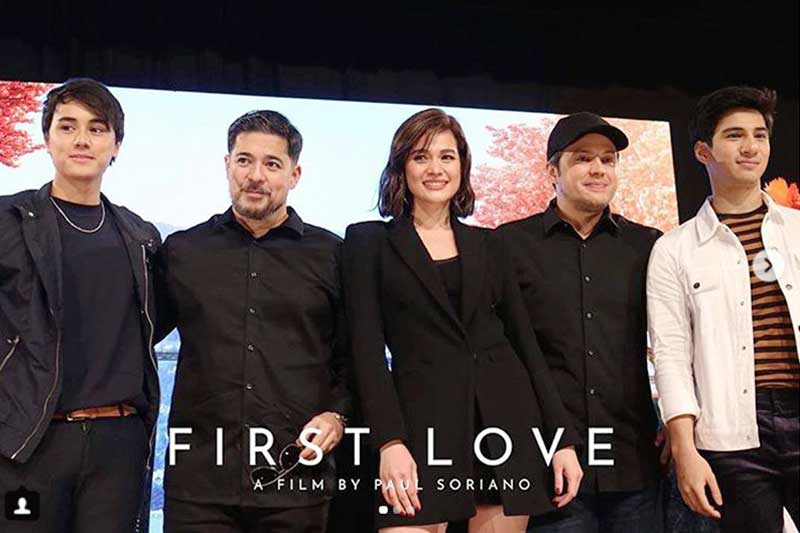 With Aga and Bea, and Edward Barber (leftmost) and Albie Casiño (rightmost), two of First Love's young cast: I always feel pressured and nervous with every film that I do, with every story that I tell. That's because I'm passionate and love what I do.
"I've seen a lot of his films. I re-watched a lot before I worked with him on First Love. I saw Hotshots, Sana Maulit Muli, All My Life, A Love Story, Dubai, In The Name of Love, to name a few."
Small world, right? Before, it was the father who directed Aga and now, it's the son.
"Yes, I know. Hotshots was the first Filipino film I ever saw and I loved that film. I kept watching it over and over again. I still have the Betamax copy of Hotshots. I believe that Hotshots was ahead of its time!"
What memories does First Love evoke for you (recall your first-love experience)?
"First Love reminded me that my First Love was the person I chose to spend the rest of my life with, the moment I knew it was my last, and that's Toni, and because of that love with Toni, I am now able to experience a love like no other, and that's with Seve, our son."
What does the movie remind you about Toni and yourself?
"That we constantly work on our marriage and remind ourselves that we are each other's First Love. We always try to do something new and fresh, find something to do for the first time, make sure we find time to do things that we've never done before and most importantly right now is make time for each other, and make time for Seve."
After winning major awards for Siargao, do you feel pressured/challenged to surpass yourself? (Paul produced but did not direct Mary, Marry Me, an official 2018 MMFF entry starring his wife Toni Gonzaga and his sister-in-law Alex Gonzaga.)
"I always feel pressured and nervous with every film that I do, with every story that I tell. That's because I'm so passionate and love what I do. I work hard every single day, never stop learning and to make sure that each film, each story I tell is the best work I know I've ever done and this is what I want to do for the rest of my life."
(E-mail reactions at rickylophilstar@gmail.com. For more updates, photos and videos, visit www.philstar.com/funfare or follow me on Instagram @therealrickylo.)