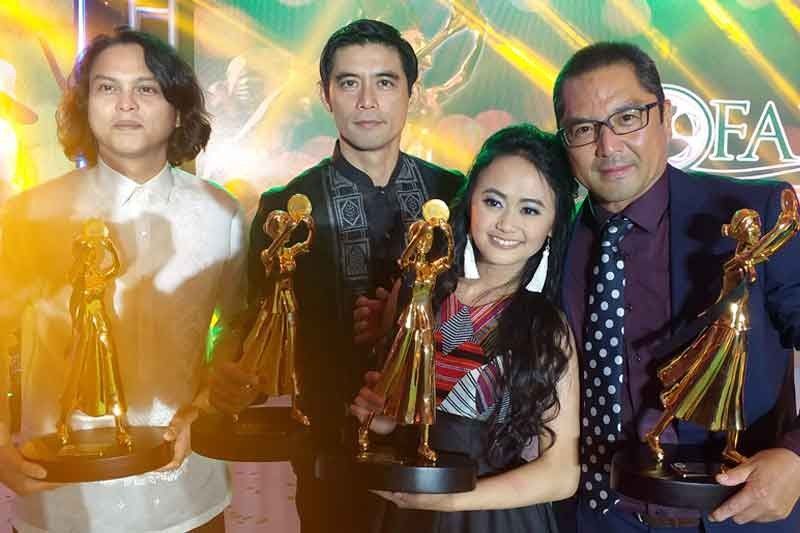 From left: Tanabata's Wife director Hubert Tibi, Richard Quan, Mai Fanglayan and Miyuki Kamimura
Impressions on 4 ToFarm films
• Tanabata's Wife ("Heart is a lonely hunter")
MANILA, Philippines — A haunting flute refrain drifts in the dark along ancient pine trees and seems to hang and nestle among the needles that further deepen the desolation of the place.
It's one of the scenes that really makes this film a cut above the rest. As one film critic would say, it's unique and impressive.
And visibly with Japanese influence in texture and tone leading one to wonder if it belongs to this ToFarm filmfest.
Based on a short story by Sinai Hamada in the 1920s, it tells of a story of one Japanese migrant farmer Tanabata (Japanese actor Miyuki Kamimura) who settled in Trinidad Valley and grew cabbage and hired a Bontoc maiden Fasang (Mai Fanglayang) as a farmhand.
They eventually fell in love, lived together and had a baby. They seemed to have settled in quiet bucolic existence in that farm land that boasts of lush greenery until Fasang became fascinated with the lights and tinsels of the emerging city Baguio, got lured with the movies and had an affair with a local tribesman.
She soon left Tanabata but her lover Okdo started blaming her child for all the misfortunes he was encountering and threatened to kidnap or kill the baby.
Realizing her child was missing, she ran after the tribesman and hacked him to death.
The film ended with Tanabata grappling with grief and loneliness in his hut until he heard a baby's cry in the dark and he broke down in a surge of joy and relief in the most powerful scene in the film.
A scintillating experience. Although there's minimal of dialogue — in Japanese and Ilocano — and bare in imagery, Tanabata's Wife — directed and written by Charlson Ong with Lito Casaje and Choy Pangilinan — is one "moveable feast."
Cinematographer Nap Jamir further enhances the cold, desolate mountain setting with panoramic shots at dusks and close-up of main characters in pensive mood so evident in classic Japanese movies.
Tanabata's Wife was adjudged Best Film and racked up the most number of awards like Best Director — shared by Ong, Casaje, Pangilinan; Best Actor (Kamimura), Best Actress (Fanglayan), Best Cinematography (Jamir), Best Screenplay (Ong, Casaje, Mao Talas, Juan Carlo Tarabal) Best Editing (May-I Padilla).
• Alimuom
An ambitious futuristic film that starred the talented Ina Feleo, and written and directed by Keith Sicat, it tells of life in dystopian times when the earth turned toxic and unable to grow plants, Filipinos living in bio domes and scour other planets that would be conducive to growing crops through OFWs (OuterSpace Filipino Workers).
They finally ventured in a rebel-infested region where they found plants in full growth.
The film reminds one of the high-tech sequence in Minority Report, the scheming corporation in The Alien and that galaxy "far, far away" where the evil empire tried to contain the rebellion in then Star Wars.
Still, it is one of the top contenders for the filmfest's Best Movie award.
• 1957
There's this uncanny but similar situations in the film Liway in the Cinemalaya festival, where rebel leaders were being led out of the military detention center presumably to be "salvaged" only to be saved by the tumultuous EDSA revolt that which installed Cory Aquino as the new president. She gave amnesty and ordered the release of all political detainees the instant Ferdinand Marcos was exiled to Hawaii.
The decision saved the lives of the detainees.
In 1957, it's the corn farmers of Bicol who were trying to free themselves from the bondage of feudal system and went mano-a-mano with a shrewd landlord (played by Menggie Cobarrubias) taking the lion's share of the produce.
But the farmers, led by one former member of the Hukbalahap (Best Supporting Actor awardee Richard Quan), agitated against the system and cited then president Magsaysay's land reform program.
In fact, they were preparing a grand welcome for the president planing in from Cebu to implement the program.
But it wouldn't happen. Somewhere in Mt. Pinatubo the presidential plane crashed, killing Magsaysay and crushing the hopes of the farmers for a better life, Magsaysay's death drew a major setback in the government's land reform program that to this day has never been fully implemented.
The film, directed by Huber Tibi, was named second Best Picture.
• Sol Searching
It's a tale of a corpse in search of a wake, leaving a wide swath of hilarious, incredulous, amazing and simply comic scenes in its wake.
Teacher Sol (Best Supporting Actress awardee Gilleth Sandico), a serious school teacher who advocated anything including organic farming, suddenly died of aneurysm in her small school in a small community and Miss Baloloy (Pokwang) tried to give her friend a decent wake, not knowing that in every mishap and outrageous misstep she would make to transport the body with the help of a chubby pupil in afro hair, her friend would be tossing and rocking in her coffin.
Frantically trying to transport Sol's remains, Miss Baloloy and the boy bugoy hitched a ride in a fire truck rushing to a fire scene (coffin and all) rocked atop a cart pulled by a carabao, stole a kariton of a scavenger and agonized in the chug-chug run of a farm vehicle called kuliglig. How's that for an opener.
Then, the movie totally went out of control and turned a virtual train-wreck with hilarious plot and subplots that would involve a corrupt barangay chairman, an unscrupulous principal and long-lost lover (Joey Marquez) who would use charm and sex for cash, body and Sol.