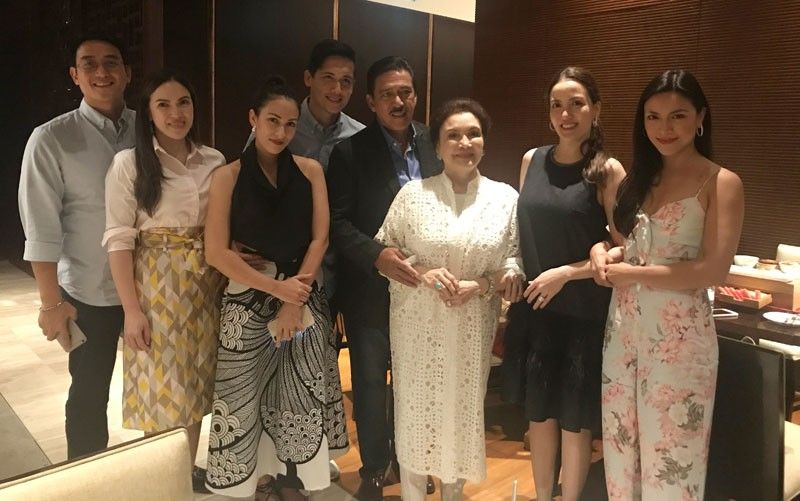 Birthday celebrator Sen. Tito Sotto and wife Helen Gamboa-Sotto with their children and in-laws (from left) Michael Antonio and Lala, Joy Woolbright and Gian, Apple and Ciara
Sen. Tito Sotto: 70 is the new 40!
FUNFARE
-
Ricky Lo
(The Philippine Star) - September 13, 2018 - 12:00am
Married in December 49 years ago, Tito Sen and Helen won't celebrate until next year on their 50th wedding anniversary.
So what is it about the number 9 that many people (especially the superstitious) steer clear of it when celebrating a milestone in their lives?
Is it because (especially) the Chinese believe that any number that goes downward (like 1, 4, 7 and, that's it, 9) brings bad luck?
Is 9 really such a bad-omen number compared to the number 8 which signifies endless blessings, that's why it's so considered the luckiest number that wealthy car-owners in a Chinese-dominated country would shell out a fortune for an 888 car plate?
Sen. Tito Sotto is among believers who avoid celebrating an occasion with a date that ends in 9.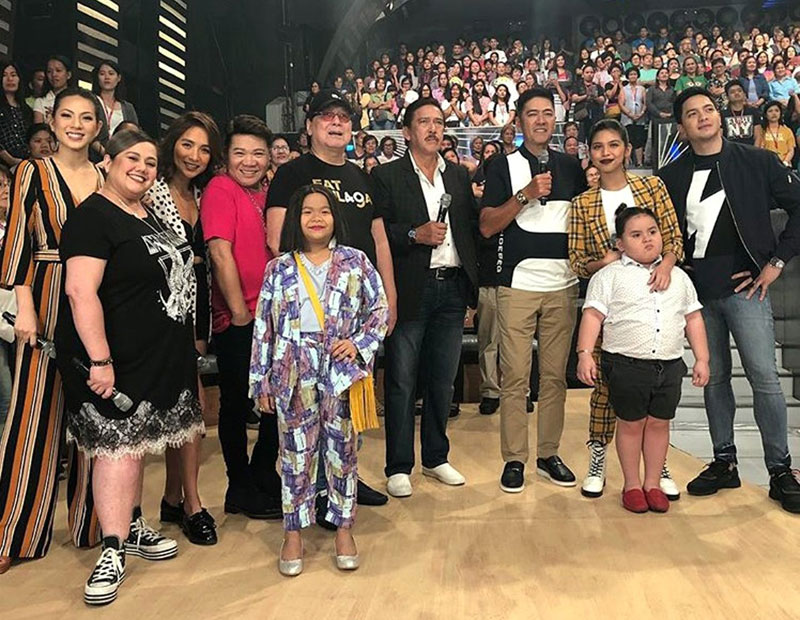 On Sept. 1, Tito Sen (in dark suit) and his Eat, Bulaga! dabarkads watch as Tito's wife Helen (off camera, with the Broadway Boys) dedicate to him love songs including their theme song Two For The Road
"There's really a kasabihan (belief) not only among the Chinese that it's not good to celebrate your birthday if your age ends in 9," admitted Tito Sen who turned 70 last Aug. 24, a Virgo. "It's better daw to celebrate kapag lumampas ka sa edad na may 9. Before, it was considered a bonus if you hit 60, which they say is matanda ka na, and they tell you to try to reach 70. Now, 70 is the new 40."
Also born in 1948, two of Tito Sen's colleagues have also just turned 70, Gringo Honasan and Ping Lacson.
"They are a few weeks older than me," noted Tito Sen.
Turning 70 is a reason to really celebrate and Tito Sen did just that…not once, not twice, not thrice but four times, first with his Eat, Bulaga! dabarkads in Hong Kong where they spent four days and three nights; on D-Day itself (Aug. 24) with his family, relatives and close friends at Solaire; with his fellow senators and the Senate staff on Aug. 28 when he gave catch-all leather trays (designed by his wife Helen Gamboa-Sotto) to his colleagues as souvenirs ("Si Tito lang ang nagbi-birthday na siya pa ang nagre-regalo," commented one senator); and on Sept. 1 at a Chinese restaurant in Grand Hyatt at BGC for his and Helen's showbiz friends (June Torrejon-Rufino, Dolor Guevarra with daughters Anes and JP, Malou Choa-Fagar, Lawrence Tan, Shirley Kuan, Danny Dolor, Marichu "Manay Ichu" Maceda and sister Lilibeth, Gelo Jamias and Mother Lily who left for New York and Canada the next day), on hand to help the couple entertain guests were their children Apple, Ciara and Quezon City Councilors Lala with husband Michael Antonio and Gian with wife Joy Woolbright).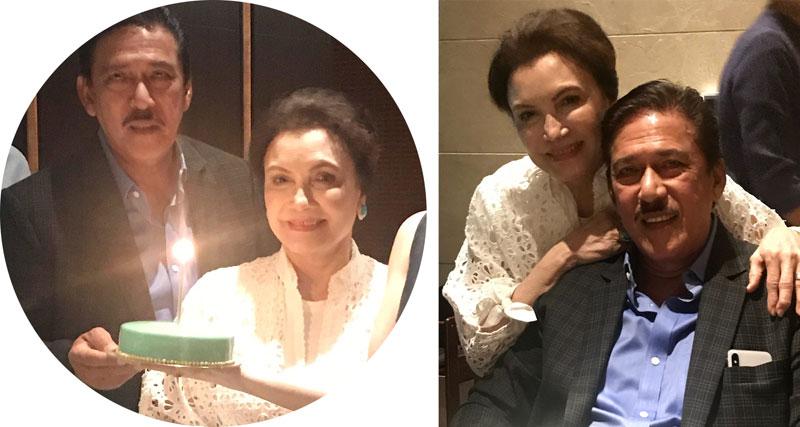 Tito Sen didn't make any wish before he blew the candle on his birthday cake. 'I have been blessed much much more,' he says. 'My only wish was fulfilled 26 years later. That was a long shot and I have forgotten about it until I was named Senate President.'
Tito Sen's birthday wish?
"Nothing more," said Tito Sen. "I have been blessed much, much more. You know, in 1992 when I was elected vice mayor of Quezon City, I would preside over the City Council. When I was first elected senator, I would look at the Senate podium and dreamed when I would be sitting there. It was a long shot and I have forgotten about it. That was 26 years ago. That long shot has been fulfilled."
Postscript: Married in December 49 years ago, Tito Sen and Helen won't celebrate until next year on their 50th wedding anniversary.
(E-mail reactions at rickylophilstar@gmail.com. For more updates, photos and videos, visit www.philstar.com/funfare or follow me on Instagram @therealrickylo.)