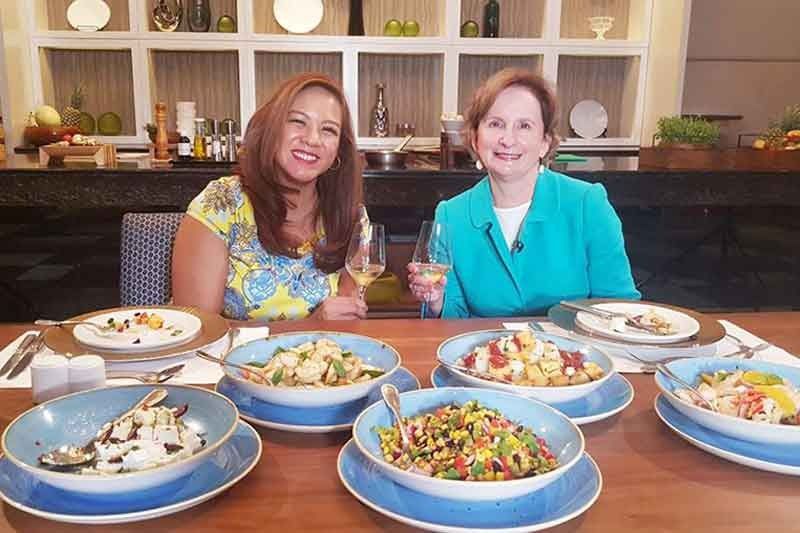 Food Diplomacy host Annalisa Burgos with Australian Amb. Amanda Gorely for a meal of appetizers, meat and pavlova
When food and politics mix on television
KAPAMILYA DAY
-
Kane Errol Choa
(The Philippine Star) - August 24, 2018 - 12:00am
Politics and foreign affairs take a casual turn in Food Diplomacy, a segment in the morning news program Early Edition on ANC, the ABS-CBN News Channel.
Anchored by Annalisa Burgos, Food Diplomacy takes viewers on a globetrotting journey right in Manila as the seasoned international journalist sits down with foreign ambassadors at the comforts of their homes to discuss trade, politics, policies, economics and business opportunities.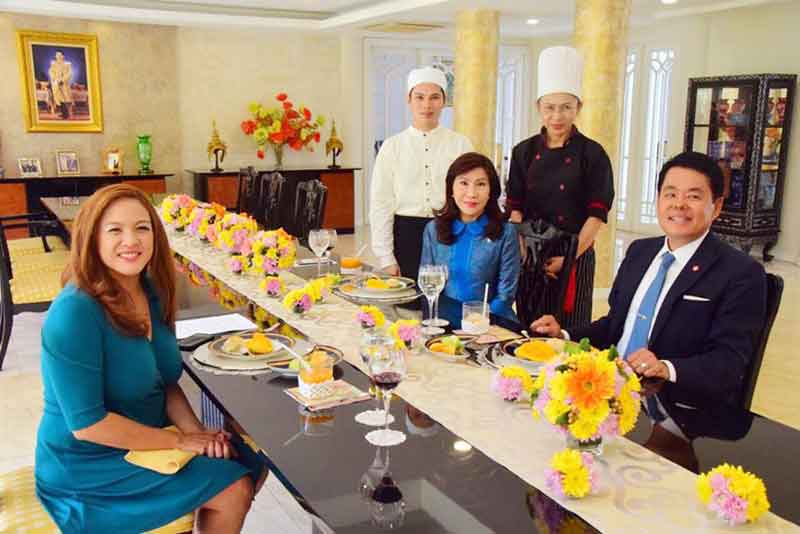 Talking to Thai Amb. Thanatip Upatising and wife Bee about the culture of the Land of Smiles
The segment, which airs Fridays at 6:45 a.m. during Early Edition, has featured the likes of Ambassador Daniel Pruce from the United Kingdom; Ambassador Nicolas Galey from France; Ambassador Sung Kim from the United States of America; and Ambassador Hamad Saeed Alzaabi from United Arab Emirates.
According to Annalisa, Food Diplomacy invites viewers to learn about other food cultures, understand historical ties with other countries, and meet the ambassadors who are working to strengthen ties with the Philippines, beyond the headlines.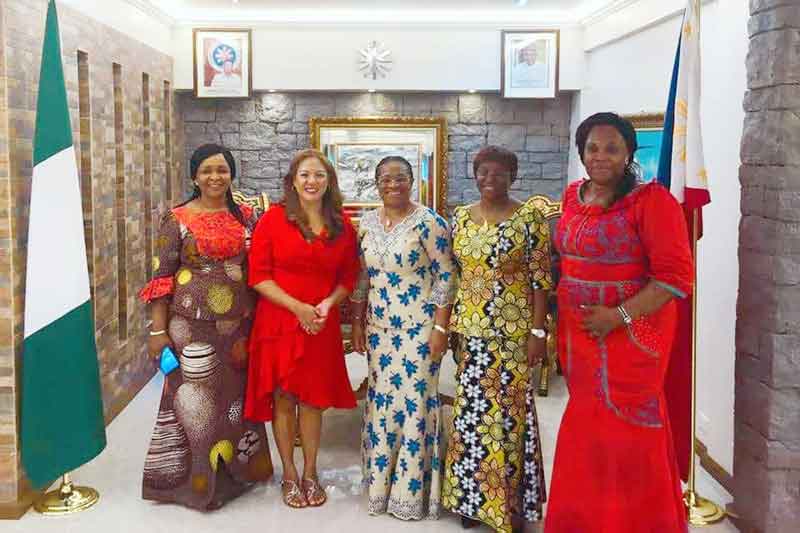 At the home of Nigerian Amb. Sonaike-Ayodeji
"Food makes politics and foreign affairs fun," said Annalisa. "Everyone loves food, but not everyone knows what the governments of other countries are doing in the Philippines and the role they play in local economies.
With a more comfortable setting compared to the usual sit-down formal format of news programs, Annalisa's segment is able to show ambassadors as regular people, revealing their human side to viewers, and more than just talking heads who give speeches and do signings.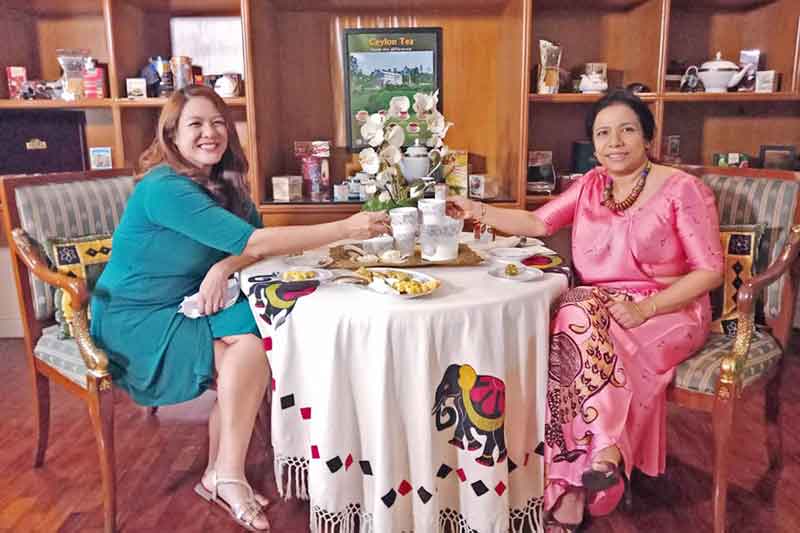 Discussing bilateral relations with Sri Lankan Amb. Aruni Ranaraja over cups of tea and curry dishes
"It's pretty amazing that I get to talk about fighting illegal drugs over tequila with the Mexican ambassador, discuss historical military ties over steak with the American ambassador, reflect on counter-terrorism during an Eid meal with the Indonesian ambassador, and mull over human rights over pea and pork soup with the Dutch ambassador," she shared.
Annalisa said it is important for Filipino viewers to hear these kinds of conversations, especially in this era of globalization.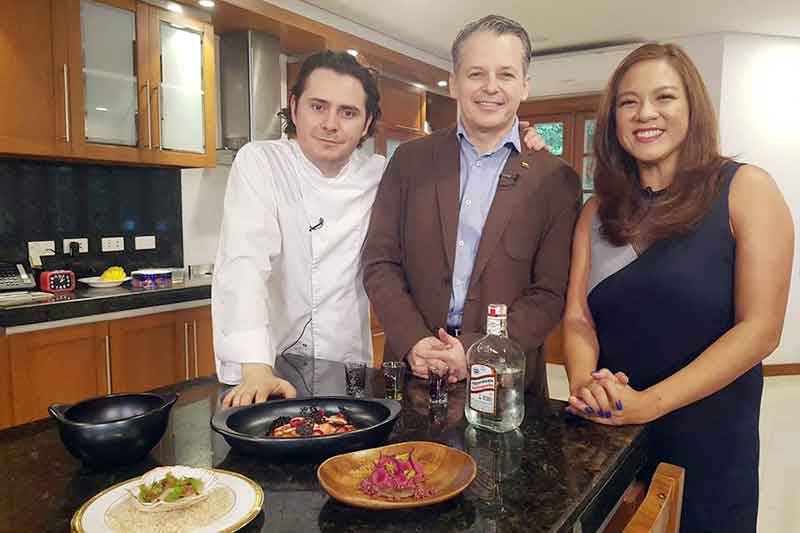 Colombian Amb. Victor Hugo Echeverri presents Annalisa a showcase of Colombia's cuisine with Chef Alejandro Cuellar
"Filipinos tend to focus on domestic issues, but our citizens, especially the youth, should have a regional and global perspective. By incorporating food in my series, I hope to appeal to younger viewers who aspire to travel to or work in other countries," she said.
Annalisa has lived and worked in eight cities around the world, covering business and lifestyle beats in Asia, New York City and Washington, DC.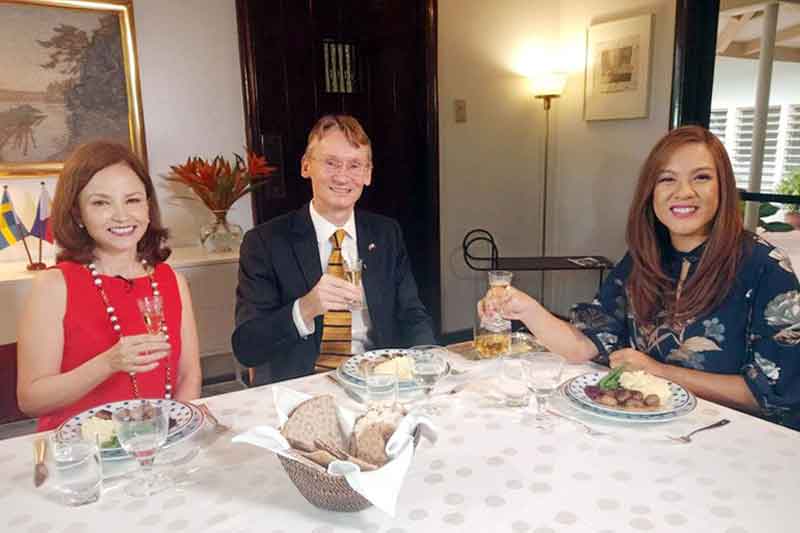 With Swedish Amb. Harald Fries and wife Susan discussing tourism, trade and Alpine cuisine
While she does a lot of political news and interviews nowadays on ANC, she has a rich body of work covering the culinary scene including hosting a food travel series on Channel NewsAsia. She has also interviewed celebrity chefs like Gordon Ramsay, Alain Ducasse and the late Anthony Bourdain.
"I bring political neutrality and cultural sensitivity to each interview, along with an appreciation of how food is a universal language that brings cultures closer together and can influence each other. Food Diplomacy is my effort to build off of the global love of food and elevate the conversation with a distinctly Filipino flavor," she said.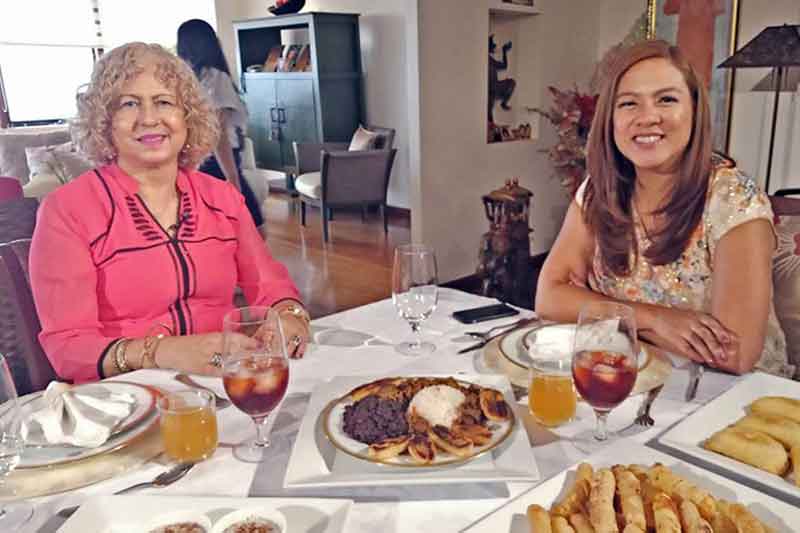 Annalisa and Venezuelan Amb. Capaya Rodriguez talk about populist leaders, non-interference and human rights over traditional Venezuelan dishes
Since its launch in November 2017, Food Diplomacy has featured more than two-dozen ambassadors from countries in North and South America, Europe, Africa, Asia, and Australia. Previous episodes of Food Diplomacy are also available online on the Facebook page of Early Edition (facebook.com/ANCearlyedition).