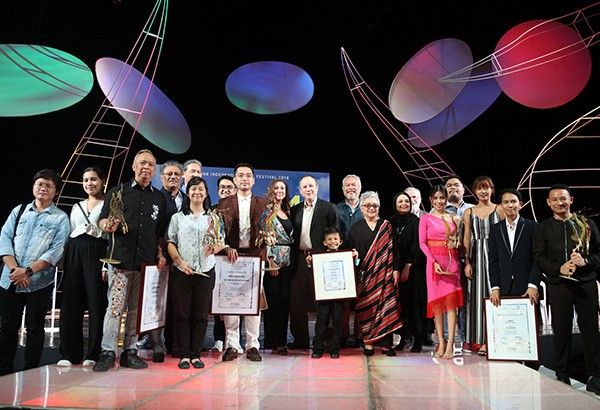 Cinemalaya 2018 winners
CCP/Released
Cinemalaya 2018 gets biggest audience turnout for independent films
MANILA, Philippines — The audience count for this year's Cinemalaya Philippine Independent Film Festival Cinemalaya has exceeded expectations, increasing about 25 percent in attendance as compared to last year's data.
"Every year, we carry a certain fear because Cinemalaya always falls during the typhoon season. We don't know what to expect in terms of the audience turnout. We are happy to share that this is the biggest gathering," said Cultural Center of the Philippines (CCP) artistic director Chris B. Millado, who shared that the Cinemalaya entries "ML" and "Liway" are this year's top-grossing films among the 10 full-length competition entries.
Receiving the Special Jury commendation, director Kip Oebanda was commended for courageously opening himself up to share with others his very revealing past through his film "Liway." The film is about his mother, Liway, who led the Martial Law rebel and fought bravely for democracy.
"With the Audience Choice Award, we know that we have an audience who really know how to listen. We created the film to start a conversation about our history, and on where are we heading as a nation," said Kip, who dedicated his film to all Martial Law victims.
Established in 2005, Cinemalaya is a project of the Cinemalaya Foundation and the CCP. The all-digital film festival and competition aims to discover, encourage and honor cinematic works of Filipino filmmakers.
Now on its 14th year, Cinemalaya has supported and promoted the production of full feature independent films and short films; many of which have won awards in local and international competitions and festivals. Cinemalaya has showcased over 1,000 works by independent filmmakers, including full feature films, shorts, documentaries, Filipino film classics, and art films.
"This has been a good year. The lineup of films this year has sparked a wider interaction between filmmaker and audience - a rapport felt in all the theaters, which was nothing short of phenomenal. Tonight's closing does not mean the end for the films in competition but a beginning, after their debut in Cinemalaya. We wish you all the best, as you find your audiences here and hopefully abroad through the right distribution," said Cinemalaya president Laurice Guillen.