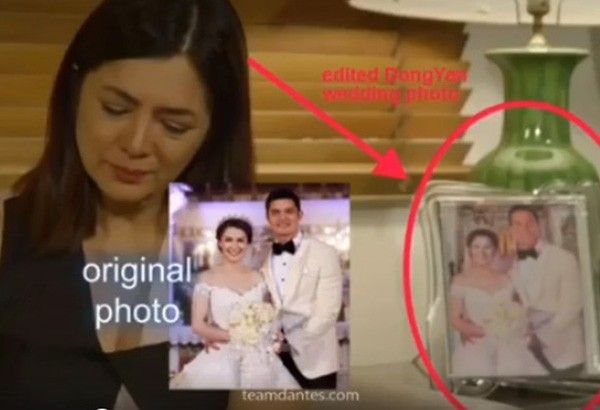 Screenshot of Dingdong Dantes' video reaction
Facebook/Dingdong Dantes
Dingdong Dantes reacts to alleged use of family photos in 'Ang Probinsyano'
MANILA, Philippines — Kapuso actor Dingdong Dantes released a statement regarding the alleged use of ABS-CBN's "Ang Probinsyano" of their family photos without their permission.
In a lengthy Facebook post, the actor said their fans DongYanatics brought to his attention that their family photos were used in the Kapamilya network's longest-running teleserye.
The Facebook post comes with a video showing that their photos have been allegedly used on the rival show's August 8 and November 2017 episodes.
The wedding photo of Dingdong and wife Marian Rivera was reportedly seen on the background of Alice Dixson's character in the August episode. Meanwhile, an edited version of their family photo was reportedly seen on the November episode. In the photo, the Kapuso couple's faces were allegedly replaced by those of Joko Diaz and Mickey Ferriols, but the face of their daughter Zia was retained.
"In two episodes of 'Ang Probinsyano,' our wedding photo and a photo taken during Zia's baptism were edited and featured without the consent of our photographer and our family," Dingdong wrote.
He added that a letter has already been sent to the production team of "Ang Probinsyano" that was done "in good faith, to express my dismay and deep concern."
"Courtesy and fair practice must always be observed especially in an established industry like ours. But whether or not it is done within the entertainment sector, we should always be reminded of the basic etiquette for online photo use and sharing that includes asking permission and/or citing sources," he wrote.
He also posted an excerpt from the letter that was sent to the production team dated August 11.
"I appreciate that you found artistic inspiration from the original photos. Unfortunately, there is the inescapable consequence that legal and moral rights were violated here. And as you may very well be aware of, established industry practice is against such act as it amounts to disrespect. Worst of all, as a father and husband, I cannot help but feel offended and deeply hurt by such actions, which happened not just once, but twice. Basic rules of courtesy in this case dictate that you first secure permission from the photographer and my Family."