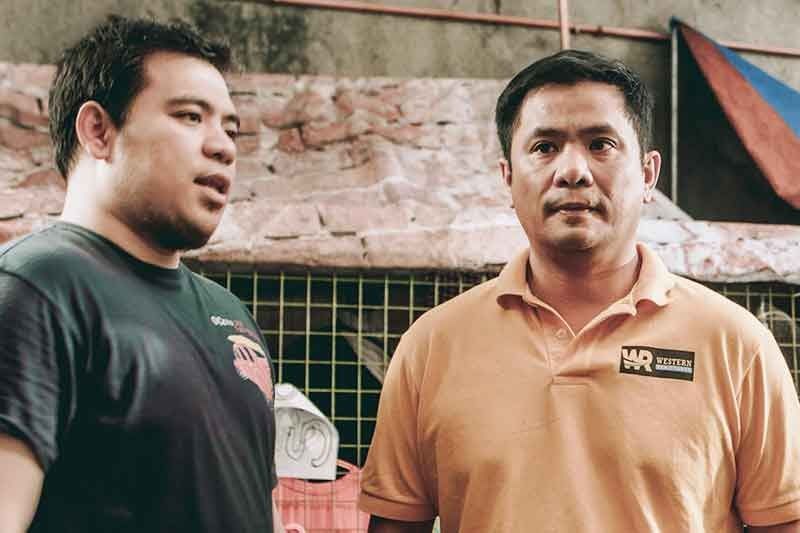 Ogie Alcasid (right) as an employee at a cash remittance establishment with director James Robin Mayo
Film review: Kuya Wes
MANILA, Philippines — It's an uncanny way of "bookending" all the highlights but that's the way it is as two scenes best encapsulate the tests, travails and tale of Kuya Wes (Ogie Alcasid), an employee at a cash remittance establishment — the opening and closing shots.
The first scene would see Kuya Wes in front of the glass door of the remittance center, safe and secured, watching the stream of people going about their chores as the traffic builds up in the early morning hustle and bustle in their part of the city.
The closing shot would focus on Erika (Ina Raymundo) standing on the same spot, looking as Kuya Wes stood on the curb ready to brave the rush of vehicles, emerging from the caring, loving man scarred and scathed by a sort of kindness misplaced and a love unrequited to become his own man.
One of the full-length films being exhibited at the current Cinemalaya film festival, Kuya Wes is a romantic comedy that seemed to have an open-ended finish, leaving the audience a bit bitin.
But that's the lure of the film, it made a swift unraveling of self-imposed conflicts of the main character in the movie directed by James Robin Mayo.
It's not so much being under the clutch of a first love so late in a middle-aged man, enamored by a woman with two kids and a past in a monthly encounter in the remittance center that put accent on a fast service of hope.
But more of a person being drawn to the seamier side of life outside the confines of the remittance center, (Western Remittance) Kuya Wes' life revolves around that cramped shop, getting snatches of the real world outside through the grumbling, squabbling, ailing, demanding slew of clientele receiving periodic remittances and a feisty streetsmart and witty co-worker played by Moi Bien with (excuse the pun) a muy bien of a performance.
When Kuya Wes ventured out of the shop fueled by his love for Erika, he lost his way and when he finally found her place the second time, it ironically led him to the harsh realities he was oblivious before like being charmed out of his wit and money by the sweet Erika and being pestered no end to pay the overdue electric bills by a younger brother (Alex Medina).
When he finally recovered from it all, he confronted Erika and boldly said he's not Kuya Wes (that's for an amiable quick recall for the establishment) but Daniel, the emotionally battered everyday nice guy.
Kuya Wes was a role cut out for singer/songwriter Ogie Alcasid with all the naïveté of a kind person working in a place that peddles hope and dreams and provides relief periodically to desperate, and needy folks settling for their monthly remittance.
And Kuya Wes would greet them with a smile and a heartfelt "Good morning."