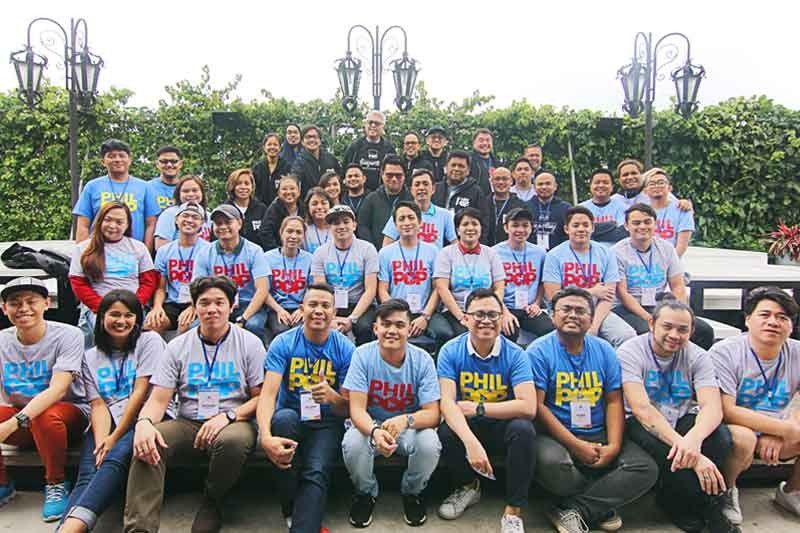 Meet the 2018 batch and the great thing about it is that there are compositions from the Southern Philippines that made the grade.
Philpop picks Top 30 semi-finalists
After weeks and weeks of careful adjudication of hundreds of entries, the Philippine Pop Music Festival has released the titles of the 30 semi-finalists. These may be considered the best of the 2018 batch and the great thing about it is that there are compositions from the Southern Philippines that made the grade. Think Cebu, Davao, Bacolod, Iloilo and there are a few of them in the dialect, too. Just goes to show how deeply embedded is music in the Filipino psyche.
And the variety of styles this year is truly remarkable. Aside from the usual ballads, there are rock, hip-hop, R&B and folk-inspired tunes. It is very obvious that our songwriters now have immense confidence in themselves to pursue their own styles and express their sentiments instead of just going with the flow.
The final recording of these songs will be produced by Viva Music and then released on all digital platforms by September. Now, take a look at the Top 30.
AEIOU by Kenneth John Pores of General Trias, Cavite; Ako Ako by Jeriko Buenafe of Taguig, NCR; Away Wa'y Buwagay by Eamarie Gilayo and Jovit Leonario of Davao City, Davao del Sur; Bumbero by Micharel Llave of Quezon City, NCR; Di Ko Man by Ferdinand Aragon of Cebu City, Cebu; Ikaw Ang Aking Pag-ibig by Mark Jay Felipe of Guimba, Nueva Ecija; Isang Gabing Pag-ibig and Makisabay by Carlo Angelo David of Quezon City; Kariton by Philip Arvin Jarilla of Antipolo City, Rizal; Kelan Kaya? by Sarah Bulahan of Mandaluyong City, NCR; Kilabi by Karlo Frederico Zabala of Valenzuela City, NCR.
Korde Kodigo by Jeremy Sarmiento of Davao City, Davao del Sur; Laon Ako by Elmar Jan Bolano and Donel Transporto of Tigbauan, Iloilo; LDR (Layong 'Di Ramdam) by Russ Narcies Cabico of Quezon City; LGBT (Laging Ganito Ba Tayo?) by Kyle Pulido of Davao City, Davao del Sur; Lilipad and Pwede by Agatha Morallos and Melvin Joseph Morallos of Baguio City, Benguet; Loco De Amor! by Edgardo Miraflor Jr. of Bacolod City, Negros Occidental; Mahirap Magselos by Paul Hildawa of Makati City, NCR; Malilimutan Din Kita by Marvin Blue Corpuz of Koronadal, South Cotabato; MMRA by Oliver Narag of Valenzuela City.
Nanay Tatay by Teodoro Festejo III of Davao City, Davao del Sur; Oka and Promise Sorry Note by Michael Angelo Aplacador of Pateros, NCR; Perfectly Imperfect Human by Barry Villacarillo of Lapu-Lapu City, Cebu; Pilipit (Paano Sasabihing Mahal Kita) by Sean Gabriel Cedro and John Ray Reodique of Antipolo City; Tama Na by Michael Rodriguez and Jeanne Columbine Rodriguez of Makati City; Unang Adlaw Nga Wala Ka by Therese Marie Villarante and Henrick James Pestano of Talisay City, Cebu; Utang by Ignacio Dennis Roxas of Malolos, Bulacan; and Yun Tayo by Donnalyn Onilongo.
These thirty songs are now being recorded by specially chosen artists deemed most capable of best interpreting the material. The results will next be released on various digital streaming platforms and performed by the interpreters in live shows. Then, the 10 finalists will be selected in another adjudication process, after which music videos will be produced and again dropped in digital sites.
The last step in the process is when the finalists are performed and then the winners announced at an outdoor music festival that will be held in November. As before, P1M awaits the grand prize winner, plus P500,000 for the first runner-up and P200,000 for the second runner-up.
But prizes and the chance to be heard are not all that awaits the Philpop finalists. There is also that possibility that what every songwriter, and I mean, every in every sense of the word, dreams of, will happen. This is the chance to have a hit song.
Take what became of the Philpop 2016 winner Di Na Muli. The composition by Jazz Nicolas and Wally Acolola that was performed in by the Itchyworms is one of today's biggest hits. It was used in the soundtrack of the blockbuster motion picture Sid & Aya alongside a cover version by Jenine Tenoso. Everybody is now singing Di Na Muli.
Watch out, too, for For The Rest Of My Life, a sweet love song composed by Ned Esguerra that was performed by Side A as one of the finalists in Philpop 2015. The song is now part of the soundtrack of the movie, The Day After Valentine's Day, where a new lilting version is sung by lead actress Bela Padilla.