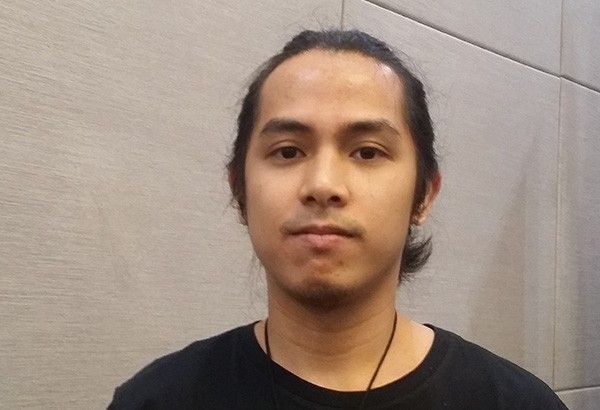 2018 Gawad Urian Best Actor and hip hop artist Abra
Philstar.com/Maridol Ranoa-Bismark
Urian Best Actor Abra, 'Respeto' go to New York Film Fest
MANILA, Philippines — Years back, when someone would ask rapper Abra to make a film, chances are, he would ask, "Why me?".
Now that the Manunuri ng Pelikulang Piipino, organizer of the Gawad Urian Awards, named him Best Actor for his first-ever film, the acclaimed indie "Respeto," Abra, and more and more people would likely reply, "Why not?".
The 27-year-old hip hop artist is starting to see local cinema with the fresh new eyes of a victor – a self-confessed surprise winner in a field that was Greek to him when he first entered the music industry eight years ago.
"The movie industry is great!" he gushed after the press conference of the Film Academy of the Philippines (FDCP) called as a send off for "Respeto," "BuyBust," "We Will Not Die Tonight," "Sid & Aya," "Neomanila" and "On the Job." The six films are featured at the New York Asian Film Festival (NYAFF), which runs until Sunday, July 15.
The newly minted film actor and long-time movie lover who raves over 2002's drama/hip hop motion picture "8 Mile" is brimming with hope for the industry, which he predicts will boom even more "in three years to come because of emerging good directors and talents with a lot of skill sets."'
Abra himself (real name: Raymond Abracosa) is an example. All he did was "go back to my 17-year-old self" to play Hendrix, the troubled character he plays in "Respeto."
Abra sees a lot of his younger self in Hendrix, who dreams of hip hop greatness and discovers a lot of things about himself and the world around him. Like Hendrix, Abra is a self-confessed non-conformist crazy over rap.
Rap, added Abra, is Hendrix's refuge. So Abra perfectly understands where Hendrix is coming from. Like his character, Abra is like a child lost in a toy store when he is in Raplandia. He can stay there forever.
Thanks to Hendrix, Abra unearthed a serious actor within, the kind who can rap and bring home a message so well, respected critics told themselves a new actor was born in the person of someone who managed to cross over from rap to cinema.
Abra is happy his first foray into local cinema is planting the hip hop flag more firmly in places few people did not imagine to see it in, like film. Just as encouraging is the fact that Abra's debut film is now being screened in participating theaters in the 17th NYAFF.
As a result, Abra knows an entire generation of emerging hip hop artists is looking up to him for inspiration.
Abra refers to them as artists people used to look down to because they suffered from negative stereotypes.
"They looked at rap as jologs, baduy (low-class and tacky)," said Abra, who insists success has not changed him one bit.
After "Respeto," Abra noted that his brothers and sisters in the profession gained a new-found confidence because they saw how rap can take them to a whole new world like acting and filmmaking.
"What others think doesn't matter," Abra pointed out. "What matters is the love for the art."
For the love of rap, Abra is not biting feelers about doing a film after "Respeto," at least for this year. Instead, he is coming up with a self-produced album.
"I'm more of a rapper to the core. Even if I get exhausted, even if I don't earn anything and get recognition, rap will always make me happy."
It is this passion that drives him to look for, and join more fliptop tournaments. Rap also drives Abra to create music videos like "Gayuma" that command millions of views on YouTube.
For Abra, film is an offshoot of rap. But it is a life-changing offshoot.
It made Abra dream even bigger, and think of stepping outside the box. He wants to explore sci-fi, because "our computer graphics artists are so good!"
But he realizes that such a film is something only the likes of business tycoon Henry Sy can produce.
Meanwhile, Abra continues to dream big as he keeps his feet firmly planted on familiar rap terrain. This makes him someone his hip hop colleagues — and the film community — can watch out for in years to come.