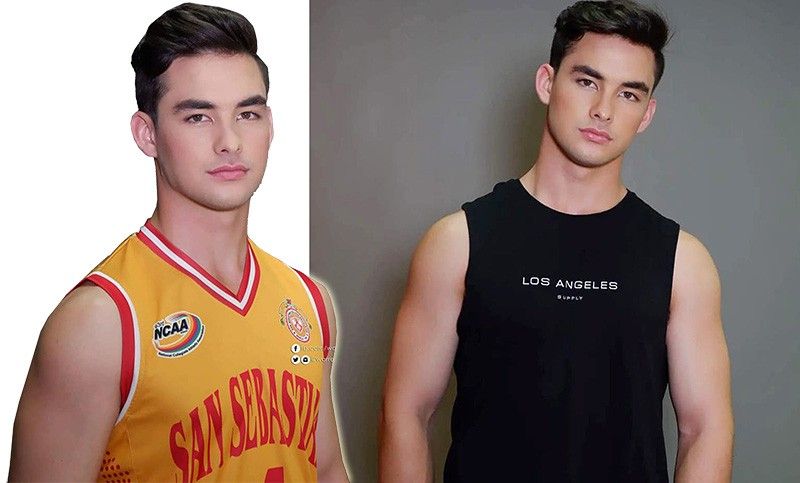 Fil-Aussie Warren Cabban Jr. of San Sebastian College's Stags: Will he be lured by the klieg lights?
Photos from Warren Cabban Jr.'s IG@warren_junior30
New heartthrob: From hard court to showbiz?
FUNFARE
-
Ricky Lo
(The Philippine Star) - July 12, 2018 - 12:00am
More than any other sport, basketball has proven to be the richest source of showbiz material. Some of the recruits from the hard court: Freddie Webb, Bobby Jaworski, Atoy Co, Joey Marquez, Jimmy Santos, Yoyong Martirez, Bong Alvarez and Jerry Codinera. They were all from the PBA (Philippine Basketball Association).
Funfare's New York-based "beauty expert" Felix Manuel pointed out that the UAAP and NCAA have also produced showbiz stars. "The two campus groups being the most widely-followed in amateur basketball games in the country," said Felix, enumerating some stars from the two institutions: Xian Lim (from UE), Alvin Patrimonio (Mapua), Chris Tiu (Ateneo), Benjie Paras (UP), JC Tiuseco (San Sebastian), Iago Raterta (UST) and Bruce Quebral (UP).
There's a new heartthrob on the hard court, according to Felix.
"During the Pep Rally for the San Sebastian Stags, 18-year-old Fil-Australian hottie stole the hearts of many NCAA fans," reported Felix. "He is Warren Cabban Jr. who made heads turn during the event."
Here's Warren's Instagram July 2 post forwarded by Felix to Funfare:
"More than a month into my new and exciting life here in the Philippines, I can now officially let everybody know that I have enrolled and will start school today at San Sebastian College - Recoletos and will be part of the Golden Stags 18-Man Basketball Team as a reserve player in the 94th Season of the NCAA.
"Still a lot of training and studying that needs to be done for me to achieve my goals and I will give all I've got to become the best that I can be. I'm taking it one step at a time with so much positivity, determination and passion so that my dreams would soon become a reality.
"I am very much and will always be thankful for the unconditional love and support of my family in Australia (whom I miss so much), the lessons/training I've been getting from my coaches and would-be teachers, the friendship and teamwork with my co-players/athletes, the trust given by my new school SSC-R, and the utmost guidance and unwavering opportunities being given by my management, A-list models/A+Sports Ph. BRAVO, BASTE!"
"Based on the reaction of fans," noted Felix, "Warren could be the next showbiz heartthrob…or pageant king?"
Like Felix, I bet that movie producers reading this will scramble over one another to tie Warren down to a contract. Who will get him first?
Of course, it all depends if Warren is showbiz-inclined. But with the right offer (the more tempting, the better), you can never tell, right?
It's raining men!
Still from Felix Manuel, this report:
The 2nd Annual Man of the World Search will be held in the Philippines on Saturday, July 14, at the Filoil Flying V Center in San Juan City. Reigning Man of The World, Mostafa Galal Elezali of Egypt, will crown his successor at the culmination of the event. Thirty hunks from around the world are competing.
This year's Top 10 picks are:
1. Philippines, Clint Karklins
2. Vietnam, Cao Xuan Tai
3. Thailand, Natapol Srisarn
4. Korea, Gilhwan Kim
5. Peru, Juan Carlos Cabrera Torres
6. Indonesia, Wrendy Agil Rifansah
7. Brazil, Eduardo Gabriel Possamal
8. Czech Republic, Ondrej Valenta
9. Malta, Bjorn Camilleri
10. Nigeria, Emmanuel Luiz
The contestants have been to several provinces in the country during the different competitions of the two-week-long pageant.
(E-mail reactions at rickylophilstar@gmail.com. For more updates, photos and videos, visit www.philstar.com/funfare or follow me on Instagram @therealrickylo.)