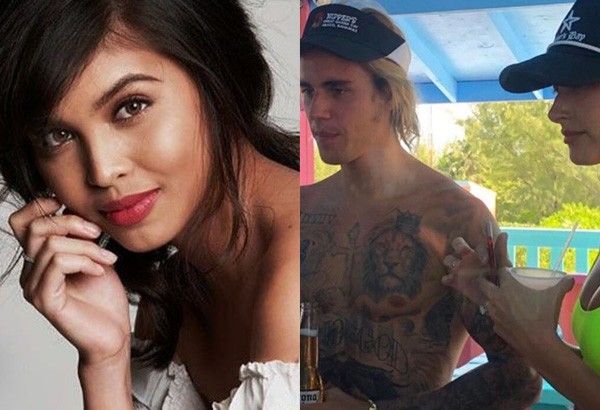 Actress and TV host Maine Mendoza; Justin Bieber and fiancee Hailey Bladwin shortly after getting engaged in the Bahamas
Screenshots from Instagram/Maine Mendoza, @gomezbieberdayli
Maine Mendoza disheartened by Justin Bieber's engagement
MANILA, Philippines — "Phenomenal star" Maine Mendoza could not help but to comment on the recent engagement of international pop star Justin Bieber and model-actress Hailey Baldwin.
On her Twitter account, the "Eat Bulaga" host said she should be the bride of the Canadian music sensation.
Tandang tanda ko pa nung 2009 sabi ko ako magiging asawa nya hahaha buset https://t.co/z2JazEemIS

— Maine Mendoza (@mainedcm) July 10, 2018
"Tandang tanda ko pa nung 2009 sabi ko ako magiging asawa nya hahaha buset," Maine wrote on Twitter.
Justin confirmed his engagement to the model-actress through a lengthy Instagram post. He said they got engaged on July 7.
"Gods timing really is literally perfect, we got engaged on the seventh day of the seventh month, the number seven is the number of spiritual perfection," Justin wrote on his Instagram account.
He said Hailey is the love of his life and could not wait to spend his life with her.
"You are the love of my life Hailey Baldwin and I wouldn't want to spend it with anybody else. You make me so much better and we compliment each other so well!! Can't wait for the best season of life yet! It's funny because now with you everything seems to make sense!" Bieber wrote.
"I promise to lead our family with honor and integrity letting Jesus through his Holy Spirit guide us in everything we do and every decision we make. My heart is COMPLETELY and FULLY YOURS and I will ALWAYS put you first! The thing I am most excited for is that my little brother and sister get to see another healthy stable marriage and look for the same!!!!" he added.
RELATED: Justin Bieber to Hailey Baldwin: You are the love of my life
Maine Mendoza marks 3rd anniversary with record deal, #MainelandiaFair2018