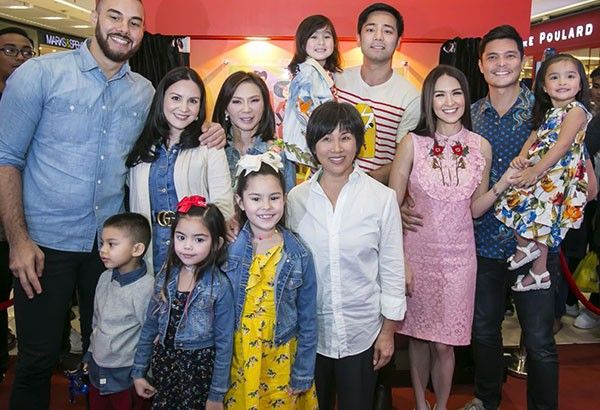 Dantes, Kramer, and Belo-Kho families with Pixar animator Bryn Imagire.
Disney/Released
Disney-Pixar artist animates Filipino celebrities into 'Incredible' families
(philstar.com) - June 14, 2018 - 11:13am
MANILA, Philippines — Disney-Pixar's "Incredibles 2" held its Philippine premiere on June 11 at the SM Aura IMAX Cinema, heralding the return of the beloved Parr brood of superheroes.
Coinciding with the premiere was the unveiling of family portraits created by Pixar animator Bryn Imagire, who flew in from the US to for the film's Manila launch.
Credited as the Shading Art Director of "Incredibles 2," Imagire interpreted the Dantes (Dingdong, Marian Rivera and daughter Zia), Kramer (Doug, Cheska and children Kendra, Scarlett and Gavin) and Belo-Kho (Vicky, Hayden and daughter Scarlet) families as "Incredible" supers.
All three families attended the big reveal, visibly delighted by their portraits.
In his Instagram post after the event, Dingdong Dantes wrote, "Many thanks to Bryn Imagire... [S]he made us her own interpretation of a Dantes Incredibles family portrait! What an honor and privilege!"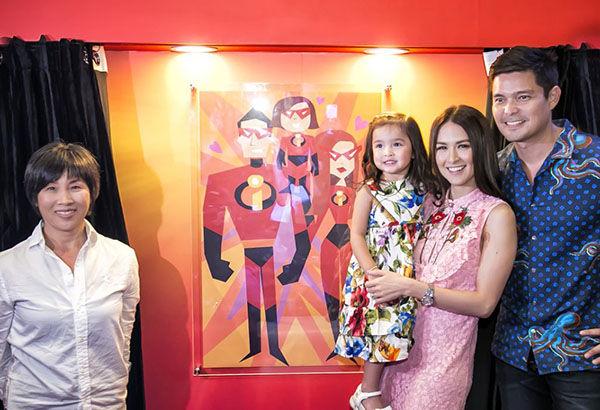 Dingdong and Marian Rivera Dantes with daughter Zia and Pixar animator Bryn Imagire. Disney/Released
For his part, Doug Kramer shared, "What an honor it was to be one of the 3 families that Ms Bryn Imagire sketched through the #Incredibles2 theme here in the Philippines!"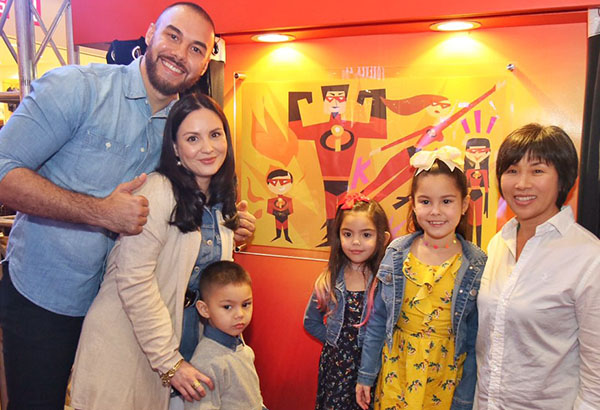 Team Kramer with Pixar animator Bryn Imagire. Disney/Released
Not to be outdone, Vicki Belo raved "How incredible is this version of our family portrait by Bryn Imagire! Thank you Bryn, its such an honor to be immortalized by you!"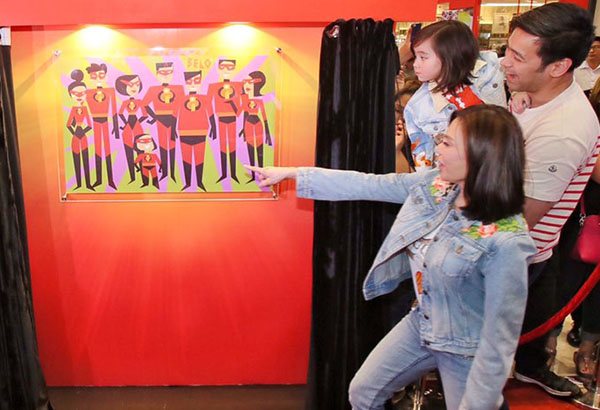 Celebrity cosmetic-surgeon-to-the-stars Dr. Vicki Belo points at daughter Scarlet Snow's 'Incredible' version as husband Dr. Hayden Kho Jr. looks on. Disney/Released
The "Incredible" family portraits are currently on public display at the SM Aura Atrium.
Written and directed by Brad Bird ("Iron Giant," "The Incredibles," "Ratatouille") and produced by John Walker ("The Incredibles," "Tomorrowland") and Nicole Grindle ("Sanjay's Super Team" short, "Toy Story 3" associate producer), "Incredibles 2" opens in Philippine cinemas nationwide on Thursday, June 14.
In "Incredibles 2," Helen (voice of Holly Hunter) is called on to lead a campaign to bring Supers back, while Bob (voice of Craig T. Nelson) navigates the day-to-day heroics of "normal" life at home with Violet (voice of Sarah Vowell), Dash (voice of Huck Milner) and baby Jack-Jack—whose super powers are about to be discovered.
Their mission is derailed, however, when a new villain emerges with a brilliant and dangerous plot that threatens everything. But the Parrs do not shy away from a challenge, especially with Frozone (voice of Samuel L. Jackson) by their side.