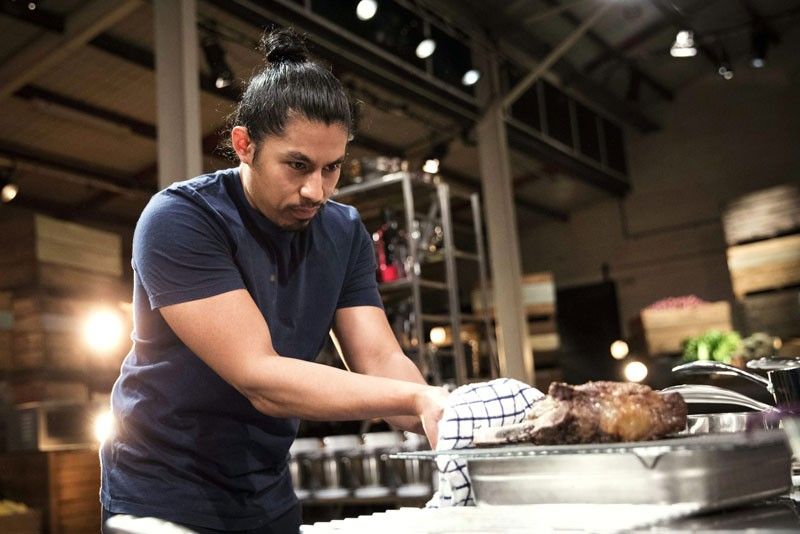 'Any Filipino food that I crave for all the time? Yes, Jollibee! Chicken Joy, Champ Burger, everything. There's no Jollibee where I live in Australia, that's why I miss it.'
Tim Talam: Will this Pinoy be the MasterChef champ?
FUNFARE
-
Ricky Lo
(The Philippine Star) - June 14, 2018 - 12:00am
MasterChef Australia S10 promises a season full of surprises, where contestants will be tested by the biggest international and local culinary legends and challenged to create delicious and beautiful home-cooked meals set to ensure a truly exceptional series. The show premieres on Monday, June 18, Mondays to Fridays at 8 p.m. on the Lifetime Channel.
Among the Top 24 contestants is Tim Talam. He has a Filipino background inherited from his Filipina mom, Emy, but he was born and raised in the Hills district in Sydney. He worked for Churchill Butchers and admits that his background should help him in the MasterChef Australia kitchen, with his knowledge of meats now a significant strength.
The 28-year-old Butcher Shop Assistant started an Engineering degree but deferred and instead finished a Communications degree majoring in Media Arts Production. But after graduating in 2013, his desire to work with food continued to call. His dream is to one day open his own BBQ joint, with the working kitchen functioning around the smoker, prepping not only meats but vegetables and even desserts.
Here's Tim in an exclusive phone interview with Funfare:
Tim Talam is such a unique name. Is that a showbiz name?
"That's my real name, Tim Talam."
Oh, that's a nice name, very catchy. Anyway, you have what Filipino heritage? You hail from Australia, your mom is a Filipina, and how much part of you is Filipino?
"Well, my birth mother is a Filipina. I wasn't just born in the Philippines but I go there every now and then. I was born and raised in Australia, but I have full Filipino heritage."
Did you grow up on half-Australian, half-Filipino values?
"No. I was brought up with 100-percent Filipino values but because I was raised in an Australian-based community, I grew up with the best of both worlds."
What sort of culinary skills did you learn at home, from your mom especially?
"It's funny because as much as my mom taught me as I was growing up, I guess I learned most of the stuff from my lola. She was the one who cooked in the kitchen when I was really, really young. I have fond memories of her in the kitchen. I always remember her standing up on a little stove because she can't just touch and light the stove. But, yeah, it's just one of those things that for me, running errands for my lola has always been such a special experience."
Were you the taster of what your lola was cooking?
"Oh, definitely! I was always in the kitchen with her because I just wanted to eat everything she was cooking and then I remembered that she had to feed everyone else, so I just stopped."
What's first Filipino food that you tasted and fell in love with?
"She used to cook a lot sinigang, a lot of sisig and the standard adobo all the time. Yes, those and many more."
Do you have any favorite Filipino food that you crave for all the time?
"I crave for Jollibee, I must say."
Jollibee? What item in Jollibee?
"Anything ­— Champ Burger, Chicken Joy, everything."
Do you have Jollibee where you are in Australia?
"None. There's no Jollibee here that's why I miss Jollibee. But for an actual Filipino dish, among my favorite dishes are definitely kare-kare, binagoongan, lechon, the list can go on. I love Filipino food."
Do you know how to cook kare-kare?
"Yeah, I can prepare kare-kare. I would love to make it but with the ingredients that are available here."
They say that you like barbecue?
"Yeah, correct."
Do you know how to cook barbecue the Filipino way, with vinegar and all the other ingredients?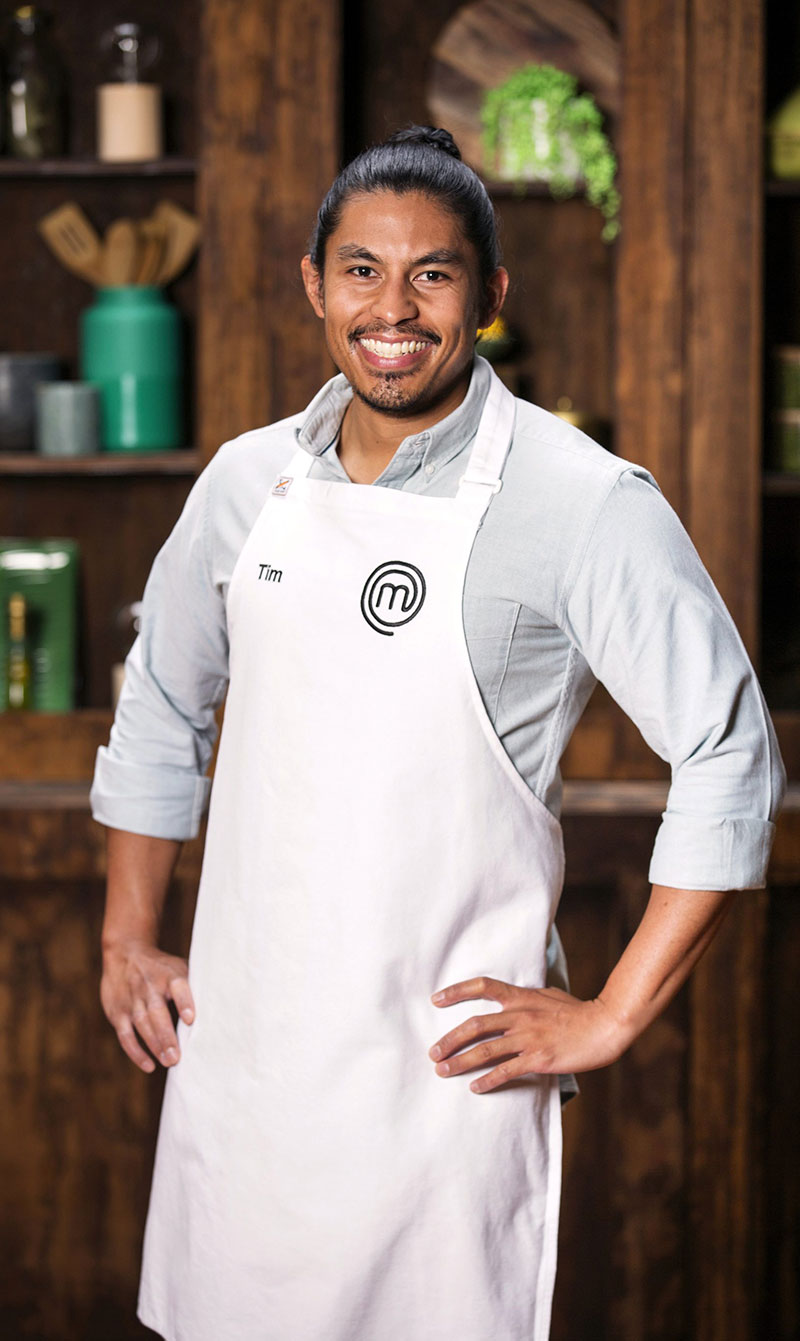 "Not so much. But obviously, I grew up with that but that's something my tita was always in-charge of. My barbecue is a little bit different. It's more derived from the American style. You know, short ribs, pork ribs and cold shoulders in the market."
What's your favorite comfort food?
"Comfort food is always gonna be Filipino food. It's a tough choice, especially when my mom makes lengua and kare-kare."
Oh, those two items go well with rice.
"Yeah, I love rice."
Anyway, there are 24 contestants in MasterChef Australia. How are you preparing for the big night? Of course, you are preparing something special and it's a secret.
"Yeah. But actually for me, you can better prepare to cook, with a lot of mental preparation. For me, it's just about making sure that I'm happy with where I am. If I'm to put my best foot forward, I need to make sure that I'm calm and composed the whole way through."
So, you must be mentally prepared for that.
"Yeah, exactly. It's really difficult to have that mental preparation just like in everything you do, like for a job interview, for a first date, or something. You have to make sure that you are in the right state of mind to do the best that you can."
There's a saying that, "the best way to a girl's heart is through her stomach." Did you win your girlfriend through her stomach? Did you pamper her with food? And what kind of food did you pamper her with?
"She's my taster so everything that I cook she definitely tries and gives me a feedback about even the Filipino dishes that I make. She's the one who first tries it. She loves what I cook."
Any plan to put up a restaurant, maybe a fusion of Philippine and Australian cuisine?
"Not as much, I guess a mixed cuisine. I guess, it would be influenced by a heritage obviously, but I wouldn't have a Filipino-style restaurant as much as I do love to eat Filipino food. I don't wanna be defined by one style cuisine. I just essentially want to cook what I love to and that's a combination of different cuisines."
I presume that you're a Catholic like most Filipinos. Are you?
"Correct, yes."
Do you think prayer helps in contests like MasterChef?
"Yeah, definitely! You gotta have the power Up There to help you put your best foot forward."
I really hope you win. Why not come to the Philippines for a visit? Have you been to the Philippines?
"Yes. Actually, I have visited the Philippines for quite a while. I was there in 2012 when my cousin got married. She's from Australia but she chose to get married in the Philippines so all of us went there. We had a good time. I managed to go to Boracay, Bohol and Cebu. We had a lot of fun."
Where in the Philippines are your folks from?
"My mom is from Parañaque and my dad is from Santa Ana, Manila."
How many siblings do you have?
"Just one. It's just my sister and I."
Oh, does your sister also cook?
"No. She's a doctor."
Oh, so good luck, Tim. I hope you win!
"Thank you!"
(E-mail reactions at entphilstar@yahoo.com. For more updates, photos and videos, visit www.philstar.com/funfare or follow me on Instagram @therealrickylo.)