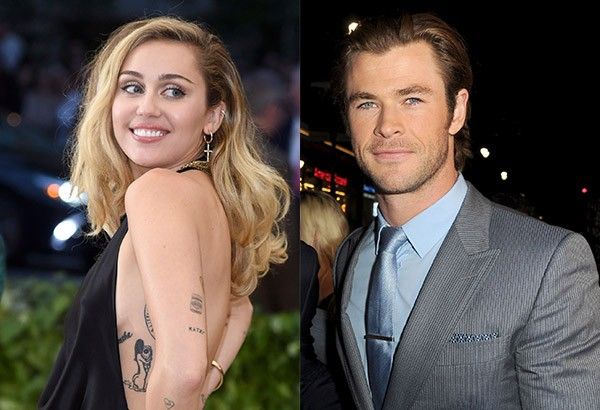 From left: Miley Cyrus attends The Metropolitan Museum of Art's Costume Institute benefit gala celebrating the opening of the Heavenly Bodies: Fashion and the Catholic Imagination exhibition on Monday, May 7, 2018, in New York; Chris Hemsworth
Photo by Evan Agostini/Invision/AP (left); ABS-CBN/Released (right)
'Wrecking Ball': Miley Cyrus tags wrong Chris Hemsworth
MANILA, Philippines — Hollywood actor Chris Hemsworth's lip sync parody of pop star Miley Cyrus' 2013 hit "Wrecking Ball" has been trending on Twitter and Facebook, with over 1.53 million views and 130,000 likes on Twitter and over 1.8 million views and 30,000 shares on Facebook.
Miley shared the video on her official Twitter and Facebook accounts, with three red heart emojis. But while she tagged the right Chris on Twitter, she tagged the wrong one on Facebook.
"I'm so sorry but you tagged the wrong Hemsworth," a netizen from Makati, claiming to have the same name as the "Thor" star, commented on Miley's video post.
The first comment of the Filipino "Chris Hemsworth" garnered 3,700 reactions from netizens.
"Swerte mo tsong," commented one netizen.
"This is the funniest thing ever," cried another.
Other Filipino netizens offered to Miley the right Facebook page, so the star was able to correct the tag.
Still, the Filipino "Chris Hemsworth" was grateful to be tagged. "I feel so lucky," he said in the second comment on Miley's thread.
According to his Facebook page, the Filipino "Chris Hemsworth" also goes by the nickname "Ian."
Chris's parody has been well celebrated not only because it features his cute kids and dog, but also since Miley wrote "Wrecking Ball" allegedly because it is about her then breakup with Chris's brother, Liam.
"What started as a ground breaking music video ended in a savage attack by a cowardly K9. Never work with Kids or Animals. #wreckingball #wreckingdog #daddydaycare #murderonthedancefloor @mileycyrus @liamhemsworth," Chris said in the homemade video clip's caption.