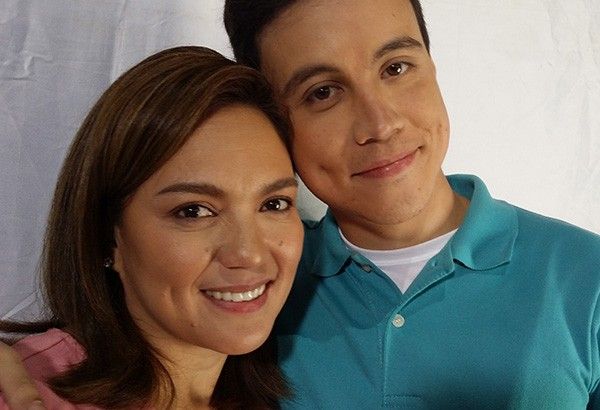 Sylvia and Arjo.
Philstar.com/Maridol Ranoa-Bismark
Mother's Day tribute: Sylvia Sanchez on parenting Arjo, Ria Atayde
MANILA, Philippines — It is easy to feel you are better than anyone else when you are Sylvia Sanchez.
Say 'mother role' and she is one of the first, if not the first producers and directors want to cast. She has won multiple acting awards.
But she refuses to take the path of least resistance and does her job without fanfare and a diva's many demands.
"Your downfall starts the minute you get swell-headed," she says in Filipino while flashing a dimpled smile.
She is not eyeing popularity, but longevity in an industry she has been part of for close to three decades. And she knows thinking you are better than your co-star and refusing to learn from them is career suicide.
So, she remembers the names of showbiz writers she has talked to. She gives her contact details to those she is familiar with.
"So many blessings have come my way, even for my children (her son Arjo and daughter Ria are also in showbiz)," she admitted.
But Sylvia thinks that is no reason to feel entitled to the perks of stardom. On the contrary, she says it is a signal for her to become an even better person.
"That's because all these good things come from God," Sylvia adds.
Her latest career blessing is the ABS-CBN teleserye "Hanggang Saan," where she played self-sacrificing Sonya, mother of Paco (Arjo Atayde, her son in real life). It is mother and son's first time to work on a TV drama.
The result is much like a family drama — off-cam.
"We bully each other," laughed Sylvia.
She teases Arjo for being an "Inglesero" (English speaker) whenever he fumbles on his difficult Tagalog dialogues at first (he gets the hang of it later).
He teases her about her age, 46. And she does not mind.
The mother-son chemistry is amusing, the same way seeing Sylvia and Arjo share scenes in a teleserye gives fans — who have longed to see them together in one project — reasons to rejoice.
It is all a matter of timing, said Sylvia.
"Things go wrong when you rush them," she observed.
Now that the right project has come, Sylvia and Arjo are enjoying their bonding moments — on and off-cam — to the hilt.
Sylvia is banking on right timing again to achieve yet another dream team-up: a project that will cast her, Arjo and Ria together for the first time.
Yes, Sylvia the real and reel-life mother is on a roll. And her real-life son and daughter love it so much, they are following in her giant footsteps.