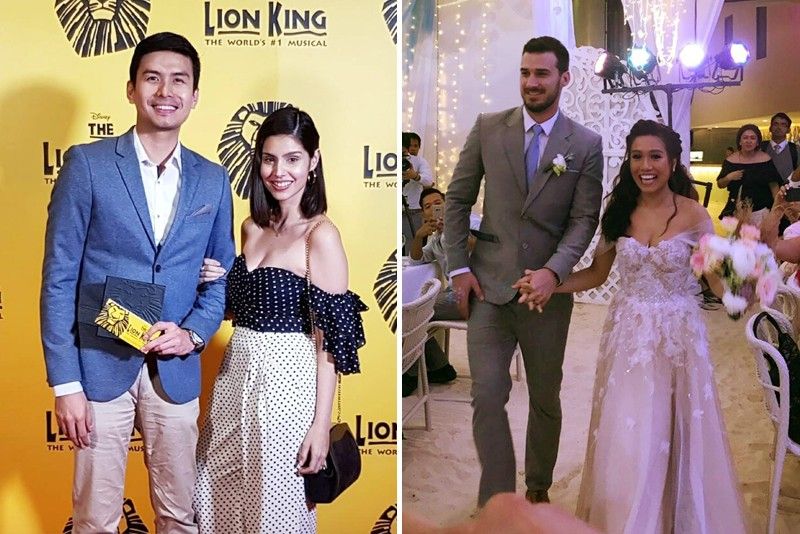 Christian Bautista (with fiancee Kat Ramnani when they watched The Lion King at Solaire) was not among the special guests at the wedding of his ex-girlfriend Rachelle Ann Go and NY-based businessman Martin Spies (right)
Photos courtesy of Pinky Tobiano
Set for own wedding, Christian says 'Best Wishes' to Rachelle
FUNFARE
-
Ricky Lo
(The Philippine Star) - April 21, 2018 - 12:00am
As if to prove that he's a sport, Christian Bautista didn't attend the wedding of ex-girlfriend Rachelle Ann Go and New York-based businessman Martin Spies on Wednesday, April 18, in Boracay prior to its six-month closure effective April 26. It was also in Boracay where Martin proposed to Rachelle last year, just a few months after they met (and matched!) in the Big Apple when Rachelle was on Broadway playing the bar girl Gigi in Miss Saigon.
"I wish her and Martin a happy, fruitful and blessed marriage," Christian texted Funfare.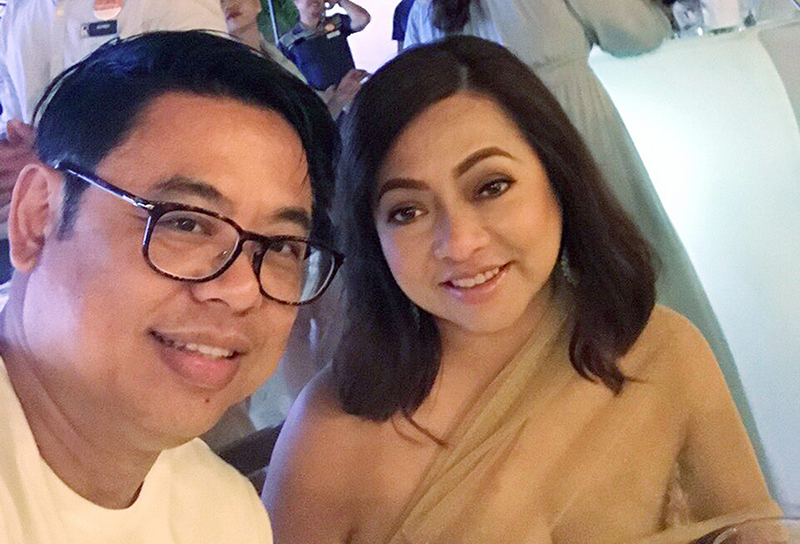 Among the principal sponsors was philanthropist Pinky Tobiano (with husband Juancho Robles)
Rachelle beat Christian to the altar by a few months. Christian and his girlfriend Kat Ramnani are set for also a beach wedding…in Bali, Indonesia…toward the end of the year, to be followed by a reception in Manila. Indonesia has a soft spot in Christian's heart because he enjoys a big following there, looked up to by Indonesians as a superstar.
Christian has been performing (to record crowds) in Indonesia, the latest was for Indonesian singer-actress superstar Bunga Citra Lestari in Trans TV for her concert in which they sang their hit duet Teteplah Dihatiku (Please Be Careful In My Heart in Bahasa) and his solo hit The Way You Look at Me.
"While Trans TV invited Christian for his concert, it also booked him for CNN Indonesia where he talked about his newest single, Take You Away," shared Christian's manager Carlo Orosa. "He also talked about his marriage plans. Christian also guested in the high-rating gossip show RUMPI where he sang his new single."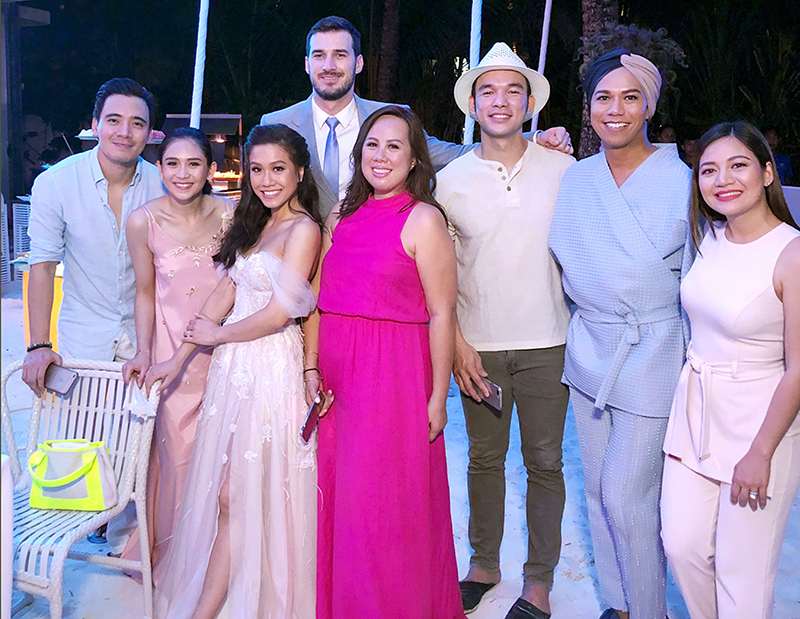 Other guests included (from left): Eric Santos, Sarah, Cynthia Roque (of Cornerstone which manages Rachelle), Mark Bautista, Jimmy Marquez and Kyla —Photo from Kyla's Instagram
There's only a three-year age-gap between Christian, 36, and Kat, 33. Kat is one-fourth Filipino, one-fourth American, one-fourth Irish and one-fourth Indian. A STAR interview late last year mentioned that Kat is a Globe Director of Strategy and Program Management of Content Business. She is a Marketing & Communications graduate from, Santa Clara University (a Private Jesuit university in Silicon Valley, California) and worked in the US for Google, Apple and Facebook before she came back and joined Globe Telecom as manager for Content and Strategic Partnerships of the Mobile Data Service division.
"We met a few years ago through common friends," Christian recalled in the same interview. "It was in an Escape Room (in Breakout Paragon Plaza, a recreation center in Mandaluyong City). It's a game room where you and your friends discover ways and clues to reach the next room. It just so happened that later on in life, we would find out that we were looking for each other. We became friends at first. After a year and a half, we started dating and then became a couple."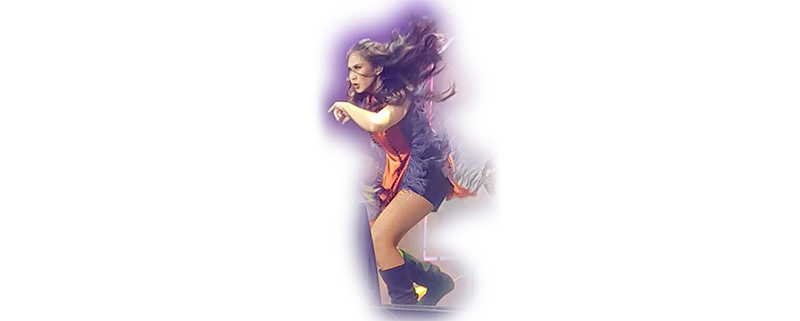 Sarah Geronimo at her This 15 Me concert at the Big Dome —Photo from vivatvchannel's Twitter
Incidentally, among Rachelle and Martin's invited guests were Sarah Geronimo and Mark Bautista (she was champion in the Star for a Night search and he was her runner-up), Eric Santos (who, with Christian, competed in the ABS-CBN talent search Star in a Million). Among the principal sponsors was philanthropist Pinky Tobiano, accompanied by her husband Juancho Robles.
Five days earlier, Sarah wowed SRO crowds during her two-night This 15 Me concert at the Smart Araneta Coliseum where, true to form, she again tickled the audience with "hints" at her and boyfriend Matteo Guidicelli's much-speculated-about wedding "plans" (if there are indeed any). While singing the song Leaving on a Jet Plane, Sarah winked when she hit the lines, Leaving on a jet plane, don't know when I'll be back again…when I come back I'll wear your wedding ring, making the crowd roar with approval. That's the tease Sarah for you! (Matteo was spotted not inside the Big Dome but in the vicinity as shown on his Facebook. He and Sarah have agreed "not to be seen" in each other's concert to avoid being accused of "using" each other.)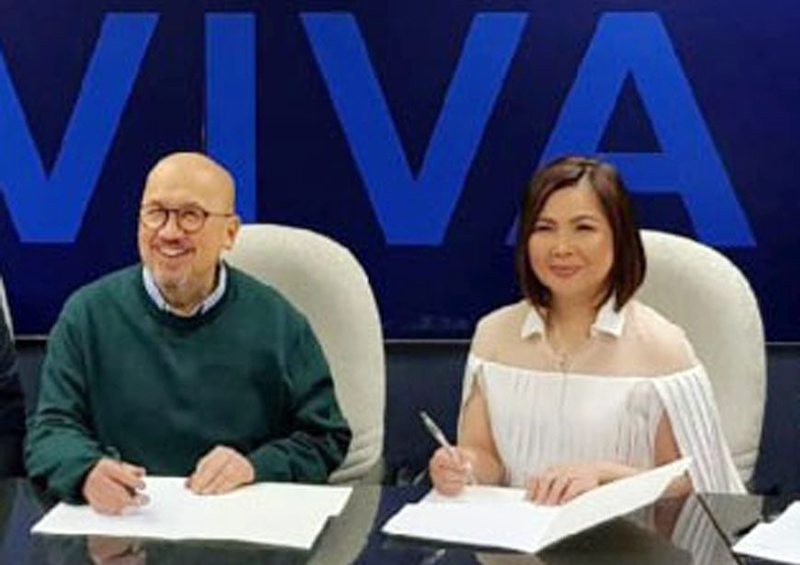 Viva Boss Vic del Rosario Jr., and Rochele Nubla, coproducers of Sarah's US concert tour
Sarah did leave on a jet plane yesterday for concerts (This 15 Me) abroad: April 21 (today) in L.A.; April 22 at the Pala Casino Spa Resort Event Center; April 28 in Pittsburg, California; April 29 at the Cannery Casino The Club in Las Vegas; May 4 at the Copernicus Center in Chicago; and May 6 at the Colden Auditorium in New York.
The US concert tour is produced by Rochele Nubla and Lyn Bautista's International Concert Management, Inc. in cooperation with Viva Artists Agency (VAA).
R.S. Francisco's Frontrow signs up Ex-Battalion as its newest endorser

R.S. announced that he and the band members are recording a song as Frontrow promo. The band has been getting offers after Ai-Ai delas Alas became its manager. R.S. (in shades) and Ai-Ai (beside R.S.) are shown with the band members during the contract signing.
(E-mail reactions at entphilstar@yahoo.com. For more updates, photos and videos, visit www.philstar.com/funfare or follow me on Instagram @therealrickylo.)