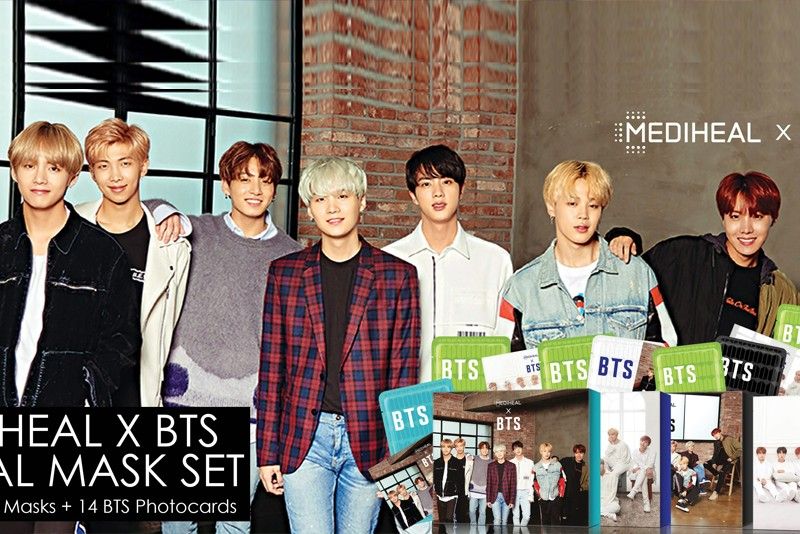 The members of the K-pop group BTS are RM, Jin, Suga, J-Hope, V, Jimin and Jungkook
BTS partners with Mediheal
MANILA, Philippines — The last time K-pop group BTS performed in Manila was during its May concert last year. There's still no announcement if RM, Jin, Suga, J-Hope, V, Jimin and Jungkook will have a concert in Manila this year. For Filipino Armys (the fan club of BTS) who are terribly missing their idols, don't fret, you can still have a "piece" of them through the new Mediheal x BTS Boxed Set.
BTS has collaborated with Mediheal, the global No. 1 mask pack from Korea, for the special boxed set, which includes 10 mask packs and 14 photo cards. Watsons will carry all four boxes of BTS — Hydrating Care, Brightening Care, Moisturizing Care and Soothing Care. Each box will retail for P1,250. It is already available online at www.watsons.com.ph.
BTS is one of the most successful K-pop groups in South Korea and the world. Just recently, BTS won the 2018 Nickelodeon Kids' Choice Awards for Favorite Global Music Star, which was held in Inglewood in California. The boys beat some of the world's most popular artists such as Taylor Swift, Lorde, The Vamps, Maluma, Zara Larsson and Black Coffee. Among the most noteworthy of the group's achievements has been becoming the first K-pop group to crack the Top 40 on the benchmark Billboard Hot 100 chart with its track MIC Drop, featuring rapper Desiigner and remixed by US DJ Steve Aoki. BTS is the first South Korean pop group to reach 10 million followers on Twitter, the first band to perform at the American Music Awards and the first South Korean group to win a Billboard Music Award.
Unknown to many, some of the members of BTS are avid users of Mediheal. RM in an interview with Korea Allure magazine said his favorite skin-care brand is Mediheal.
"My favorite brand is Mediheal, and it has a variety of sheet masks you can choose from after a long day of work," RM told the magazine. On top of that, Suga and J-Hope complimented some of Mediheal's masks while doing a livestream in June last year.
Mediheal, which has sold over one billion mask packs worldwide, is now distributed in the Philippines by Genson Distribution, Inc. and is exclusively available at Watsons and SM Beauty Stores.?
During a recently-held press launch, Mark Dean Lim, the marketing head of Genson Distributions said Mediheal products were developed at the beauty school of the prestigious Seoul University by a team of skin experts and dermatologists who understand Asian skin and what works for it. The brand offers a wide range of innovative and effective sheet masks and skin care products that cater to different concerns. ?
"It promotes the home-use beauty concept, which allows you to have beautiful skin without surgery or enhancements. All products are dermatologically tested," Lim told reporters and bloggers who graced the event.
There are different types of mask packs addressing specific skin concerns and needs such as acne, brightening, soothing, moisture retention and uneven skin tone. The N.M.F. (Natural Moisturizing Factor) Aquaring Ampoule Mask EX is Mediheal's bestselling mask pack worldwide. It contains ingredients that help moisturize the skin and help improve its elasticity.
"Mediheal mask packs are No. 1 in the world because they are chock-full of essences, with ingredients that specifically target skin concerns. Get the most benefits from all the nutrients provided by the essences out of a Mediheal mask pack as Mediheal logo prints will appear on the mask sheet once it is ready to remove," Lim explained.