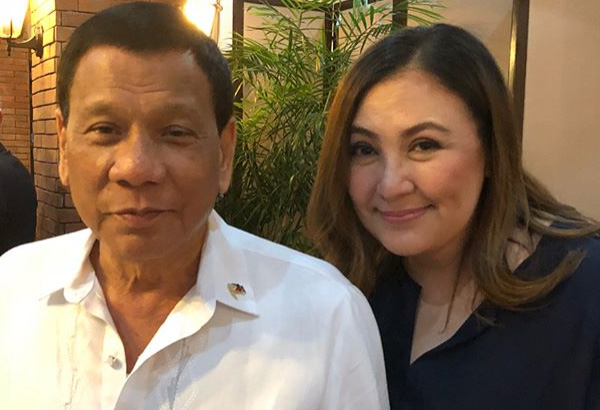 Screenshot of Sharon Cuneta's selfie with Pres. Rodrigo Duterte. Facebook/Sharon Cuneta
Sharon Cuneta shares photos of Malacañang dinner with 'Tatay Digong'
MANILA, Philippines — "Megastar" Sharon Cuneta shared the photos of her recent family dinner with Pres. Rodrigo Duterte at the Malacañang Palace.
During the dinner, Sharon and the president were with the actress' brother Chet, who she said is a big Duterte fan.
"My beloved and only brother with the exact DNA as mine Chet finally met his idol and hero tonight," Sharon wrote.
She added her father was a close friend of the president, whom she thanked for the dinner.
"We pray that God's hand be upon you so that you may steer our country where He knows it be best. May God bless you, Sir," Sharon told the country's commander-in-chief.
Following the dinner photos, Sharon posted a picture of her with husband Kiko Pangilinan, an opposition senator, with a caption that said she is very excited to tell her experience in the palace with the president.
The veteran actress also said that the political differences between Duterte and Pangilinan are not personal at all.
"Di naman personal ang hindi nila pagkakasundo sa pulitika. Sabi nga ni Tatay Digong kanina eh - they respect each other even if they disagree on certain things."
It can be recalled that about a month ago, Sharon shared Duterte's trending video message for her.
"Wow. Thank you very much, Mr. President, Sir, my "Tatay Digong"!!! All politics aside and with all due respect to my husband who so understands my "wala akong pakialam sa politika" stand, I got this precious gift of a message (taken a few evenings ago) from President Rodrigo Duterte himself!!!" the actress said in her Facebook post.
"You may not know this but Davao City Mayor Sarah and I have been friends since 2012. We never cared about each other's politics, though I adore her as much as she, a 'Sharonian' as the President himself once said, must adore me too. I am blessed that she and I are sincere and thoughtful enough to separate politics from what after all is more lasting - our friendship. Now I have this message to treasure forever!" Sharon said.
She promised to one day perform her hit song "Ikaw" for the president, which she said is Duterte's favorite.
WATCH: Duterte gives message for Sharon Cuneta