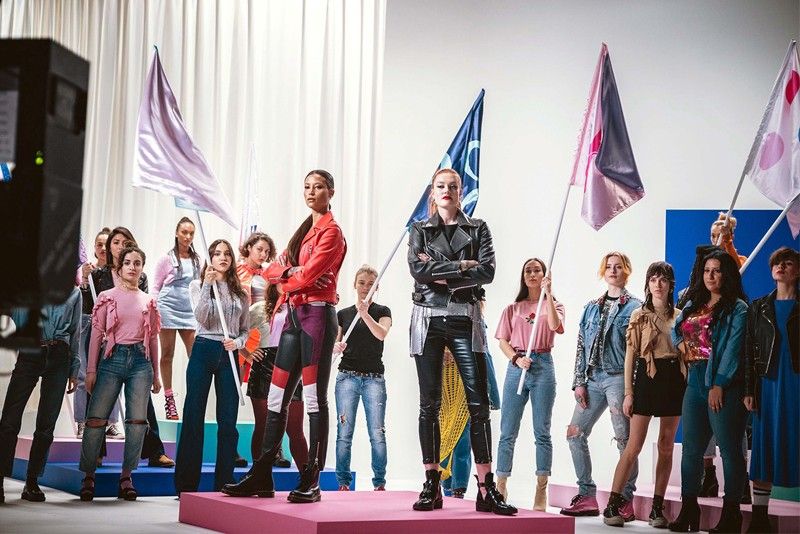 Avon has commissioned Swedish pop duo Icona Pop to compose All My Girls, a pop ditty that rejoices in the sisterhood, self-confidence and courage of women who stand up for their dreams, supporting other women to succeed.
Avon with Icona Pop in empowering song All My Girls
MANILA, Philippines — At a time when women are increasingly not just finding their voice but using it to end sexual harassment, demand gender equality and representation in positions of power, Avon, a global beauty company for women, wants to further spread the message of female empowerment through its new campaign dubbed #Stand4Her and song All My Girls.
Avon has commissioned Swedish pop duo Icona Pop to compose All My Girls, a pop ditty that "rejoices in the sisterhood, self-confidence and courage of women who stand up for their dreams, supporting other women to succeed."
Icona Pop, comprising of Aino Jawo and Caroline Hjelt, ranks as one of the most successful international female pop duos. Their most successful song I love It, featuring Charli XCX, has amassed more than eight million singles sold and more than 400 million streams nationwide.
In a recent phone interview with Icona Pop, based in Stockholm, they said that they're very delighted to partner with Avon and come up with a powerful song on women empowerment in time for the celebration of International Women's Month this month and International Women's Day last March 8.
Caroline and Aino readily said yes when Avon approached them to be a part of the campaign.
"The #Stand4Her campaign is already everything that we stand for. It felt such a good and natural collaboration for us. This partnership with Avon is something we're super, super proud of," Icona Pop told The STAR.
All My Girls, they said, aims not just to convey female empowerment but also send a strong message that there's strength in numbers especially when women band together to fight for gender equality, fair opportunities in fields normally reserved for men like soccer and the battle against breast cancer. The song's MTV can be viewed on YouTube.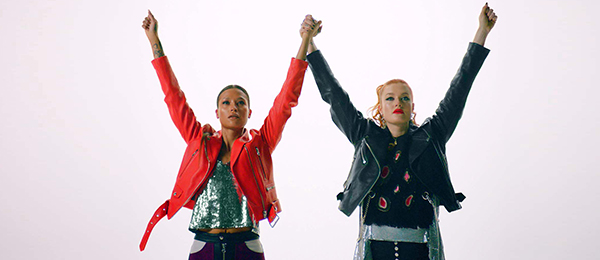 Icona Pop, comprising of Aino Jawo (left) and Caroline Hjelt, ranks as one of the most successful international female pop duos
Aino and Caroline said they're well aware that there are still places in the world where there's no gender equality and women are treated as inferior to men. Take for example in India, there are news reports of women being made to clean latrines or fix septic tanks while men hold office jobs. In Pakistan, women reportedly suffer violence from acid attacks frequently perpetrated in the country by embittered men. Aino and Caroline said they're lucky that in their hometown Sweden, gender equality is upheld and the government gives equal opportunity to both men and women.
"I know that there are places where women are not even allowed to drive cars. But women are constantly fighting for their rights and they're doing that for the society. We want to celebrate all the women who are doing a difference to fight for what is due to them," Aino said.
Caroline reiterated that women can conquer formidable tasks if they constantly support each other.
"All My Girls underscores the importance of women having each other's backs, and remembering like when you sometimes feel alone and feel like you're the only one going through that situation, but when you dare to speak up, you realize that women all over the world are feeling and going through the same thing. The song wants to say to women that 'Hey, I've got your back, and it's all about doing this together,'" Caroline said.
Doing the music video of All My Girls was even more memorable, Aino and Caroline chorused, adding that they've made friends with other girls in the video, who came from different backgrounds and nationalities.
"They were so great, we were like, can we take you with us on tour, we really like to, we told them. The positive energy they give is just amazing. And it was everyone from people who are studying, people who are artists, women who are doing different kinds of things. It's a mixture of all kinds of people," they said.
With regards to their views on women empowerment, Caroline and Aino said it's good that more and more women are getting vocal about issues that concern them.
"A lot of women are speaking up, taking more space and getting the space they deserve. I tell them, 'Believe that you can do whatever you want to and that you don't see yourselves in those boundaries.' I know it's easier for me to say because I came from Sweden where it is much easier here than in a lot of places in the world, but it's still very important to make a difference and not be afraid," Caroline said.
Aino said one of the proudest moments in their career is when people tell them how their music has changed lives in a good and positive way. Through music, she said, they can promote and highlight female empowerment.
"We want to use our voice and our music to support women and their advocacies," she added.
The song All My Girls encourages women to speak up and that includes the fight against sexual harassment and abuse. What are their views about the growing #MeToo movement that's sweeping the whole world?
"It's so important and brave when people dare to speak up against sexual harassment. Unfortunately, sexual harassment happens all the time. In so many of the cases, you don't dare to talk about it because you feel ashamed and stupid on what society will say, you know how the business is, but no one should ever have to take that, it's really not OK in any way or so. We get proud over anyone that talk about it because they make a difference in the future," Caroline said.
She pointed out that it's important to speak out immediately after the assault.
"I think one of the most important things that we've been trying to talk about and get better at through all these years, is to say something immediately when it happens. Sometimes, you're in a situation where you're feeling uncomfortable, you're feeling like it was not really OK, you don't say something because you're shocked and then you go home and you tell your friends. But you should say something immediately and dare to confront. That's when something happens right away, that when you make a change immediately. Because when you speak up, you feel the power right away and you let the person and the society know that it is not OK, then you are actually changing patterns," Caroline added.
What advice can they give to women out there who are struggling to fight for their rights and find their place in the sun?
"First, stick together, dare to say whatever you are feeling and also don't look at what other people had done or accomplished. Do what you want to do and you will inspire a lot of girls to follow in your footsteps. It's very easy to say, 'No one's done that before and I can't do it,' but that's exactly what we need to bring even more and work on," Caroline said.
Aino agreed with Caroline: "Stay together and shatter all those boundaries and stereotypes. Think about your children and all your girls when they grow up, you want them to live in a freer world. Definitely fight for women's rights."