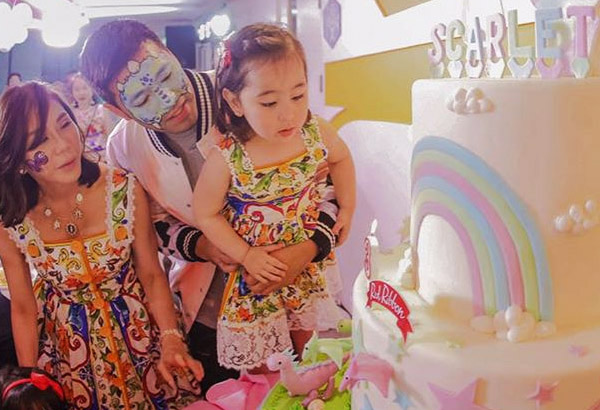 Celebrity doctors Hayden Kho and Vicki Belo-Kho celebrate the birthday of their daughter, Scarlet Snow.
Screenshot from Instagram/Scarlet Snow
Vicki Belo, Hayden Kho on parenting Scarlet Snow
MANILA, Philippines — Scarlet Snow Belo Kho, believed to be the most followed Filipino celebrity kid on Instagram, turned three last week.
Scarlet's parents, celebrity doctors Hayden Kho and Vicki Belo, marked the occasion with a dinosaur and rainbow themed party.
A day before turning three, Scarlet celebrated her birthday with the media during her launch as the new ambassador of Red Ribbon cake. During the event, her parents talked about parenting the young Internet star.
"We don't want to spoil her at all. We don't want her to feel special. We want her to be special because we love her, but we don't want her to feel na 'wow star ako.' We want her to be totally normal, as far as we can make her normal," Vicki said during the launch.
Belo added that though Scarlet is young, she has many lessons to attend to every week, including Chinese and voice lessons.
"We have so many lessons for her. She has Chinese, Mandarin, swimming, gymnastics, reading, piano, voice, she enjoys it naman eh. The best time is reading time. Her dad is the best storyteller in the world," Vicki noted.
For Hayden, the most special time for their family is when they gather together in the same room after work.
"I think the most special moment is 'yung after five o'clock, 'yung tapos na lahat ng lessons n'ya and kami rin tapos na sa work. We just stayed in the room, we watched TV, we just make kwentuhan, we just watched her. Normally, I won't say she's very talkative but she's very engaging, very charming, always making pa-cute," Hayden shared.
The celebrity couple always makes sure to give their daughter the proper credit when she does something good, but also discipline her when she did something wrong.
"One thing about our parenting is our affirmation. We make every opportunity to affirm her when she does something good. We're disciplinarians so 'pag may ginawang mali si Scarlet, we discipline her. She's a disciplined child," Hayden noted.
Outside of her family's Belo brand, Red Ribbon is Scarlet Snow's first major endorsement. The social media darling is also the newest "Rainbow Chaser" who is captivated by the brand's colorful chocolate birthday cake.
Related video: