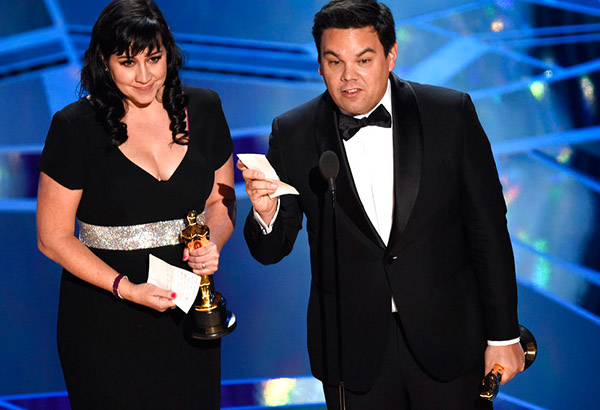 Kristen Anderson-Lopez, left, and Robert Lopez accept the award for best original song for 'Remember Me' from'Coco' at the Oscars on Sunday, March 4, 2018, at the Dolby Theatre in Los Angeles.
Chris Pizzello/Invision/AP
WATCH: Oscar-winning Fil-Am composer to visit Manila, greets Filipinos
MANILA, Philippines — Filipino-American composer Robert Lopez and his wife Kristen Anderson-Lopez, who recently picked up their second Academy Award for Best Original Song for their composition "Remember Me" from the Disney-Pixar animation "Coco," announced in a video released by HBO to Philstar.com that they are planning to visit the Philippines soon.
In the video, the couple behind the chart-topping song "Let it Go" from Disney's hit movie "Frozen" greeted their fans in the Philippines.
"Mabuhay ang Pilipinas!" Robert exclaimed in the video.
He is considered to be the youngest of only 12 people to have won all major awards — the Oscars, the Grammys, the Emmy and the Tonys, in 10 years.
The couple also explained in the video their motiviation to write the song "Remember Me." Kristen said they were inspired by their daughters, and that they envision the song as a legacy they can leave to their kids, so they can still be connected with them through music even when they are gone.
Last year, Robert and Kristen announced that they are also now working on new songs for "Frozen's" sequel.
When they received their second Oscar in Hollywood on March 4, the couple brought with them their daughters, who both had voice parts in the first "Frozen." — Video from HBO