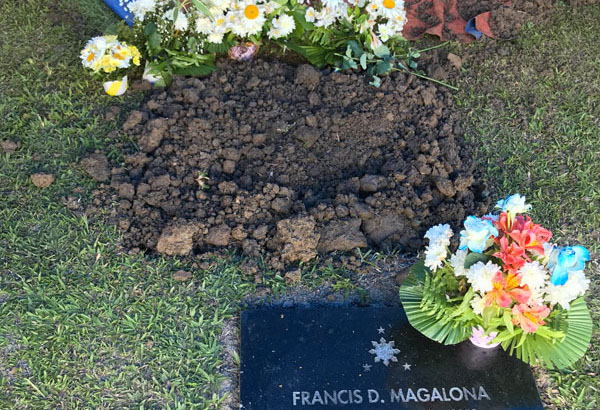 Screenshot of Saab Magalona-Bacarro's blog post showing her baby girl's crypt next to that of her dad, Francis Magalona. Saab posted the blog on March 6, the ninth death anniversary of the master rapper.
MANILA, Philippines — Actress, singer, photographer and blogger Saab Magalona-Bacarro revealed on her blog that she lost a baby girl.
The daughter of Pia Magalona and the late master rapper Francis Magalona was carrying twins with husband, Jim Bacarro, her band mate at Cheats.
"This might be the hardest thing I've ever had to write," Saab began her blog, titled "Heartbroken but hopeful," posted on March 6, the ninth death anniversary of her dad.
According to Saab, she has been in and out of the Intensive Care Unit in the last month and "almost didn't make it."
"On February 8, we lost our baby girl," she wrote.
She said she wrote the blog post to honor her baby girl, which has been buried next to her "Lolo" Francis.
"I know he will be looking after his apo," Saab said.
"She was such a beautiful girl and we believe she gave her life for me and her twin brother," she added.
Saab and Jim's baby boy is still in the Neonatal Intensive Care Unit. "The doctors initially said he was in critical condition. He has fought through so many complications and had to undergo surgery and is thankfully doing much better today."
She said it was so difficult that Jim told her: "Hindi pang-tao yung pinagdadaanan natin."
"There are so many people we could blame and be angry with, but each time we hold our boy, we think otherwise. He's been fighting to be part of this world and it's our responsibility to make it one that is forgiving — one that tries to see the best in other people."
She did not reveal the people they "could blame and be angry with".
Despite this, Saab said there are "so many heroes and kind people" who have been helping them with the ordeal.
"We are thankful for family, for the doctors and nurses in the NICU, ICU and maternity ward, for the other babies and parents in the NICU that inspire us, for the strangers that smile at us," she noted.
The actress has also been able to keep a positive disposition despite the ordeal.
"That's why we can only thank God for helping us get through the pain and lifting the anger from our hearts… We are taking it one day at a time, focusing on all the good things we are blessed with. I am still alive, I have a strong and loving husband, and God has shown us so many miracles through our little boy."
Saab and Jim declared that they were expecting twins last September. Saab was unable to join her family during her sister Maxene's wedding in Boracay due to her delicate pregnancy.
Though feeling wretched, Saab thanks everyone for their concern and asks "that you continue to pray for our family, especially for our angel and for our baby boy."