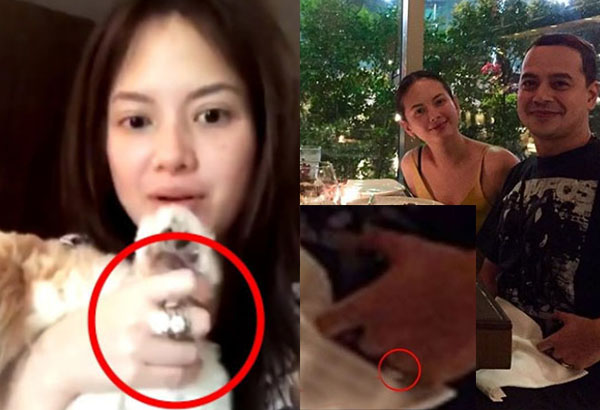 Screenshots of trending photos of Ellen Adarna and John Lloyd Cruz alleged to be wearing similar "wedding" rings.
John Lloyd Cruz, Ellen Adarna photographed wearing 'wedding' rings
MANILA, Philippines — Controversial celebrity couple John Lloyd Cruz and Ellen Adarna have been photographed wearing identical rings on their hands, making many netizens speculate that the co-actors have indeed already married in secret.
The first photo, uploaded on Instagram by a private netizen who appears to be a friend of the couple, shows Cruz and Adarna having dinner in a restaurant. Netizens commented that they noticed that the actor now wears a "wedding" ring that seemed to be not there before as seen in his previous Instagram posts. The photo was posted November last year.
Rumors that the couple already got hitched in Quezon City was further fanned by new photographs of the couple that surfaced in news reports on Tuesday. The photos showed the pair queuing in immigration at an airport in Osaka, Japan. Those who took the photos did not notice if Ellen indeed has a baby bump, although they noticed that the actress seemed to have gained weight. In one of the photos, it can be seen that Ellen's hand also bore a ring similar to that of John Lloyd's. The picture's photographer reportedly heard the actor call Ellen "love."
Apart from the supposed secret wedding, netizens also allege that Ellen was pertaining to John Lloyd's ex girlfriend, Angelica Panganiban, when Ellen posted on her Instagram story a cryptic post about moving on. The post showed a video clip of the movie "Meet Joe Black," where actor Anthony Hopkins asks Brad Pitt, "It's hard to let go isn't it?," to which Brad replies: "Yes. It is, Bill."
A day after this post, Ellen deactivated her Instagram account and set up a new private one. Her new Instagram account is believed to be "@emg.a" because it replied in a comment on John Lloyd's Instagram account, @ekomsi, and to Beauty Gonzalez's post on Instagram.
Angelica, recently, has also been a tabloid fodder for revealing that a former boyfriend has been stolen from her and there are no closures for her and her ex, who netizens suspect to be John Lloyd. Angelica also guested in Moira's concert last weekend and was reported by ABS-CBN to have asked "Bakit lagi ako iniiwan?" in a spoken word performance.