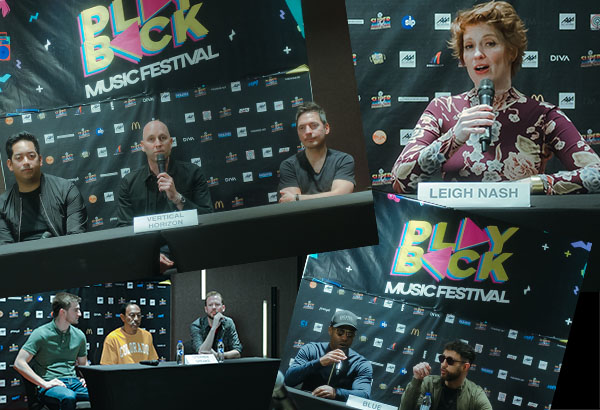 Playback Music Festival gathered some of the world's biggest '90s artists: Vertical Horizon (top left), Leigh Nash of Sixpence None the Richer (top right), Stephen Speaks (bottom left) and BLUE (bottom right). Philstar.com/Seph Asong
What makes the '90s great? Music icons speak up
Seph Asong
(philstar.com) - February 12, 2018 - 5:25pm
MANILA, Philippines — In the '90s, technology was on the cusp of breaking barriers, giving Filipinos some of the most memorable inventions that no longer exist today: Tamagotchi, Walkman, VHS, handheld gaming devices like Gameboy, View Master, your "family computer" which literally meant for you and your siblings to fight over with, and the list goes on.
It was also a generation of boybands and girlbands.
The era was a time for brave hearts, as people often make non-stop calls to their favorite FM stations or send over hundreds of request letters for music channels to play their favorite song, only to be dedicated to their special someone. It was indeed a time of bliss worth reminiscing down memory lane.
The absence of social media allowed '90s kids to grow up in a very traditional but fun way; where making connections literally meant riding your BMX bike to hang out with your friends until the sun sets. The era surely made an impact to those who lived and enjoyed every moment of it — and the biggest part of this generation that really kicks us back in time is music.
"Playback Music Festival is about reliving the best of the '90s and early 2000s. Our idea is to bring back the nostalgia and everything we miss, which we don't get to experience anymore, especially with the current music scene," said Stephanie Moreno, Managing Director of Super Awesome Festival that brought together old-school hit makers in one stage.
Playback Music Fest had put together some of the best '90s artists that headlined the February 10 event at Circuit Makati. Among the international acts were British boyband BLUE, known for songs such as "One Love" and "Sorry Seems to be the Hardest Word," alt-rock band Vertical Horizon, famous for "Best I Ever Had," and lead vocalist of Sixpence None the Richer, Leigh Nash, who left a mark in our hearts when she sang "Kiss Me," the original soundtrack of "She's All That."
Stephen Speaks, another throwback hit maker who made "Passenger Seat" seemed like a household anthem, also performed live. Of course, these international artists were joined by Filipinos' local acts who are huge hit makers in their own right: Moonstar 88, Rivermaya, and MYMP.
"There are so many music festivals out there and I think they have their own thing, but what makes Playback Music Fest really different is the theme itself and I'm proud to say that we're the first in the Philippines. This music fest is a dream come true and it's really close to my heart because it represents what I'm passionate about, and what I grew up listening to," said Regina Reinoso, Co-Managing Director of Super Awesome Festival.
During a press conference held at I'M Hotel in Makati, a day before the big concert, the international headliners shared their best throwback moments with Philstar.com.
Stephen Speaks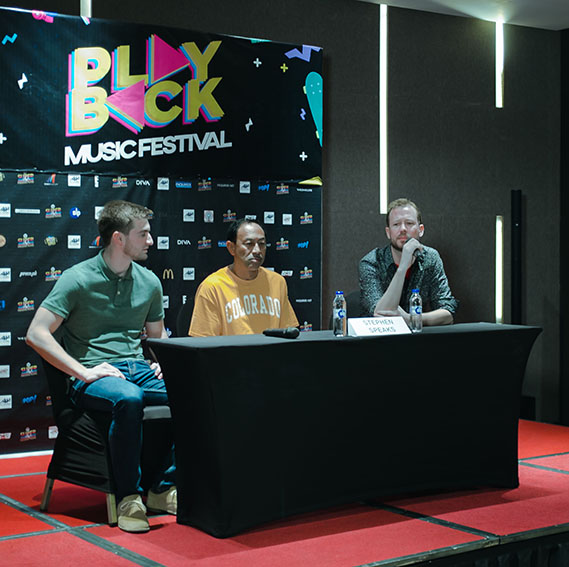 Stephen Speaks. Philstar.com/Seph Asong
The band's lead vocalist, Rockwell Ryan Ripperger, shared what he thinks is the biggest difference between the '90s music artists and the new generation of musicians: "The gap is huge in terms of musicality. I think the '90s music has this form of rawness and authenticity to it which was the reason why it touched the lives of many people. Today's music focuses more on repetitive sound, over-the-top production, and all sorts of gimmicks to become a chart-topping hit, and in the process, it loses the true meaning of the song."
"I think the reason why 'Passenger Seat' was such a hit here in The Philippines and in many countries around the world [is] because it was written exactly how it was intended to be: honest and it hit too close to home," he added.
Leigh Nash of Sixpence None the Richer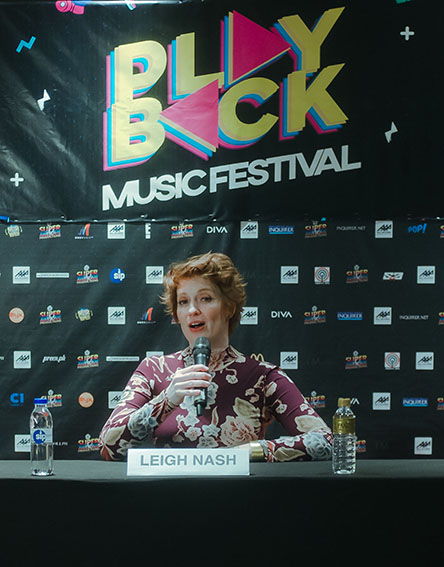 Photo by Philstar.com/Seph Asong
For anyone who grew up loving the '90s rom-coms, Freddie Prince Jr. and Rachael Leigh Cook were some of the biggest stars at that time. Their movie "She's All That" did not only give butterflies in the stomach, it also paved the way for Sixpence None the Richer's hit song "Kiss Me" to be the ultimate LSS-song.
Leigh, who is now a 41-year old singer and songwriter, still looks amazing despite years of being out of the limelight. When asked about how she is coping now that she is slowly returning to the scene and a lot has changed, this is what she said: "It's overwhelming to be honest, but I'm so glad to be back on stage. I can't wait to see all my Filipino fans tomorrow (referring to the February 10 event)."
"I'm going through so much transition right now; just figuring out where things will lead me to. Also, with the pledge campaign which I'm about to start, I want to show more of myself (I'm sort of a closet comedian and I think a lot of people would agree that I'm really funny)," she eagerly expressed when asked about her big goal for this year.
"I'm just going to let that side of me out. I'm also going to enjoy choosing and performing some of my favorite cover songs. Actually, less cover songs and more of songs that I've currently written. So you can expect more good and bad," she added.
Vertical Horizon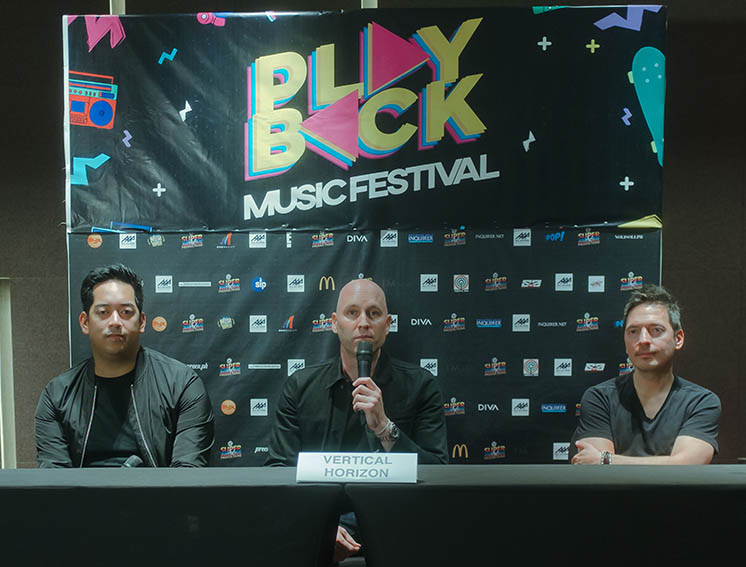 Photo by Philstar.com/Seph Asong
They probably hold more experience than any artist performing at the Playback Music Fest combined. At a time when alternative rock was peaking, they were — and probably still are —one of the best bands that really shaped '90s music; giving it its distinct flavor and character.
The band's best-selling track, "Best I Ever Had," sold millions of copies worldwide (made possible not by social media, but by loyal followers who fell in love with their sound).
What does the name "Vertical Horizon" stands for?
"I was born Catholic, but I don't have a religious agenda. I just want to write songs that have some truth about them. And I guess generally speaking, when I can, I would rather have someone feel good than feel bad. And that's why I guess the songs that I've written resonate to a lot of people, however, lyrically, I've always pulled back from wanting to be defined as a religious artist or otherwise. I want to be free to sing when I want to sing, and not worry about it. The name Vertical Horizon represents hope when there is none and we make sure our fans feel that whenever they hear us sing," said Matt Scannel, the band's lead vocalist.
According to the group, getting back in the music business was not easy, but it was a familiar feeling that did not take long for them to adjust to. They just need to reboot their image and dish out something fresh for their fans who essentially grew up listening to their music.
"What keeps us inspired is quite simple. We sit down together in the recording studio with our guitars, and we try to think of the things inside of us that we feel are broken… and the things inside of us that feel hurt. And as the lead songwriter for the group, I try to process these emotions and turn them into lyrics that mean something and would make us feel better," Scannel added.
BLUE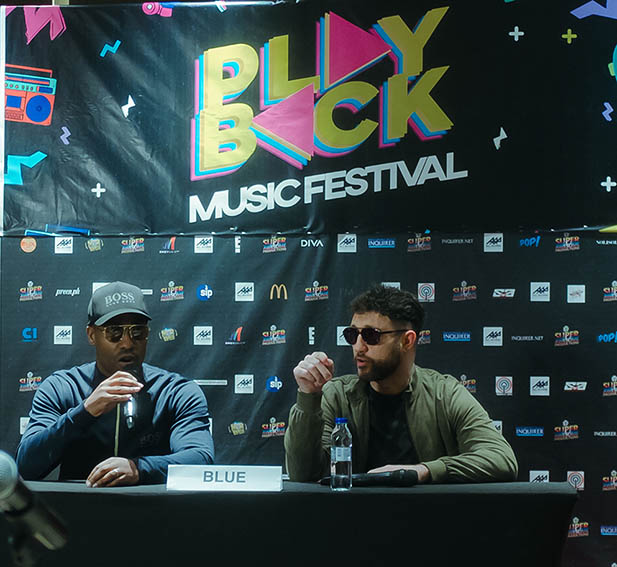 Photo by Philstar.com/Seph Asong
British boyband BLUE, consisting of members Antony Costa, Duncan James, Lee Ryan, and Simon Webbe, was a huge hit worldwide. They first rose to stardom when they hit the jackpot with "One Love" back in 2002, followed by "Guilty" in 2003, and both of these songs peaked at number one in the UK charts. Since then, they have released 16 singles in four years.
Apart from their huge pop culture influence, the boys have also collaborated with some of the biggest artists like Stevie Wonder, Elton John, and Lil' Kim.
After years of performing and touring the world together, the group announced a hiatus back in 2004 and released a compilation album that featured all of their best tracks.
These international acts joined Filipinos' local bands from the '90s and early 2000s at Playback Music Festival on February 10, at Circuit Makati, helping the audience relive all those tear-jerker, but worth keeping, moments from the past.