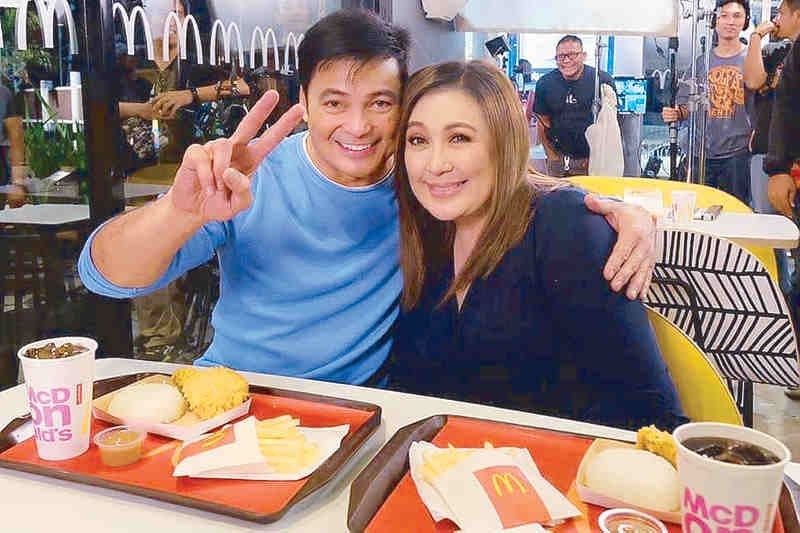 Who would have thought that 17 years later "Kumusta Ka" would be heard by millions watching Sharon Cuneta and Gabby Concepcion in a McDonald's commercial?
Kumusta Ka lives on with Sharon & Gabby
The late Willy Cruz and I had a solid but also volatile friendship and this often affected our working together. This means that there were times when we were two brats stomping feet and butting our heads over something we could not agree on. Like his missing his deadlines a lot. It was nerve-racking but also fun and easily tossed aside when we get our hands on a new, exciting job.
This could be quiet, a total breeze like recording an adaptation of a Carpenters hit for Nora Aunor or scheduling different rehearsal times of the same song for Didith Reyes in Tagalog and Celeste Legaspi, who was to sing it in English. Other times though, heaven would work its magic and we would have something to daydream about for days. Kumusta Ka is one of those.
The year was 1981. Willy called me to do lyrics for his new artist named Nonoy Zuñiga. He already had a few good love songs in the album like Doon Lang and Never Ever Say Goodbye, so he wanted a song for a mother or mothers. Nothing against mothers but I could not come up with anything. Instead I was getting words that practically flowed with the melody, kumusta ka…
The process took me less than an hour. It was not what Willy wanted but the music and the lyrics so melded naturally, there was no way I was going to change it. No we did not butt heads that time. He loved Kumusta Ka as much as I did. So did Nonoy. It was one of those times when the song went straight to recording with no changes. And that little laugh that Willy made Nonoy do at the end was just enchanting. Willy and I would go on to write other songs but I always felt that Kumusta Ka is the special one, our perfect little song.
So how nice to find out that Fernando Poe Jr., felt the same way. Filmdom's Action King was very musical and was meticulous about the music used in his movies. His first team-up with Megastar Sharon Cuneta was an important event and he wanted the right songs to go with it. His choices were Kahit Konting Pagtingin, a big hit by Ric Segreto for Sharon and for himself, Kumusta Ka by Zuniga. The movie broke box-office records and the medley of Kahit Konting Pagtingin and Kumusta Ka from the soundtrack became a huge hit.
Then a quiet time followed. Like most old songs, Kumusta Ka would once in a while be heard on the radio or be streamed in the Net or performed in live shows and in karaoke joints over the ensuing years. New versions were recorded. Sharon herself has one. Joanna Ampil and Mark Bautista have a duet version.
I still thought a lot about the song. It is not often that a lyricist gets to capture a situation in words that listeners could easily relate to. Of course, it was also fortunate that the situation I chose is one that has happened to everyone several times over. I am sure that many of you, like me, have met an old love, been at a loss for words and heard Kumusta Ka playing in your heads.
I do not know if Sharon and Gabby Concepcion ever heard Kumusta Ka playing during those times when they met after their marriage broke up. Their separation was a disaster that shook Philippine show business. To this day, when the chance of their ever reconciling is already non-existent, there are Sharon-Gabby fans who are still hoping they would see them together again. If not in real life then perhaps in a movie.
McDonald's, the fast-food chain to which Sharon has been very loyal though. If not in real life or a movie, then why not in a commercial. And surprise of all surprises, Sharon and Gabby both said yes. The shoot happened, a simple vignette of two exes meeting accidentally at McDonald's while having Chicken McDo and fries. So right for the Valentine season. Playing in the background is Kumusta Ka.
Who would have thought that 17 years later Kumusta Ka would be heard by millions watching Sharon and Gabby in a McDonald's commercial? But such is the power of an old song which now comes with trunkfuls of memories. I wish Willy were here. And I say thank you to the lost love who provided me with the inspiration.