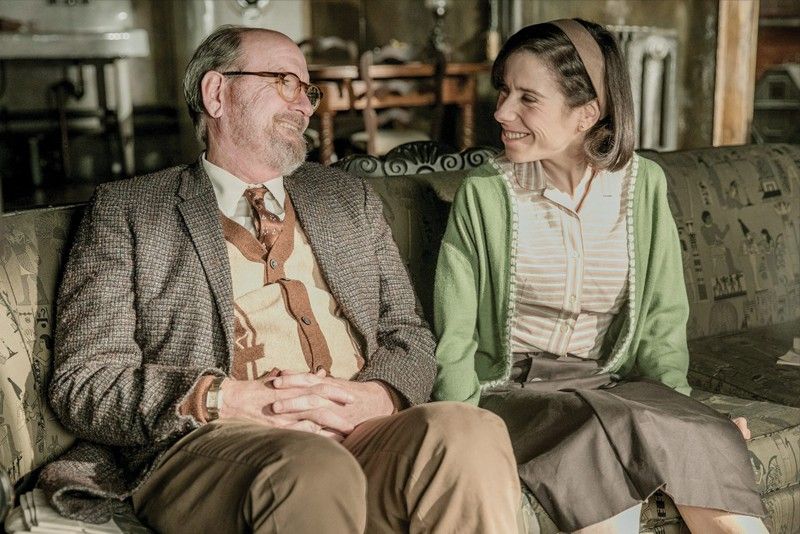 Richard Jenkins as the introverted artist Giles and Sally Hawkins as the mute custodian Elisa in a scene from the movie
(The Philippine Star) - February 9, 2018 - 12:00am
Film review: The Shape of Water
MANILA, Philippines — Trust, otherness, sex and love — these are some of the themes explored in Guillermo del Toro's The Shape of Water. And it's a fantasy drama film that charms, teases, enchants and rekindles the magic that movies are supposed to create. It's my frontrunner for the Oscar Best Picture as it's old school Hollywood filmmaking with modern twists.
Despite the implausibility of the premise — mute female custodian at a top-secret military laboratory falls in love with and stages the rescue of a merman captured in the Amazon — the story becomes resonant for today as it speaks of the marginalized, the misfits of society. Inspired by how Del Toro, as a child, would watch the Creature from the Black Lagoon and wonder what would happen if the romance between the creature and the female lead could blossom, The Shape of Water is set in 1962 Baltimore, during the height of Cold War hysteria.
So who are the film's marginalized, the outcasts? Elisa (the brilliant Sally Hawkins) works at the facility and is mute, generally ignored by the people she works with, except for Zelda (Octavia Spencer), an African-American trapped in a marriage, where she is ignored by her husband. Elisa lives in an apartment located above a movie house; with gay, introverted commercial artist Giles (Richard Jenkins) as her neighbor. And of course, the biggest misfit of them all is the Amphibian Man (Doug Jones in great prosthetics and effects). Villain in the film is Colonel Strickland (the always riveting Michael Shannon), and it's when he decides to vivisect the Creature that Elisa is spurred into action.
What's impressive with Del Toro's mastery of the material is his world-building, the cinematography and production design, the use of lush colors and Desplat's even lusher musical score, the ensemble acting, the attention to detail and injecting shafts of humor. As the film introduces us to Elisa, I am reminded of how we met Amelie; and that affinity to old Hollywood is marked by how Elisa and Giles live on top of a cinema.
It's when the film tackles with frankness such subjects as sex and racial discrimination that we sense just how "today" this film is, in spite of the 1962 Baltimore setting. Not only as good as Pan's Labyrinth, I would consider this even better. The artful blend of fantasy, the monster genre, the offbeat romance, the social commentary — they all add up to Del Toro fully deserving any Best Director win he garners this awards season.