New hit singles
January 31, 2018 | 12:00am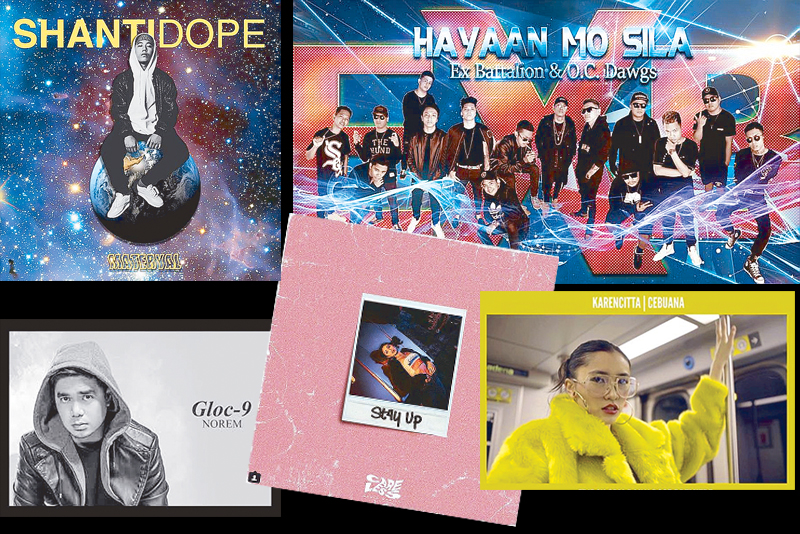 I have never despaired about it so I was sure there would be a turn-around for the better any time soon. So this is for those doubters out there, who think I had been trying to beat a dead horse to its feet all this time. I can tell you with all honesty that there is truly hope for Filipino music.
Not only is there a wealth of new singles out in the web, these releases are a varied lot. Producers and musicians are experimenting and searching for their niche. And listeners are streaming and downloading them, which means that these songs are selling. But the most interesting development of all is that although influenced by Western pop forms, there is an emerging Filipino style in most of them.
I find the hip-hop section particularly interesting. Take note of these tunes. St4y Up by Nadine Lustre. The former Pop Girl is all grown up and is in a serious relationship with screen partner James Reid. She is also looking her loveliest these days. So what is to stop her from being this sexy in her latest single, St4y Up. Nadine asks, "Won't you stay up with me… I need your love all over me…" and sets fire to the hit charts. Don't forget to watch her do this live with James at the Araneta Coliseum on Feb. 9.
Hayaan Mo Sila, Ex Battalion OC Dawgs. This is the biggest hit, so far by the talented members of this hip-hop collective. Being a collective means that all of the members are themselves solo artists and can work together or on their own. The Ex Battalion is actually made up of Bonx1ne, Flow-G, King Badger, Emcee Rhenn, Brando, KentMNL, Bullet D and McKoy. Previous releases were Need You and No Games. Hayaan Mo Sila with its soft, engaging attack is their best.
Mau, Nadarang, Materyal, Norem, Shantidope featuring Gloc-9. These are all hits by a rapper who also calls himself Shanti Dope. The kid is only 16 years old. He has a natural flair for poetry and his own ideas about life. No wonder he is already considered Pinoy hip-hop's most exciting find.
Cebuana by Karencitta. Still on hip-hop and just as exciting is Karencitta. She is Karen Ann Cabrera in real life. She acts. She writes. She does comedy. She raps. And she gets millions of views on YouTube. Those wondering who she is, note that she was the female emcee who once did some gigs with Abra. Now she is on her own and doing great.
Because by OTW. Does OTW mean On the Way or Other Than White? And this means I do not have the faintest idea who this rapper is. But I like his simple way with the beat and the infectious way he goes about, "…papunta na, papunta na…" This tune Because is about being on the way indeed.
There are also slow ballads that Pinoys can never be without. Most arresting of this new batch is Walang Ibang Tahanan, an inspiring composition based on Psalm 139 composed by Bok Arandia, Fr. Arnel Aquino and Michelle Ching of the Bukas Palad Ministry. Michelle performs the song and she has a lovely voice.
Tulog Na by Sabu. I do not know what her real name is but this girl has a gift for writing simple lyrics and melodies that come out with a punch. Her Walk Alone established her as a hitmaker. Now she is gunning for bigger sales with this sweet, achy lullaby.
Unusual by Cheenee Gonzales. She is known as the Windowpane Girl who writes words like, "Love till you can't recall the feel of pain." Ouch! No wonder, adolescents coping with strange emotions have acquired the habit of listening to her. Unusual is her latest. It is sweet but powerful.
There is also a new rocker. Blank Pages by Farewell Fairweather. This is guitar-fueled soul rock that comes across as most refreshing in the midst of all the har-har sounds we are immersed in these days. The well-synched band is composed of Mic Manalo on vocals and guitar; Kim Hue Jin on lead guitar; Gani Palabyab on keyboards; Ethan Muriel on bass; and Mark Villena on drums.
Okay, we still do foreign covers. Good ones, too. Gracenote was able to rock When I Dream About You and Darren Espanto gave a youthful spin to Dying Inside. But why on earth is Jeremy Glinoga singing Too Good At Goodbyes? The boy sounds fine but he is competing with Sam Smith.