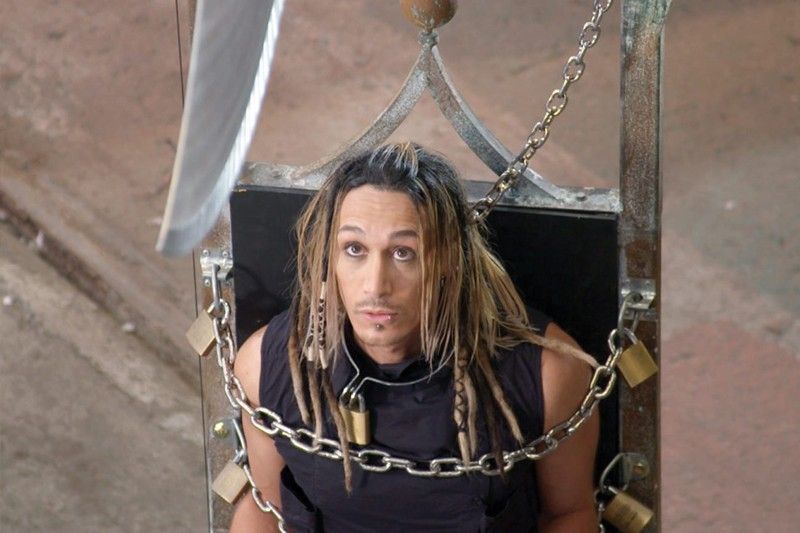 On January 18 at 9 p.m., AXN will premiere The Elements: Cosentino, a four-part series which sees the Australian illusionist embarking on a tour of Asia and executing death-defying stunts
How magic turned Cosentino's life around
MANILA, Philippines - Magic has worked wonders for Cosentino, transforming him from a shy kid with learning difficulties to a master illusionist and showman.
Australia's "top magician" is now conjuring magical moments for audiences around the world through hit TV shows and popular live performances.
On Jan. 18 at 9 p.m., AXN will premiere its newest original production titled The Elements: Cosentino, a four-part series which sees the 35-year-old Cosentino embarking on a tour of Asian cities and executing large-scale illusions and death-defying escapes in episodes themed around earth, wind, fire and water.
Against the backdrop of iconic landmarks in Manila, Kuala Lumpur, Taipei and Singapore, Cosentino captivates crowds (celebrities included) through his tricks and sleights of hand. Ahead of the show's debut, The STAR had an exclusive phone chat with Cosentino last Tuesday, during which he talked about "why I do what I do" despite risks that come with his chosen career. Here are excerpts:
On how his AXN show The Elements: Cosentino came about:
"I originally came to prominence through Australia's Got Talent. I was fortunate I was a runner-up and would be discovered in 2011… From there, I was a guest artist on Vietnam's Got Talent, Australia's Got Talent multiple times and also Asia's Got Talent. Of course, Asia's Got Talent is produced by AXN and they saw me back in 2015. They had known that I had done my own TV shows (The Magic, The Mystery, The Madness, etc.) in Australia which have been broadcast in 40 countries around the world. We came up with some ideas and everyone was very happy with this idea called The Elements and that's how the show basically came about."
On how much freedom AXN gave him in the production of the show:
"That's an interesting question. The magic is all based on my ideas and concepts. It's me performing. It's who I am as a person. It's my story that I am sharing. So, it's a really good, really true representation of who I am and my journey through Asia. So, yeah, it was a very collaborative experience. I was very lucky."
On how The Elements was going to be different from his previous shows:
"First off, I'm in Asia. That makes it completely different. That's A. B, I'm performing for celebrities. We didn't do that in my previous shows. This show is more kind of a documentary… where you get to know about me and why I do what I do, the things that inspire me. And (in) The Elements, of course, the magic on the street is far more tricky, the stage illusions are more baffling, the escapes are more death-defying. And just its format, its feel, its ambience is completely and utterly different. It's actually not like anything I've ever done before."
On his filming experience in Asia:
"It was a wonderful experience. Challenging. And with the heat. You know, we had two or three days in each country, running around, leading these celebrities, performing in the streets. Very much an organic, guerilla kind of magic. That made it a huge challenge but very exciting for me being able to deal with different cultures…different people.
"I thought that would be the biggest challenge. But the thing I learned, which is so wonderful, is that magic transcends all cultural, socio-economic backgrounds. I talk about this in the TV show. It doesn't matter what language they speak… It completely breaks down the language barrier. Magic is so powerful. You could perform for literally a royal celebrity, and then at the same time, perform on the street for kids and get the same reaction. From completely different socio-economic worlds and yet they have the same response. Isn't that a beautiful thing?"
On what to expect from the episode shot in the Philippines:
"The show mixed up all four elements because there's so much great footage from the Philippines… We met some of your big celebrities. We absolutely blowed their minds and baffled them. And it's not just card tricks. It's mind-reading, it's predicting future, it's uhm, so many things I'm trying not to give too much away.
"It was my very first time (in the Philippines) and I'm not just saying this 'cause we're on the phone now. I only went to Manila but I absolutely love the people. Their response to my magic, how much they embraced me, walking through the streets and the night life, it was such a wonderful experience."
On how he discovered magic:
"I started magic when I was 12. But I started in a very non-traditional manner. That's because as a kid, I was very shy and introverted. I had a lot of learning difficulties. And I came across a magic book in the library. I was forced to be in there. And I couldn't read. My mom was the school principal as well but I couldn't read. And I had all these people trying to diagnose me, dyslexic or what was wrong with me. I just wasn't engaged.
"Anyway, I stumbled across a book, which is a book of magic, and it had really beautiful pictures of old magic posters. One of them was Harry Houdini, and his posters were originally created to draw an audience in… My mom sees me looking at the picture, she comes over and she says this is a picture of Houdini, famous escape artist. And she takes the book and reads the story to me. But in the back of the book, it had a magic trick. Very difficult reading. She read the trick to me, I had to learn how to understand what the words meant. Slowly through that process I began to read and I began to perform magic. That was the turning point. Now, all of a sudden, my confidence increased, I could read, I could write, I could spell. And learned the skill which was magic."
On how tough it was starting out in his career:
"Very, very difficult. I mean I spent 15 years honing my craft, traveling around Australia, practicing my act, putting on my own show, working in shopping malls. For 15 years, I was... more like grinding away to create a career for myself. And in Australia, just a fact, it was difficult because we don't really have a huge magic culture. There had never been, in the whole history of our country, an Australian magician that had his own TV show. I was the very first magician in Australia, in over 50 years of television, who has his own TV show. And I am the first Australian magician to perform in a huge international show and the third now to break out and be on international television.
"So, the point of my story, we didn't have a culture that would really, truly embrace magic, that had set some kind of precedent or blueprint for other magicians to come to. I pioneered all that. It was difficult to get to this particular point.
"I wanted a very professional approach to the magic, but there were times when I would be in a show -— we're talking 15 years ago or longer — it would be a 300-ft. venue and there might only be a hundred people in there. Now, it's 3,000-ft. So, it's been a long journey to get here, but I definitely remember those experiences. And when I perform for celebrities, they're very kind. They say, 'You know, for what you've done, you're very great.' I say thank you, that's very nice. But I remember what it was like when nobody wanted to watch my magic. The fact that you're here interviewing me, asking me about it, I have a lot of gratitude. I'm very thankful because I know what it was like when no one cared."
On his scariest act and would he be willing to do it again:
"Oh wow! What's scary in The Elements is the last episode, the water episode, I performed an underwater escape. I was placed inside a glass box, very small, handcuffed, chained, locked, real locked. There's an audience in front of me and I'm holding my breath. I'm hoisted into the air about three meters high. The cameras filmed from all around: underneath, above. That's really challenging to pick all those locks underwater, to hold your breath. And it's very dangerous but if anything is to go wrong and they try to…and pull off the lid, it's very difficult to do.
"Would I do it again? (Exhales deeply) Yes, and of course, it's gotta become more challenging now. Maybe next time, I'm gonna have more locks, I'm gonna hold my breath longer. It's always this thing about pushing the envelope or pushing my threshold. The same way a Formula 1 driver likes to go faster around the track or a skydiver likes to skydive higher. It's the same as adrenaline rush."