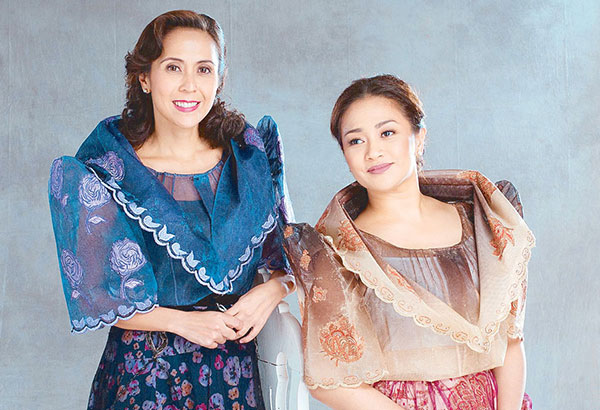 In Ang Larawan, the musical version of Nick Joaquin's Portrait of the Artist as Filipino, Rachel Alejandro (left) and Joanna Ampil flesh out the iconic sisters Paula and Candida with a new touch
Portrait of Rachel & Joanna as 'spinsters'
CONVERSATIONS
-
Ricky Lo
(The Philippine Star) - December 23, 2017 - 4:00pm
Tomorrow, Christmas Day, the Filipino moviegoers will again troop to the cinemas for the annual Metro Manila Film Festival (MMFF). One of the eight entries is Ang Larawan, a musical based on the classic three-act play A Portrait of the Artist as Filipino by Nick Joaquin.
Literature enthusiasts are familiar with this tale about how poor, unmarried sisters Candida and Paula Marasigan refuse to sell their father's masterpiece in spite of great interest and huge offers from potential buyers. The story presents the conflict between commerce and art, and celebrates the values of faith, family, tradition and beauty.
From the leads to the supports to the cameos, Ang Larawan has assembled a veritable constellation of stars: veteran artists Celeste Legaspi, Dulce, Nanette Inventor, Noel Trinidad, Bernardo Bernardo and Jaime Fabregas, with young actors Aicelle Santos, Cris Villonco, Cara Manglapus, Jojit Lorenzo and Rayver Cruz. Playing very special roles are music icons Ogie Alcasid and Zsa Zsa Padilla.
The brightest spotlight focuses on Rachel Alejandro, Joanna Ampil and Paulo Avelino who play the leads. For the first time in his career, Paulo as boarder Tony Javier sings and plays the piano in a film.
Rachel and Joanna, as Paula and Candida respectively, get the biggest breaks in their careers. Rachel is a singer, host, entrepreneur, book author and stage actress. Joanna, meanwhile, is more of a stage actress, having done numerous productions on London's West End (Fantine in Les Misérables and Kim in Miss Saigon, to name a few; she is still touring with an international production of Cats as of this writing).
Rachel has not done a movie since 1996 and Ang Larawan is technically, Joanna's first movie. Yet in spite of these, the two ladies deliver splendid performances. Richard Kuipers of Variety said, "…no one speaks and sings more eloquently than Paula and Candida. Ampil and Alejandro's voices and performances soar as the sisters resist the temptation of a quick fix in the belief that their father's work represents something more valuable than money."
Without a doubt, their performances were inspired and motivated by love for craft and the material. Rachel and Joanna talk about their Ang Larawan journey in this Conversation.
What went into your research for the roles?
Rachel: I had to work on adding poise and gentility to my movements. Our director, Loy Arcenas, always reminded us to move slower than we usually did as ourselves. I watched YouTube clips of how women behaved in very old movies. Although our characters had become poor by the time the story begins, they were women of good breeding because they were once part of the crème de la crème of pre-World War 2 Manila society. It was a challenge for me just to behave more like a lady because I'm actually quite boyish in real life.
Joanna: For Candida, I asked Loy how he'd like me to present the character; what ideas he had in mind. I was given several references which I checked out…movies and clips and documentaries to watch to give me an idea what the behavior was like during that era. I also made a character sketch where I made up a story how Candida grew up and what made her become the person she was.
Have you watched the first Larawan (Portrait of the Artist as Filipino) movie directed by Lamberto Avellana in the '60s?
Rachel: I've only seen YouTube clips of certain parts. I loved the blackout scene where Candida laughs hysterically then ends up sobbing. Brilliant!
Joanna: Yes. I saw it a few years ago.
What about the staging, one by Lino Brocka (first with Lolita Rodriguez and Charito Solis and then with Lolita and Rita Gomez), another staging with Zsa Zsa Padilla and Celeste Legaspi?
Rachel: I was maybe not even born or was too young to see the ones you first mentioned. But I was actually one of the executive producers along with Tita Girlie (Rodis) of the 1997 musical starring Celeste and Zsa Zsa because my dad (Hajji Alejandro) was in the cast as Don Perico (now played by Robert Arevalo in the film version) and also because I fell so in love with Ryan Cayabyab's music. I hung around rehearsals every day.
"That's actually how I ended up stepping into the role of Paula just 10 days before opening night of the repeat run in 1998 when the actress that replaced Zsa Zsa was sick. I was almost 20 years too young for the role then but they had no choice but to cast me because it would have been hard to find a replacement that late. I, at least, already knew the music by heart. Within those 10 days I had to learn the role, I also had a major concert with Side A at the Folk Arts Theater. It was a crazy, nerve-wracking time. But I'm glad I took on the challenge.
Joanna: I've never seen any live versions of the show before.
Any tips/pointers from Celeste who is co-producing Ang Larawan?
Rachel: Joanna and I were asked to take acting classes, which we did. I also had to take voice lessons with Emmy Cayabyab. They wanted me to blend more with Joanna's style and vocal register which was more suited to the era. I couldn't sound like myself which was at first very disorienting for me. I hated it at first because it seemed unnatural. But when I watch the film now, I understand why Celeste made me do it. And I'm grateful that she did because you will not see an ounce of Rachel anywhere in the film. I had become the soft-spoken, fearful Paula.
Other than those things, Celeste pretty much gave us over to Loy to mold into his vision for the two female lead characters. Off and on for an entire year, Jo and I worked at becoming Candida and Paula, women who are as different from our real selves as could possibly be. It was not an easy road. We nearly gave up many times but it resulted in us forging a bond. People that have seen the film have told me that even if Jo and I don't look alike, we are very believable as sisters.
Joanna: Celeste was very gracious in making sure that she does not overstep my process in finding my own Candida. She'd be there for any questions I might've had but she never gives unsolicited advice.
Did you have a choice which of the two characters you would portray?
Rachel: I am an alto and so it would be more natural to cast me in the alto part which is Paula. Joanna was chosen to play Candida because she has a soprano range.
Joanna: Candida was given to me. I believe it's mainly because the vocal range suits me better, too.
How different are your interpretation from those of the previous actresses?
Rachel: I don't know how to compare my interpretation to that of Zsa Zsa. All I can say is that she was luminous as Paula. She made you cry one minute and cheer for her the next. She was amazing.
Joanna: To be honest, I never really studied other actors' interpretation, nor have I seen enough versions of the play to really dissect it. I always want to put my own stamp in every role I play, therefore it's best to just study the script and create my character from scratch with ideas from the director and myself.
Being both married, what aspects of the spinsters did you identify with?
Rachel: I probably have pretty much nothing in common with Paula other than the love for family. At such a young age, I was already living independently, was engaged at 19 years old, broke that engagement a year after and had seen most of the world by the time I was in my mid-20s. Paula, on the other hand, watched as life passed her by. It was not easy for me to understand what that must be like. But that's what's so great about being an actor. You learn empathy by studying your role.
Joanna: I'm actually not married. I have been in the past but it was a long time ago therefore the idea of being a spinster came with ease.
How was the experience shooting the (period) movie?
Rachel: The shoot itself went quite smoothly because we knew our parts front and back. There were some challenges with the location. The house we used is actually in Batangas but we had to make it look like it was in Intramuros. We had to reshoot an entire scene because of certain details you could see from the windows of the house.
Joanna: I fell in love with the era and with the whole look of the movie. Gino Gonzales did an amazing job at creating the look of the era as well as the costumes we wore. The whole ambience was like going back in time.
Did you have awards in mind while doing it?
Rachel: I am still hoping and dreaming that it would somehow make it into the Oscars. That's my biggest dream ever. I'll absolutely scream if we manage to get nominated in the Best Musical Score category for Ryan's work.
But for right now, we are very grateful to make it as an MMFF entry. Our world premiere at Tokyo International Film Festival (TIFF) and how the Japanese reacted so positively when they watched it are also experiences I will always cherish in my heart.
Joanna: My mindset was not about awards although people kept mentioning it. I just wanted to survive the experience. I wanted to finish the movie and still be sane afterwards. That was my goal. It kinda messed up with my brain most of the time.
How do you think the movie will appeal to millennials?
Rachel: I'm part of the producing team so I'm very much involved in the marketing aspect as well. We recently had a talk and told the story of our journey to a group of college students and they really got excited about it. I think at the end of the day, our passion and love for Ang Larawan will be so infectious that people of all ages will wanna go out and see it.
Joanna: For me, the music is the core of this movie. The soaring masterpiece of Ryan Cayabyab will truly uplift any listener and it has taken this whole experience to a different level. The music is what got me through day after day of the rehearsal period and we, Filipinos, are music lovers at heart.
Nick Joaquin is also one of our important writers. We need to keep educating ourselves with his works. It touches upon previous generations and culture and how it affects our behavior today. This movie is going to outlive all of us and that in itself will hopefully generate curiosity that will prompt people/millennials to watch it.
(E-mail reactions at entphilstar@yahoo.com. For more updates, photos and videos, visit www.philstar.com/funfare or follow me on Instagram @therealrickylo.)