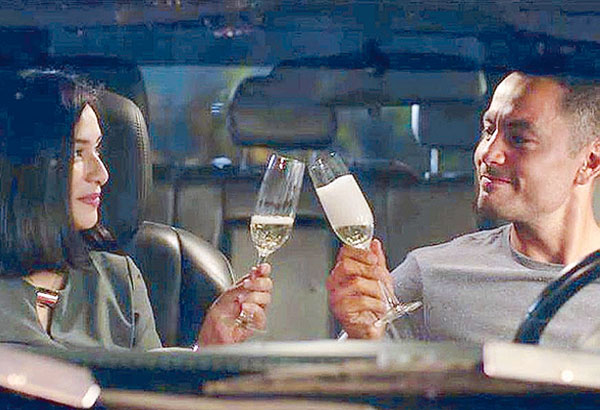 Jennylyn Mercado and Derek Ramsay in All of You, a rom-com grounded on reality
Film Review: All of You
MANILA, Philippines — All of You, the latest output of direk Dan Villegas, sees love in its unadulterated stage when nobody talks of wedding plans and they respond to mutual attractions with dispatch and nobody talks about how the future will look like.
Gabby (Jennylyn Mercado) and Gab (Derek Ramsay) meet in Taiwan through an Internet dating app and things just move fast. On the pretext of having his cellphone charged, he goes with her in her apartment and after some coy hesitations, the basic urge is consummated like they had a simple breakfast and that's it.
Two years earlier, Jennylyn broke up with Rafael Rosell after a heated argument in a parking lot. When she meets Derek, she has moved on and promised herself she would make the most out of her life — such as it is.
When she goes back to Manila to resume work, their paths cross once more and one meeting leads to another.
Her love life with Derek took another three years but finally they come to terms with reality as they try to iron out some lifestyle differences. She hates smoking and thus she prepared a little garden where her partner could smoke to his heart's content. Simply because she couldn't stand the smell of cigarette in the bathroom. Then she cleaned up her lover's apartment, she started to meet his friends and she got to know his business connection.
Somewhere on this stage of their live-in arrangement, she suddenly contemplates marriage when partner talks of having what will pass on as family.
Just when she thought plans would be laid out that easily, bar business goes kaput, tempers erupt and future groom makes a virtual spoof of the marriage proposal she has quietly longed for.
At close to two hours, All of You is an engrossing linear portrait of a relationship put to test in the proverbial adjustment period.
There is no attempt to inject a kilig component, there are no romantic flashbacks from both parties and to top it all, no romantic candlelight dinners with pre-arranged music in the background.
In this sense, direk Dan offers a reality tour in the labyrinth of present-day relationships and stays on focus. At some point, the film looked dreary with scenes from a relationship gone haywire. But this is where the director succeeds in driving home his point: That love can disappear when you least expect it and that a relationship is headed for Rockville unless you confront the less romantic details.
With sparing use of musical scoring, Dan wanted a story simply told, he wanted spontaneous acting and got it, and the result is a present-day rom-com in touch with millennial reality.
Jennylyn is back with her refreshing approach to acting and like it or not, you get pocket flashbacks from previous films like English Only Please and Walang Forever. But she makes a lot of things tasteful from her bed scenes with Derek to her cleaning up her lover's abode. She sizzles with desire and so does he. But direk Dan found a way to make it a virtual contrast to the morning after when one of them confronts business loses and she begins to think of a normal family.
On the whole, Derek is at his element as an actor essaying love and rage with spontaneous results. In one confrontation scene, Derek almost electrifies as his anger moves from an insensitive partner to loss of business investments.
Jennylyn has her share of poignant moments as she registers her disappointment at a love threatening to end just like that.
The film will no doubt provide a new kind of rom-com in this festival with wholesome family pictures fighting for the top slots in the box-office.
On the other hand, it is a gentle reminder that wedding plans don't make a perfect marriage and the only way to go is to face reality head-on before they move on to the new chapters of their love life.
Because when all is said and done, it is real commitment (not grandiose wedding plans) that makes true love go round.
All of You opens on Christmas Day.