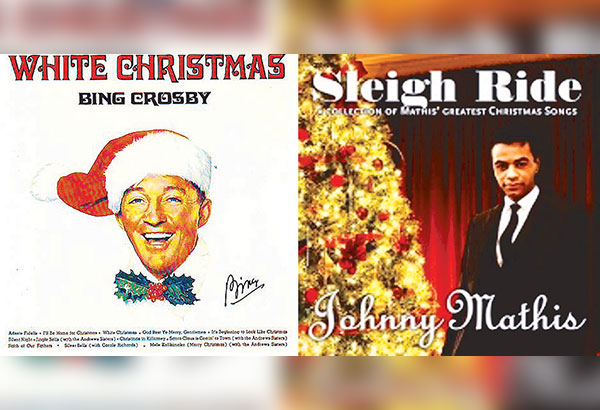 Bing Crosby introduces White Christmas in the movie Holiday Inn; Johnny Mathis sings Sleigh Ride
There is no question that the observance of the Christmas holidays is made more solemn, more joyous, more memorable and more everything because of Christmas music. And although we have been listening to them year after year after year, it cannot be denied that although now jaded and older, we still get the sweet thrill of anticipation whenever we hear those beloved Christmas songs.
Admittedly those are some of the most beautiful, most moving and most meaningful songs ever created. Silent Night, O Holy Night, It Came Upon A Midnight Clear and O Little Town Of Bethlehem are a few of them. Today's songwriters cannot be expected to interpret Christmas like it was done in the long-ago past. But they can make attempts and some of these can be so successful they can now be mentioned in the same breath as Silent Night.
Here for your very own playlist, are the most popular Christmas carols of modern times. These titles were culled from an informal poll among Christmas music lovers. You should, of course, have your own favorites on your list. But if you want tunes from recent times, then these are the ones you should not be without.
Santa Claus Is Coming To Town by John Frederick Coots and Haven Gillespie is today's most popular Christmas song. I believe this is because everybody can relate to the song's message of "you better watch out" including three-year-olds who can also sing along with the simple lyrics. News for all those who thought that Elvis Presley originated this song. It dates back to 1934 when it was sung by the legendary Eddie Cantor.
Little Drummer Boy by Katherine Kennicott Davis. This was recorded by the Trapp Family Singers in 1951 and later by the Harry Simeone Chorale, which became the definitive version. This is also a big favorite with children who now know the tale of the little boy with no gift to bring to the baby Jesus. So he just played on his drum.
White Christmas, 1942, composed by the great American composer Irving Berlin and introduced by Bing Crosby in the movie Holiday Inn. This is acknowledged as the biggest-selling Christmas recording of all time. It tells of the feelings of soldiers in the war zone dreaming of Christmas back home.
The Christmas Song, also known as Chestnuts Roasting On An Open Fire, written by Bob Wells and singer Mel Torme because they wanted to feel the cold during one hot summer afternoon in 1945. It was popularized by Nat King Cole and is now the most performed Christmas song of all time.
Have Yourself A Merry Little Christmas, composed by Hugh Martin and Ralph Blane in 1944. This sad but very beautiful song was first sung by Judy Garland in the now classic MGM musical Meet Me In St. Louis. Frank Sinatra later recorded its most popular but still very sad version.
Blue Christmas, composed by Billy Hayes and Jay W. Johnson and recorded by Doye O'Dell in 1948. After several versions by country music artists and soul balladeer Billy Eckstine, it was recorded by Elvis Presley in 1957 and turned into a rocking Christmas ballad with shades of country.
All I Want For Christmas Is You, a composition by Walter Afanasieff and singer Mariah Carey herself. Released in her first Holiday album in 1994, it has since then become the most successful Christmas song of recent times. Check out Mariah's great duet version that she did with Justin Bieber a few years ago.
Santa Baby, by Joan Javits and Philip Springer and a huge hit for Eartha Kitt in 1953. People saw this more as a novelty tune than as a Christmas carol when it first came out. Surprisingly, it has already withstood many Holidays and seems to improve with each new version. Don't you just love Madonna's and Michael Buble's.
Winter Wonderland by Felix Bernard and Richard Smith in 1934. This is not a song about Christmas but because Christmas happens during winter in many parts of the world, who is to argue with the beauty of a field under a blanket of snow with an evergreen or two, a sleigh, a snowman in what truly looks like a winter wonderland. Versions by Frank Sinatra, Perry Como and Andy Williams.
Rudolph The Red Nosed Reindeer composed by Johnny Marks based on a story created by Robert Lewis May for the Montgomery Ward Department Store in the US and a huge No. 1 seller for Gene Autry. Who would have thought that the story of a reindeer with a funny red nose would become part of the Christmas celebration? But Rudolph has become so popular he is now known as Santa's ninth and leading reindeer.
Other songs you might want to add to your playlist are Sleigh Ride by Johnny Mathis; Happy Christmas (War Is Over) by John Lennon; Merry Christmas Darling by The Carpenters; Do They Know It's Christmas by Band Aid; Frosty The Snowman by Perry Como; Christmastime Is Here from A Charlie Brown Christmas; Wonderful Christmastime by Paul McCartney; I'll Be Home For Christmas by Frank Sinatra; Please Come Home For Christmas by Bon Jovi; Last Christmas by Wham!; It's Beginning To Look A Lot Like Christmas by Michael Buble; Here Comes Santa Claus by Elvis Presley; and Give Love On Christmas Day by the Jackson 5.