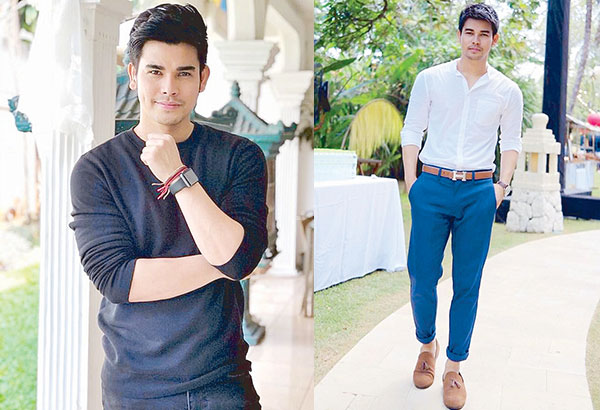 Leo Consul hopes that fellow Pinoys will embrace him just like the Indonesian audience did, and he will work harder to make that happen.
Leo is AAA's new heartthrob
It has often been said that everything happens for a reason. The journey of Leo Consul — the newest heartthrob of Asian Artists Agency (AAA) — proves that old adage holds true.
?Leo's pursuit of a showbiz career began in 2006, when he tried out for the fourth season of GMA 7's StarStruck. That was the year Aljur Abrenica, Jewel Mische, Kris Bernal and Mart Escudero won. Meanwhile, Leo failed to make the cut. It's been almost a decade since that ill-fated audition, yet Leo still has vivid memories of it.
"My StarStruck experience was quite memorable as it was my first audition after my hosting stint on ABS-CBN Baguio," he recalls. "I took a bus from our town in Pangasinan to Manila carrying nothing but that hope of winning the competition. I lined up with thousands of other hopefuls. The whole thing reminded me of the Hunger Games. Everyone was hungry for a chance to become famous."
Leo waited in line practically the whole day. Come nightfall, he and the other aspirants were told that the screening would no longer be done individually because the production staff was running out of time. Leo's heart sank when he heard the news.
"I knew right then and there that my chance for a callback was as thin as the air. True enough, I didn't make the cut," he says.
He admits that failed audition did a number on his self-esteem. He felt worse when he saw people from the show go on to enjoy successful showbiz careers.
"I started to feel like I wasn't good enough," he says. "I didn't have the maturity to understand that everything takes time, and that it just wasn't my time yet. When I saw how my batchmates became successful, I have to be honest, I got jealous, in a way. Disappointment, frustration and jealousy lingered in my heart for quite a while."
Leo felt lost. He didn't know what to do, but he knew he needed to take action. So when some friends suggested to Leo to take a teaching job in Indonesia, he agreed despite his better judgment.
"I was ready to do anything to pay the bills. Teaching wasn't really the career I wanted to pursue, but I took the job so I could start helping my family financially. But I quit after a few months. Teaching is a noble profession but I'm just not cut out for it. Deep down inside, I believed I was destined for something else. So I left teaching and started going to auditions by myself."
After a few months, he was discovered by a talent scout from Sony Music Indonesia. Leo was put in a boyband and trained for months under the label. All the while, he leaned on his friends for financial support, as he was flat broke. His friends didn't mind, because they cared about him very much and were willing to do whatever it took to help Leo realize his dreams. Unfortunately, it all came to nothing when visa issues put an end to Leo's time in the boyband. He tried to launch a solo career with a song he wrote for his then-girlfriend, but legal and management issues got in the way.
To say he was crushed would be an understatement. But just as he was preparing to fly back to the Philippines with his tail between his legs, a blessing fell into his lap.
"I was hired to be the lone Filipino host of the newly-franchised show Eat Bulaga! Indonesia, and my career just took off from there. That taught me you shouldn't give up just because one door closed in your face. You should pick yourself up and find another door," Leo says.
After a year in Eat Bulaga! Indonesia, he hosted a game show called Save the Cash for six months. He also became part of the morning show Celeb On News and the teleserye Cinta Yang Tertukar (Switch Love) and The Voice Kids. He basked in his newfound fame, but since Leo was never one to rest on his laurels, the dreamer in him remained eager for new mountains to climb.
"It was so surreal. All my blood, sweat and tears paid off. Although money was still an issue because I was just a newbie, I reminded myself every waking hour never to give up," he says.
Leo never did — and in so doing, he learned a lot, which he chose to share with his fans in a book about his journey, titled A Thousand Miles in Broken Slippers. According to him, the book came about after he met with some Indonesian movie producers. They had a lovely talk over a cup of tea, during which Leo told them all about his life — particularly the long and winding road he traveled to find fame and fortune. Leo's story piqued their interest, so they offered him a book deal. A year after its release, Leo's memoir won Best Cover, Best Non-Fiction Book and Best Writer at the annual Anugerah Pembaca Indonesia 2016.
"I was overwhelmed when I won all those awards, but the fact that I was able to inspire people in Indonesia with my story was amazing, too. I was also overwhelmed when I received messages from them, thanking me for sharing my story and telling me how it motivated them to do great things. If I'm being honest, those messages meant more to me than the awards. Those messages are priceless!" he enthuses.
Leo has suffered a lot of disappointments in his life, but he hasn't let them break his spirit. In fact, these days he regards all those failed auditions and missed opportunities as stepping stones. Leo believes God placed them in his path to help him get to where he is today.
"Some things just aren't meant to happen no matter how much we wanted them to. We have to embrace that fact and move on. Take that solo single I recorded but was unable to release. If I had released it and if it had taken off, my life would be very different. I wouldn't be in the Philippines today, gearing up for an album under Star Music and working with Asian Artists Agency. Everything happens for a reason. I believe that now," he says.
Leo is thankful to the Indonesian public that has embraced him. He is also hopeful the Filipino people will embrace him as well and he is willing to work doubly hard to make it happen. "It is here in the Philippines where my dream was born. And when my Filipino supporters founded Leonatics Philippines, I said to myself, my time has come."
Leo signed a contract with Star Music and has already recorded a mini-album with the outfit. The album will also be distributed in Indonesia. One song, his version of Yeng Constantino's Ikaw, is in Bahasa. The rest of the songs in the four-track album are original compositions.