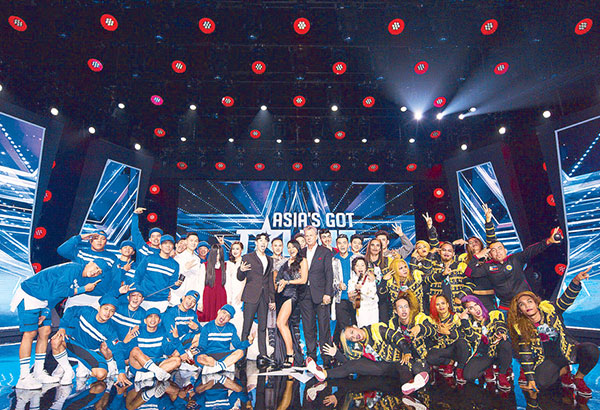 Judges Jay Park, Anggun and David Foster with the nine finalists of Asia's Got Talent (AGT) Season 2
Will Phl score an AGT back-to-back win?
Jerry Donato
(The Philippine Star) - December 12, 2017 - 4:00pm
SINGAPORE — "I think it all boils down to the act's connection with the judges and the public," replied Frederick Paring (in the vernacular), spokesperson of DM-X Comvaleñoz, when asked by select Manila press about what makes a standout performance in an interview after the Grand Finals presentation of Asia's Got Talent (AGT) Season 2. "There are great talents. All are very good at what they do... it makes a difference when one touches the heart."
As for beatboxer Neil Rey Garcia Llanes, he said, "if a performer doesn't have an impact on the audience, a judge might think he is not deserving. I think all the finalists are deserving, knowing that hundreds had auditioned."
Jay Ar "Jhe" Geocada of Urban Crew agreed (also in the vernacular) with Frederick by saying, "It gives one a different feeling — be it singing or dancing — if the performance comes from the heart, mararamdaman talaga mo yan."
A performance with a heart seems to be the game changer in the latest edition of AGT. Although judges David Foster, Anggun and Jay Park had given their expert opinions on how the nine finalists fared last week, the voting public has the final say on which act will bring home the title and the $100,000 cash prize. So, it is safe to say that all acts are on an equal footing.
With three Pinoy acts in the finals, Philippines might score a back-to-back victory, with El Gamma Penumbra as the talent competition's first winner.
Since the votes are coming all over Asia, again any of the finalists could win it all — and they have good reasons on where to put the prize.
"I will resume the construction of my parents' house in Samal Island, Davao," said Neil.
"We intend to put up a studio which can also serve as a mini church," shared Frederick, who along with the other DM-X Comvaleñoz members, are part of Lighthouse Christian Fellowship. "We don't have a permanent place for our Bible study sessions. We hold it in places like a park. Since some members have families of their own, they will use their winning in the construction of their houses, in their businesses, and the rest will use it to help their families."
Like DM-X Comvaleñoz, Jhe said Urban Crew wishes to have its own studio that will give children free dance lessons. "We want them to learn how to dance, especially those children who roam the streets," he said. "Wala naman silang ginagawa baka malihis pa sila ng landas. We want to keep them in a place and teach them. Most of us also came from the same background. Some of us met on the streets and now are part of the group. They will be taught about discipline and other values that are related to character formation."
Aside from themselves as their sentimental choices to win AGT S2, Neil, Frederick and Jhe had also other bets that made a great impression in the grand finals showcase.
"Sobhi Shaker (of Malaysia) has a profound message with his (magic) act (using cards)," said Jhe. "The message (of peace and unity as well as issues like poverty) is not only specific to his country but is also global."
Neil had the Taiwanese ukulele playing kid Feng E on his mind but Sobhi topped his list. "What he (the latter) wants to put across in his magic is realistic. The kid, however, is amazing. When I was his age, at 10, I didn't know how to play such instrument. I was into playing marbles."
The Sacred Riana of Indonesia was Frederick's choice. "(She) is very popular," he said. "ADEM (Dance Crew) (of Kyrgyzstan) is also popular on YouTube and its talent is unique."
During the interview, Neil, Frederick and Jhe were a picture of happiness given the AGT journeys they had trodden on. Neil tried his luck in the first season but studies prevented him from pursuing it. "So, I told myself that I needed to level up this time," he said. "Everything was planned. Then, I would just polish. I was very happy because I think perfect lahat nang ginawa ko."
Frederick shared that his team would always think of variety, you know offering something new. "Matatalo kami kung sayawan lang. It had to have twists. We incorporated the girly, girly vibe to the performance as well as the tumbling acts to make a difference. The public had to be amazed in the grand finals. The performance had to be different."
With Urban Crew, Jhe shared, "We're known for and we're familiar with the stunts and tricks that we have done. We just stick to what we are. We just added new steps and upgraded our stunts."
Among the Pinoy acts, DM-X Convaleñoz was the only judges' pick that helped the group secure a grand finals slot. Neil and Urban Crew made it to last Thursday's presentation through public voting.
Singer-harpist Angela July of Indonesia and digital dancer Canion Shijirbat (Mongolia) are the other finalists.
Meantime, Neil, DM-X Comvaleñoz and Urban Crew will relax and wait for the final announcement of winner on Dec. 14 at 8:30 p.m. on AXN. Voting done through Facebook Hashtag, Facebook Messenger and Google Search will close on tonight until 11:59. It's the public's turn to vote for their choices. Hopefully, Lady Luck will take side on their favorite acts.
(For details, log on to www.AXN-Asia.com/AGTVote.)