Miss Universe supports Camiguin's jewelry made of 'trash' sea glass
December 11, 2017 | 9:01am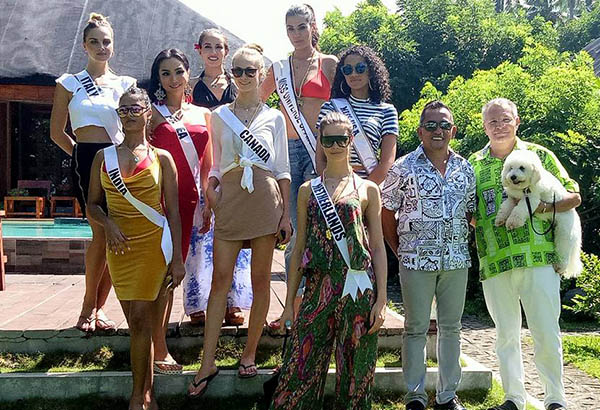 MANILA, Philippines — Besides the white-sand beaches, volcanic springs and awesome waterfalls, Camiguin is also known for its sea glass accessories.
The Miss Universe queens who visited the island-province — Miss Italy Maria Polverino, Miss Netherlands Nicky Opheij, Miss Canada Lauren Howe, Miss Spain Sofia del Prado, Miss USA Kára McCullough, Miss Korea Sewhee Choo, Miss Singapore Manuela Bruntraeger and Miss India Shraddha Shashidhar — got up up close with Camiguin's sea glass jewelry.
What makes the jewelry unique is that the source materials, bottle shards, are picked by little kids from the shores and created into fashionable accessories by women from the community. After years in the sea bed, tumbled by the waves and tides and smoothened in the process, they have turned into a precious commodity.
Sea Glass Camiguin is a brainchild of the couple Cocoy Bajuyo, an artist/photographer with international experience in the tourism sector, and Elden Chamberlain, a British expert in public health and HIV/AIDS. The couple own the resort called Balai sa Baibai, which serves as the workshop and showroom of the gorgeous jewelry. They commission the pieces from a group of women and silversmiths who belong to the Komunidad sa Baibai, a livelihood foundation the enterprising couple set up with the help of the LGU and generous benefactors such as their generous friends, the Coalition for Better Education and the German Embassy.
"What makes the sea glass special is that it's just trash, polished over time by nature and now becomes a gem," says Bajuyo, who hails from nearby Cagayan de Oro.
The white, green and brown (from beer bottles) sea glass jewelry sell for as low as P150 because they are more commonplace. "Red is the rarest and most expensive, at most P,000, because you need gold to bring out the red. They come from decorative vases and even old car tail lights, which nowadays are made of plastic."
Bajuyo said you have to find 10,000 sea glasses to find a red one. Also rare are the yellow sea glass, which he plans to create into crowns for the next Miss Lanzones Festival or the Miss Tourism Camiguin.
The 2017 Miss Universe delegates were on a daylong, whirlwind tour of Camiguin as part of the Department of Tourism's "Bring Home a Friend" campaign.
"We feel honored that the Miss Universe Organization and our Tourism Secretary Wanda Tulfo Teo has chosen Camiguin Island as one of the destinations for their visit. It is a great opportunity for us to promote the province and Region 10," said May SalvaNa-Unchuan, the DOT Region 10 director.
The Miss Universe candidates experienced firsthand the beauty of the attractions of the island. Upon their arrival, they were warmly welcomed by the Lanzones Festival performers. They went swimming and frolicking on the white sand beach of White Island and enjoyed fresh coconut juice at the majestic Tuasan Falls.