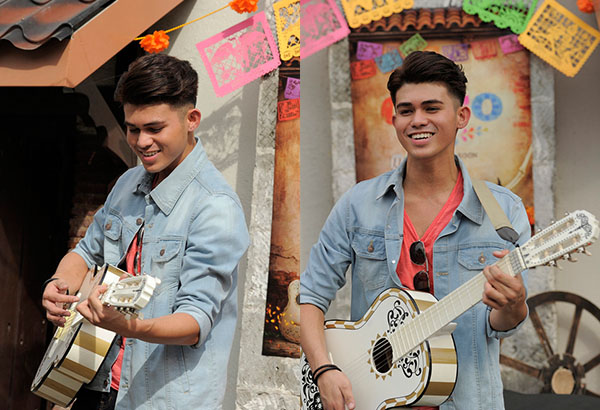 Disney-Pixar tapped Filipino singer Inigo Pascual to render the Philippine version of its latest movie's theme song. Photo release
WATCH: Inigo Pascual sings theme song of Disney-Pixar's 'Coco'
(philstar.com) - November 17, 2017 - 7:03am
MANILA, Philippines — Chart-topping Filipino recording artist Inigo Pascual sings and appears in the music video of "Remember Me," the lead song from Disney-Pixar's new animated feature "Coco."
Meanwhile, the music video of Inigo's cover version has been launched on Friday noon in VEVO, while the TV premiere will be on November 18, exclusively on Channel V.
The Philippines's localized music video aims to deliver the inspirational and positive message of "Coco" – that family is forever and we must keep alive the memories of our loved ones.
"I am honored to sing this song because it is about family and remembering the people we love," Inigo says in a statement. "It reminds us to appreciate the love and sacrifice that our families had to make in order for us to arrive where we are."
The 20 year-old Inigo Dominic Lazaro Pascual (more commonly known as Inigo Pascual) is one of the Philippines' hottest recording artists today. He made his debut in the film "Paano Kita Iibigin" in 2007 and has since appeared in films such as "Crazy Beautiful You" and "Relaks It's Just Pagibig" as well as ABS-CBN TV series "Wansapanataym," "And I Love You So" and "ASAP."
Inigo has established his status as one of Star Magic's brightest up-and-comers by dominating local music charts with his hit single, "Dahil Sa'yo," which has remained on Billboard Philippines' charts for 22 weeks and counting.
Inigo's local adaptation of "Coco's" "Remember Me" aims to dream, create and celebrate the most magical stories and adventures, each woven around a relatable, empowered local talent who delights everyone and especially inspires young minds to realize their full potential.
"Remember Me" was composed by Kristen Anderson-Lopez and Robert Lopez, the Oscar-winning team behind Walt Disney Animation Studios' 2013 feature "Frozen." In the film, "Remember Me" is the signature song for beloved performer Ernesto de la Cruz, and is heard multiple times throughout the movie.
"The song is from the point of view of a person hoping to be remembered by a loved one," said Anderson-Lopez. "But the lyric can be interpreted a few different ways depending on the tempo and tone of the music."
Despite his family's baffling generations-old ban on music, Miguel (voice of Anthony Gonzalez) dreams of becoming an accomplished musician like his idol, Ernesto de la Cruz (voice of Benjamin Bratt).
Desperate to prove his talent, Miguel finds himself in the stunning and colorful Land of the Dead, following a mysterious chain of events. Along the way, he meets charming trickster Héctor (voice of Gael García Bernal), and together, they set off on an extraordinary journey to unlock the real story behind Miguel's family history.
Directed by Lee Unkrich ("Toy Story 3"), co-directed by Adrian Molina (story artist "Monsters University") and produced by Darla K. Anderson ("Toy Story 3"), Disney/Pixar's Coco opens in Philippine theaters on November 22.