Robi: No regrets choosing showbiz over med school
November 1, 2017 | 4:00pm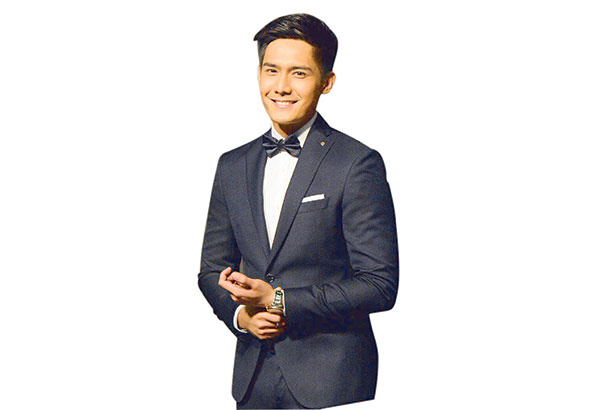 MANILA, Philippines — Robi Domingo has no regrets giving up his medical school plans for a career in showbiz.
The 27 year old said that if he weren't working now as a VJ and host, most likely he'd be following in his parents' footsteps. His mom is a pediatrician, his dad a surgeon, plus his grandfather is an eye doctor.
"Before I was really serious (about becoming a medical doctor). My pre-med course was Health Sciences at the Ateneo and I was supposed to take that step (med school)," Robi said during the recent launch of Sun Life Financial's #SunPiologyDUO event. (He will be among the celebrity participants of the bike-run race, the first part of which takes place on Nov. 18 at BGC in Taguig.)
He added, "I already took the NMAT (National Medical Admission Test) and passed. My score, I think, was 90-plus. I was really prepared to go into the Ateneo School of Medicine and Public Health."
Then, a career in the entertainment business came a-calling. In 2008, he joined the ABS-CBN reality TV show Pinoy Big Brother (PBB) where he landed first runner-up. What happened next was he was advised by ABS-CBN production division head and TV/film director Laurenti Dyogi to "just take a year off."
But Robi took on one hosting assignment after another, thus becoming part of at least 20 TV shows since the PBB, from the subsequent PBB editions, to The Voice, Dance Kids, I Can Do That, ASAP, etc. Just recently, he won as Best Reality/Talent Show Host at the ALTA Media Icon Awards and Best Variety Show Host at the seventh EdukCircle Awards.
And he did some acting on the side.
"I'm just so blessed. I'm just so lucky," he said.
Nevertheless, Robi admitted that there was a time when he felt confused whether he was really cut for showbiz or not.
"I had that episode in my life where I underwent a quarter-life crisis. I would always ask myself: Is this where I'm really going? But you just have to be happy with the things happening in your life. Sometimes, you just have to accept things. You're #blessed. That is what I always think to myself. This is the path that the Lord has given me, I just have to embrace it."
The desire to be a doctor may not be as fervent as before, but it has not gone away either, he said. "It's still there. (If ever, I just) have to take the refresher course and the NMAT again."
Robi recently found himself hanging out with his supposed med school batchmates who were, at that time, just waiting for the results of the 2017 physician licensure exams.
"They were my batchmates. Yung iba pa nga doon nango-ngopya pa sa akin dati," Robi laughed, "now they're doctors. I do feel slightly envious of them. But I just think to myself, if they're wearing a white coat, I also get to wear a black coat during the Star Magic Ball."
When asked if the fact that he's now doing great and earning well made him forgo med school, Robi said, "Maybe, I just became more practical in life. That's the term my mom used. I became practical. But at the end of the day, it's all about the passion and the willingness to help other people."
He believes that in entertainment, you get to use your talents to make people happy. "I've discovered that a lot of people watch YouTube or shows like ASAP to uplift their spirits. If you're able to make them laugh on TV or in events, it's a big thing for me."
One thing is certain, his family of doctors supports his decision.
"They're supportive... Kung saka-sakali daw di ako mag-doctor, maghanap na lang ako ng doctor. (They said, in case, I don't become a doctor, I'll just have to go find myself a doctor)," he mused.