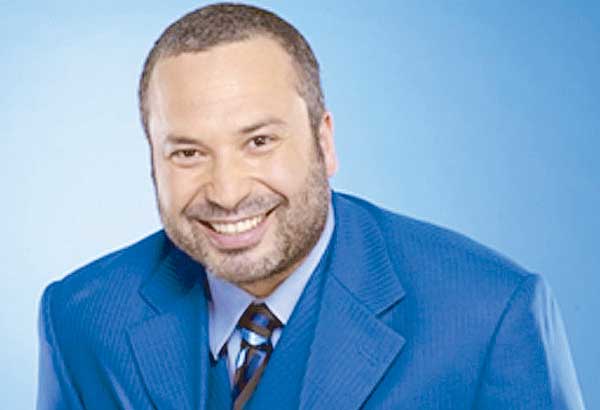 Ahmed Ahmed is a full-time actor and stand-up comic
Stand-up comedy is the new 'in' thing
MANILA, Philippines — Over the last 20 or so years since Jerry Seinfeld and Jay Leno started a new wave of entertainment with stand-up comedy, laughter has brought a happy dimension to live stage shows as audiences all over the world embraced what Filipino events promoter Dilip Budhrani calls a form of alternative medicine that pokes fun at life in an intellectual way.
Budhrani founded the Filipino-Indian Basketball League and ran it for nine seasons before deciding to channel his leisure time to other activities. As a businessman, he's involved in microfinance, property development, trading and vocational education. What has lately caught Budhrani's attention is stand-up comedy of which he is a big fan.
Two years ago, Budhrani decided to try his hand in producing stand-up comedy shows in Manila. He brought in popular Indian comedian, Vivek Mahbubani, from Hong Kong and the show left a packed crowd in stitches at the Treehouse Tavern in Makati. Then, Budhrani produced the husband-and-wife act of Rishi and Sharul at the Craft Rock and Grill in BGC, another smash hit. Last June, Budhrani celebrated his ninth event with a two-night stand of The Angry Indians featuring five comedians from Singapore at the Green Sun Hotel.
Budhrani said while living in Los Angeles some 20 years ago, he was introduced to stand-up comedy shows at Melrose Place and Hollywood Boulevard. At that time, admission fee was between $15 and $20. Today, stand-up comedy acts charge in the hundreds of dollars.
"Laughter is the best medicine," said Budhrani. "It takes a unique talent to become a successful stand-up comedian. I admire headliners who can make audiences laugh without resorting to foul language or bad words. I've watched shows all over the world. For me, it's a passion to share my love for stand-up comedy with my friends, family and anyone out there looking to enjoy a night of wholesome entertainment. This year, I went to Kuala Lumpur to witness Comedy Central with 16 performers in a one-day event and also attended a three-day festival of 10 acts. Stand-up comedy is booming in Southeast Asia and I know the time is ripe to take it to the next level in Manila."
On Oct. 24, Budhrani will stage his biggest stand-up comedy show ever with Ahmed Ahmed as headliner and D'ilruk Jayasinha and Dan Quinn as support acts in Triple Trouble at the I'm Hotel on Makati Ave. with a start time of 7 p.m. "Our goal is to widen the audience awareness and understanding of the true craft of comedy while at the same time, create a community revolved around the evolution of this art by showing the best talents," said Budhrani. "There are several good Filipino comedians who are ready for the international stage but we need more exposure to various artists to develop their craft as constant travels and international shows will pave the way for more of our Filipino talents to make it big in the world stage of comedy clubs."
Budhrani's wife Saira is in charge of every comedy show and makes sure guests are treated to quality entertainment guaranteed to leave audiences with a healthy dose of giggles that lingers. "We want everyone who watches our shows to come out smiling," said Budhrani. "That's the measure of our success. As a headliner, Ahmed has the ability to enthrall an audience for at least an hour with fun stories of life, wives, mothers-in-law, kids and any topic under the sun which audiences identify with. D'ilruk is a Sri Lankan accountant from Australia who left his profession to go full-time into stand-up comedy while Dan is one of Canada's top comics with over 20 years of experience."
Ahmed, an American of Egyptian descent, was the winner of the First Annual Richard Pryor Award for Ethnic Comedy in Scotland in 2004 and is a full-time actor and stand-up comic. He is a regular performer at the Comedy Store in Los Angeles and has appeared in movies and TV shows like Executive Decision, Swingers, JAG, Tough Crowd and MTV's Punk'd with Ashton Kutcher.
Triple Trouble will be hosted by comedian Alex Calleja, the first runner-up at Laugh Factory's Funniest Person In The World contest that concluded in Finland last year with 88 comedians from different parts of the world. Calleja appears in his own stand-up comedy show titled Lakas Tawa which airs on ABS-CBN TV plus Channel Cinemo. For Triple Trouble ticket details, call the official ticketing partner Platinum list at 0917-5703057, 0920-9717055 or 0956-8699889.