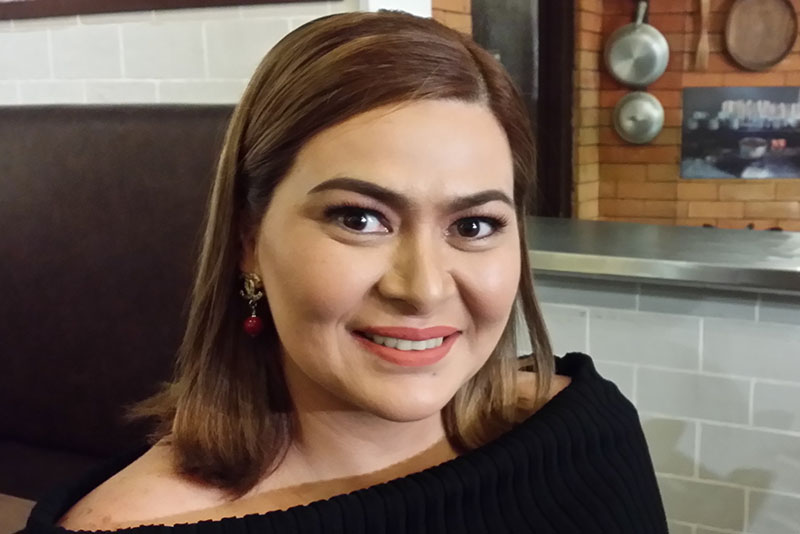 Aiko plays Emilia Ardiente in ABS-CBN's primetime teleserye, "Wildflower."
Aiko Melendez feels blessed when loveless
MANILA, Philippines — When it rains, it pours. The saying is true for Aiko Melendez.
Two years after lying low in showbiz, her career is on the upswing again.
She is the evil Emilia Ardiente in ABS-CBN's primetime teleserye, "Wildflower." She appeared in the advocacy film "New Generation Heroes." Recently, she again played as an overseas Filipino worker in BG Productions International's dramatic film "Balatkayo."
"I play a very loving mom who wants the best for her son, but I have skeletons in my own closet," Aiko described her role.
The pressure is on for her, not just because she is more visible than ever. Some of her 11-year-old daughter Marthena Jickain's schoolmates in the exclusive Saint Pedro Poveda College look up to the actress as their role model.
"One time, when I brought my baby (Marthena) to school, two girls came up to me and said, 'Excuse me, can we have a picture with you?' Asked why, they told me they want to be like Emilia when they grow up," recalled the alarmed Aiko.
She quickly told the girls, "No, please don't (make Emilia your role model)."
The scene only shows the impact Aiko's character has, even on impressionable children. And the actress is understandably worried.
She chuckled, "If elections were held today, I'll surely win (she's mulling an offer to run for politics again)."
But since elections will not be around the corner until a few years from now, Aiko can sit back and relax.
At 41, the single parent is happy -- never mind if she has been loveless for almost a year, and admirers ask to go out with her. She would rather focus on work.
"Everything's all right now. I don't look for love anymore," she enthused.
Besides, Aiko figured she will have a hard time adjusting to a new man in her life, when she has gotten used to looking after herself and her family as the breadwinner at a young age.
Since she grew up providing for the family, asking for financial help is alien to her.
"I have my pride," Aiko explained.
So she does not mind providing for her 19-year-old son Andrei, who plans to shift to an aeronautical engineering course. Aiko shared Marthena's school expenses are care of the girl's dad, Martin Jickain, who is now happily married to someone else.
"My hashtag is blessed kapag loveless," Aiko smiled.
There is a glow that comes from within when she smiles. It comes from an abiding faith, nurtured by regular participation in Victory Christian fellowship services for the past four years.
No wonder she found it easy to take the first step in ending her 16-year rift with Ara Mina.
"I've moved on long time ago," Aiko said, adding that she was just waiting for "God's perfect time" to patch things up with Ara.
It can be recalled that Ara and Aiko's ex-husband Jomari Yllana were rumored to be an item in 2001, or two years before the "Balatkayo" star's marriage to the actor was annulled. Ten years later, Ara was again linked to Bulacan politician Patrick Meneses, Aiko's ex-boyfriend.
Today, Aiko and Ara exchange friendly text messages. They take turns wishing each other a happy Sunday, with Aiko promising to pray for Ara when she goes to church later that day. Ara has introduced Aiko to Mandy, her (Ara's) daughter with Patrick.
Now, Aiko can manage to joke about how Ara loves her so much, she had to give birth to Mandy a day after her (Aiko's) birthday in December.
Ara, for her part, told Aiko that Patrick plans to produce a movie for her. But Aiko is not keen on the project since she does not want to ride on her past issues with Patrick (and Ara) for the sake of box office success.
"I'm not yet ready," admitted Aiko.
Chances are, she will never bring up the issue again.
Aiko is so blessed she does not want to mar her happiness with uncalled-for controversy.
In spite and despite of Emilia Ardiente and her own objections, Aiko is someone young people can turn to for lessons on forgiveness, strength and faith in the One above.