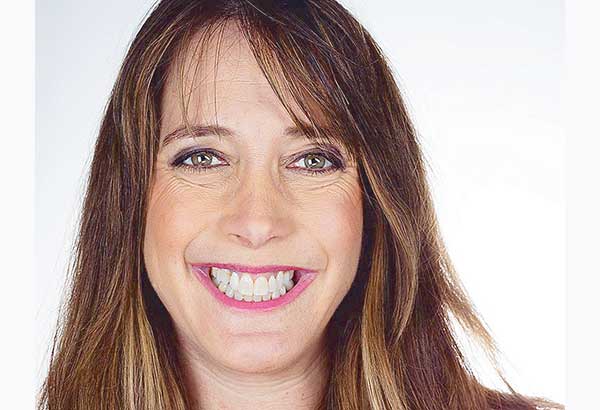 Dana is the Emmy-winning documentary director, writer and producer behind the heartwarming 2015 docu-film Batkid Begins.
Why Dana Nachman gave up journalism for filmmaking
MANILA, Philippines — For the Emmy-winning Dana Nachman, going from journalism to filmmaking was a natural transition.
Both fields required the same things. "It's the same passion," the American independent director, writer and producer told The STAR. "It's all storytelling."
Dana was in town recently for the American Film Showcase, a cultural exchange program of the US Department of State, where filmmakers are sent overseas to hold workshops and showcase their works. Her inspirational 2015 documentary Batkid Begins about a cancer-stricken kid who wants to become the superhero Batman was screened in Manila and Cebu.
During a break from her jam-packed schedule, the US Embassy in Manila arranged an exclusive chat with Dana wherein she shared her filmmaking story.
She was already living a dream when she worked in television for 15 years. She started out as a news writer and rose through the ranks to become a multi-awarded TV producer. "It's very hard to get jobs doing that so I had to work really hard to get it," Dana said.
In the course of her TV work, she was introduced to documentary making. "As time went on, I didn't find making news stories as gratifying so I was looking for something a little more in-depth. And then, at that time, I got assigned for my job, I worked at NBC. I got an opportunity to make a documentary there and I thought, 'Wow, this is so much better!' and it was like an hour."
In 2002, she produced Close To Home about families affected by the 9/11 terror attacks and earned recognition including an Emmy. She would later make three other documentaries and release feature films under her own production company.
"But then, it was too much having a full-time TV job and doing that," Dana said. Plus, there's motherhood. The mom of three recalled, "With my TV job, I had to be there at 9 a.m., so I had to leave the house at 8, and then I would get home at like 6 or 7 p.m. I knew as time went on, that I would see my kids less and less."
In 2009, Dana turned her back on journalism for good. "To be honest — I don't know if this happened here — but television was very good for a long time and went really downhill right when the Internet started happening and they weren't sure how to monetize things on the web. It got very grabby, and they only did things that were… it got less serious.
"So, it got harder and harder until it was easier to leave. Everything was just so — just not the stories I was interested in, not the stories that I felt like made a difference. That made it a lot easier to leave," she explained. "But things have gotten better since I left. They're doing better work. Things have changed."
Dana knew very well that her decision was risky. The risks are still there. "The main issue was and still is that when I worked at the TV station it was guaranteed paycheck… And I think being a filmmaker, you're rolling the dice quite a bit. Now that I had just finished my fifth film, it's easier for me to find money so people will invest in the movies now. But it's very hard just because you're not guaranteed to succeed."
No regrets, of course. "It's a great lifestyle. I love it! It's not like I left something behind and I don't have it anymore. I feel like I'm still doing it," she said.
Dana has also learned to fully embrace who she is now. "Over time, it's all the same passion. I remember the first time someone asked me what I did and I said I was a filmmaker. I felt so weird. I was a journalist and I was like — it sounds pretentious — but now I'm more used to it."
How does her past life as a journalist help her become a better filmmaker? "It helps me mostly. It helps you interview people, research well... You know, it's all storytelling. I've been doing storytelling for more than 20 years so it's just natural. Television really hones you for that. So, five days a week, I was doing stories until I had it — a good beginning, middle and end — and making it punchy, interesting. All that helps. But sometimes, I've been criticized as being a little too television and less cinematic. So, I think that's something I have to work on, getting a little out of the television mold and more into the cinematic mold. But, I think, all in all, I wouldn't do it differently."
To date, her documentaries have won a number of jury and audience awards in film festivals and aired on US TV networks. Batkid Begins was both critically and commercially successful. It centers on Miles Scott, who was diagnosed with leukemia at 18 months old and inspired an entire community to grant his wish to be Batman for a day. So, on Nov. 15, 2013, through the initiative of Make-A-Wish Foundation and numerous volunteers, San Francisco was transformed into Gotham City and a billion people took to social media to cheer on the Batkid.
When asked how did the documentary come about, Dana mused, "I got lucky!"
She recalled, "So, there was this viral sensation and two billion people watched it as it happened all around the world. I wasn't actually one of those people. I was busy and didn't know about it. And so I learned about it later and thought, 'Oh, that would have been such a fun documentary to work on. I'm sure someone was doing it already. It's such a bummer, I couldn't do it.'"
However, a friend of hers reached out to Make-A-Wish Foundation on her behalf. "They said they had several filmmakers interested in doing it, but 'could you do it for the one-year anniversary?' It was about 10 or 11 months away. But I told them, 'Sure, I could do it!' even though I had not done a movie in less than three years. They chose me and I had to really rush," she laughed.
Batkid Begins was screened at the UP Film Institute in Quezon City, and at the International Academy of Film & Television, the Media Arts International Academy and the University of San Carlos in Cebu. "I was wondering how much of the cultural things they would understand. But the kids here were just laughing and cheering. Very similar (reaction) to what I've seen in the US," she described the Filipino reception to the film.
Batkid couldn't have come at a better time. According to Dana, her films before it were "very dark and serious," featuring such subjects as wrongful conviction of a group of people, terrorism and cancer-causing chemicals, among others. "I was looking for something nicer and lighter and this came along. I realized, not only was it more fun to do but it was easier to get people to rally behind it."
While she believes it's important to make darker movies ("I'm sure I will again"), she learned from her Batkid experience that "life is much easier if you can tell a story that's less difficult."
She continued, "As a viewer, there's a lot of movies I wanna watch and I do. But sometimes, you're not just in the mood to watch something depressing. You just wanna watch something that's popcorn and candy. It makes sense."
Dana is going all light and fun, popcorn and candy in her next project. It's a comedy and her first fiction. "I just started my fiction short about a 98-year-old woman who dies at the breakfast table. (She) gets transported to a place called Between, where her husband who died 25 years before shows up and they have this amazing reunion. Then, her second husband shows up, her first boyfriend shows up, and then she has to decide who to take with her to eternity.
"I actually got the idea because my grandmother died, she was 98. She was only married once, but then she met a man when her husband died but didn't marry him. And then when I was cleaning out her apartment, I found a note that she had kept for 80 years before, from a boyfriend. And I was like 'Wow!' because she never mentioned it. And it just made me think, 'Who would she choose now?'
"I think she was very practical and ended up marrying the doctor 'cause her parents probably told her to do that. I was thinking that in this age, we don't marry for those reasons as much. Some people do, but then you didn't have a lot of choices. So, I was like, if she were asked again, would she still marry that person, or marry someone else."