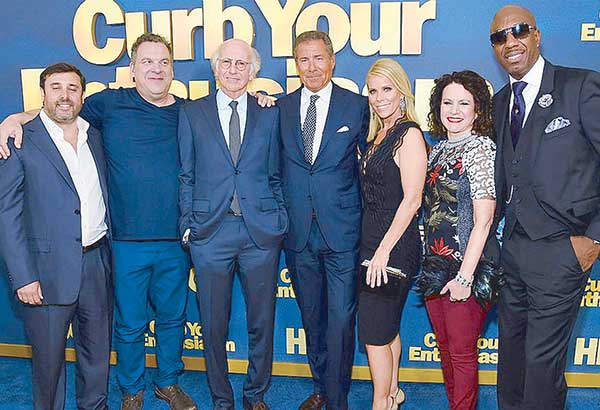 The Curb Your Enthusiasm team at the New York premiere for Season 9. From left: Jeff Schaffer, Jeff Garlin, Larry David, HBO CEO Richard Plepler, Cheryl Hines, Susie Essman and JB Smoove —Photos courtesy of HBO
HBO's Curb returns to make us laugh (and cringe) all over again
NEW YORK — "The world needs him now more than ever" is how Larry David's over-the-top character in the Emmy and Golden Globe-winning comedy series Curb Your Enthusiasm is touted in glaring billboards all over the Big Apple, heralding the show's long-awaited return after it went on hiatus for six years and left its legion of loyal followers in limbo.
HBO's critically-acclaimed improvised series returns for the ninth season — with 10 dense episodes longer than a half an hour each — starting last Oct. 2 exclusively on HBO. The show is also available on HBO NOW, HBO GO, HBO On Demand and affiliate portals.
David, who is also its co-creator and writer, leads the cast as an exaggerated version of himself who shocks, annoys and insults just about everyone around him with his political incorrectness that often leads to senseless verbal and even physical confrontations.
David, of course, is also the genius co-creator of Seinfeld, widely considered to be one of the greatest and most influential sitcoms ever made and ranked among the best TV shows of all time. And just like Seinfeld, Curb Your Enthusiasm is a show "about nothing" and is based on the creators' experiences and about the minutiae of daily life. Each episode is based on an outline with no dialogue and relies solely on the actor's impressive improvisations. David simply writes rough outlines for each episode and lets the actors fill in the rest.
But just how good is the show? David is the only guy in Hollywood who can dictate the giant cable HBO when he is ready to comeback and shoot for the next season, according to executive producer Jeff Schaffer and co-star Cheryl Hines during a roundtable interview with the international media that included The STAR at the HBO headquarters in Manhattan.
"I think HBO is so happy with Larry and the show and this amazing cast that they're happy to have Curb come back whenever Larry wanted it," said Schaffer.
"It seems like, for whatever reason, there's always been an open door policy for Larry and for Curb Your Enthusiasm and I don't know why," said Hines, who is David's fictional ex-wife in the show, Cheryl David, but in real life is married to a Kennedy, American environmental lawyer and radio host Robert F. Kennedy Jr.
"But you know what I'd like to think it is, besides Larry being brilliant and funny and very consistent?" Hines volunteered. "That it's kind of an easy show. I mean we're not Game of Thrones and nobody's flying to an exotic land." (Game of Thrones is one of HBO's multi-million dollar, global blockbuster projects.)
"We just shoot around Los Angeles," Schaffer added, "and we shoot around Larry's house."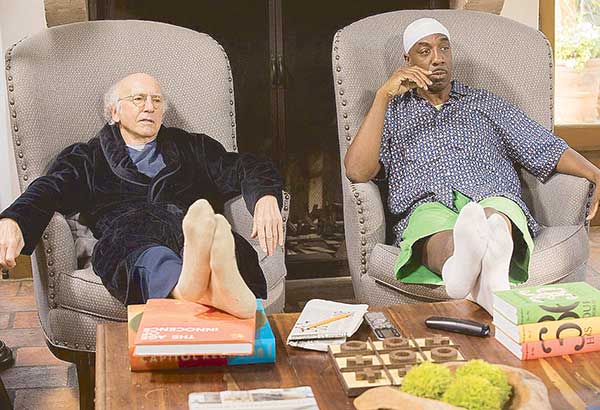 Larry and JB in a scene from the comedy series
Hines and Schaffer went on divulging hilarious incidents behind the camera involving David to give a clear picture of how trivial situations and ideas can become great plots for the show.
"We started shooting our first day (of the ninth season) on the day after the (US) election (in November 2016)... and everyone was sort of stunned and horrified that morning because of the outcome," recalled Schaffer, referring to the presidential win of Donald Trump. "There's definitely a few references to that stuff in the show. But the funny thing is that Larry, in one of his traits, sort of focuses on the petty tree and not much on the bigger forest."
"It's something very funny watching somebody on a show being so petty and we can laugh about it because it's not reality," Hines agreed. "Larry is not somebody leading the country because it's not gonna be so funny if he is."
Susie Essman, who plays the foul-mouthed Susie Greene, summed up the significance of the show's delightful return: To help keep everyone's sanity with all the terrible things happening around the world.
"All the more reason we all need to laugh," Essman stressed. "People always need comedy, always. This is the reason why after news at 11 o'clock at night, there is always sitcom reruns on (American) TV. At the end of the day, people want to relax and watch comedy. And we need it now more than ever."
"The best part of my job is you do affect people by making them laugh," Essman continued. "You really are unclogging arteries. You can watch episodes of Curb Your Enthusiasm over and over again, and they get funnier."
"Larry has found a way to make his comedy relatable, funny and of course, always edgy," said David's onscreen sidekick JB Smoove, who plays the scene-stealing Leon Black. "That's why from Australia and the Philippines, to Norway, Poland and Chile, this show has managed to touch people all over the world."
The show's creators and cast, likewise, are confident their return will be warmly embraced by the millennial generation that has become a key demographic for TV advertisers and can influence the future of a show.
"We're all over 60, Larry is 70, we're all old," Essman declared. "If I have to tell you who stops me the most on the street, they are college boys and boys in their 20s who are obsessed with Susie Greene and the Curb Your Enthusiasm. And to think that the majority of us — Larry, Richard Lewis, Bob Einstein, Jeff Garlin, me — are all Jews, and this guy (Smoove, an African-American) is our token."
"They have ideas that millennials only watch millennials," Essman protested, "but funny is funny and it crosses class lines, color lines, race lines, gender lines, age lines. If it's funny, people will watch it."
Appearing in the show this season are Ted Danson and Mary Steenburgen, Katie Aselton, Elizabeth Banks, Ed Begley Jr., Carrie Brownstein, Bryan Cranston, Jimmy Kimmel, Nick Offerman, Nasim Pedrad, Elizabeth Perkins, June Diane Raphael, Andrea Savage, Damon Wayans Jr., Steven Weber, Casey Wilson and Gilmore Girls star Lauren Graham, who will be Larry's new love interest after divorcing his wife Cheryl in the show.