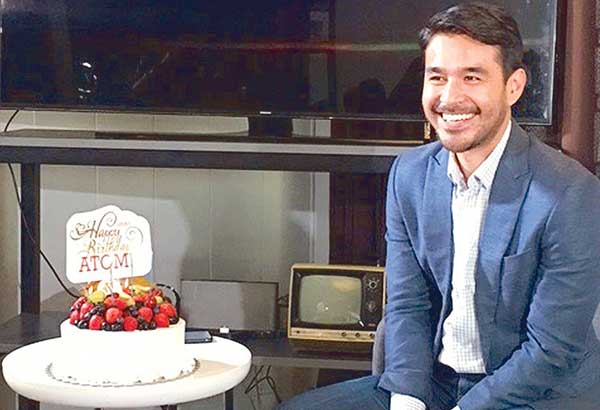 Atom Araullo with his birthday cake (he's turning 35 on Oct. 19) from the GMA management at his formal media introduction as a Balik-Kapuso
FUNFARE
-
Ricky Lo
(The Philippine Star) - October 6, 2017 - 4:00pm
Of course, the Balik-GMA Atom Araullo is a colorful person (even if, unlike most TV guys, he doesn't flaunt his personal life). But when Funfare asked him during a one-on-one before the general presscon yesterday at 77 Limbaga restaurant what his "color" was, he was stumped.
"My color?" he asked, adding, "I don't know how to answer that."
I reminded him that "color" was very much in the news these days — you know, there's Yellow/Dilaw (the Liberals), there's White/Puti (Sen. Kiko Pangilinan's group?), there's Orange (Manila Mayor Erap Estrada's), there's Red (the Marcoses) and what color is Pres. DU30 waving?
"Oh, I see," smiled Atom. "I'm me. I don't know what color that is." Hmmm, "color-less," maybe?
As a journalist, does he stay neutral (not taking sides)?
"As people, we have our own take on issues and I'm no different from any citizens of the Philippines," explained Atom (who is turning 35 on Oct. 19; he will be in Greece and Turkey at that time). "But as a journalist, I have to employ an extra level of discipline because the public has given us journalists a certain level of trust to deliver information on their behalf."
Atom is the son of a famous activist (his mom who was imprisoned during the Martial Law days) and an engineer (his father). How has (especially) his mom influenced (if she did) Atom's political views?
"Of course, my world view and my politics have been influenced not only by my mom and my dad but also my friends and the people I met during my college days (He was a councilor at the UP Student Council.—RFL)," replied Atom. "We are all shaped by our family and friends. The only difference in my case is that, since my mom is politically active, I'm not afraid to explore that area of my life. Up to now, we still engage in discussions and we don't always agree on issues. But for the most part, we always find a common ground."
As the newest member of the GMA News & Public Affairs, Atom won't be doing newscast but more documentaries which are right down his alley.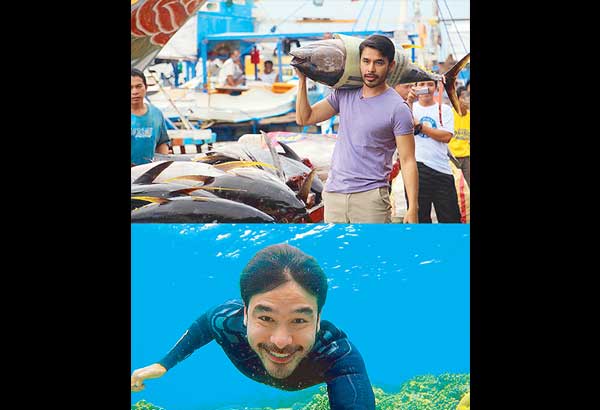 Atom with a big catch and underwater during the shoot of Philippine Seas, his first project as Kapuso
His first Kapuso project (set for airing Nov. 5, Sunday, at 3:30 p.m.) is about the Philippine Seas, the making of which he described as "life-changing." He began shooting it as soon as he moved from ABS-CBN (where he worked for 10 years) to GMA where he co-hosted the kiddie show 5 & Up with Rayver Cruz, Chynna Ortaleza and Maxene Magalona.
"Technically," Atom clarified, "I haven't been a Kapuso because 5 & Up was on block time. It's only now that I am officially a Kapuso" which he will be in the next two years.
Philippine Seas hopes to uncover the wonders and threats surrounding the Philippines' marine gems. To really get to know the Philippine Seas, Atom went on a rigorous 10-day expedition across Luzon, Visayas, and Mindanao where he experienced many firsts in his career as a documentarist.
For example, in Moalboal, Cebu's world-famous dive site, Atom witnesses hundreds of thousands of sardines gather in a single ball in a moment that he can only describe as "impressive"; while in nearby Bais, Negros Oriental, he looks into the current situation of dolphins once being caught and slaughtered before becoming the province's leading tourist attraction. Here, Atom encounters a group of "bow-riders," dolphins that ride alongside passenger boats.
Off the coast of Sarangani, Atom experiences what life is like for tuna fishermen who wait days for a single catch. Under the harsh elements, Atom and his team witness the daily struggles of those who rely on the seas for a living. The most heartbreaking moment is discovering a group of fishermen detained in Indonesia for fishing in foreign waters. Atom talks to Samuel, a fisherman who has not seen his newborn child since being detained in Indonesia. Through the Philippine Seas team, Samuel gets a chance to look at his newborn daughter for the first time.
In this special documentary, GMA Public Affairs will also feature the exploration and expedition on the 13-million hectare Philippine Rise. On top of the teeming corals and marine species, it is said that this undersea plateau is potentially a rich source of natural gas and other resources. Is it true that the Philippine Rise can deliver the country from poverty?
During his formal media launch as a Kapuso yesterday, GMA executives led by Angel Javier presented Atom with a birthday cake before the Q&A.
"I am overwhelmed," exclaimed Atom after blowing the candles. "Hopefully, I can contribute something to GMA and live up to their expectations."
(E-mail reactions at entphilstar@yahoo.com. For more updates, photos and videos, visit www.philstar.com/funfare or follow me on Instagram @therealrickylo.)