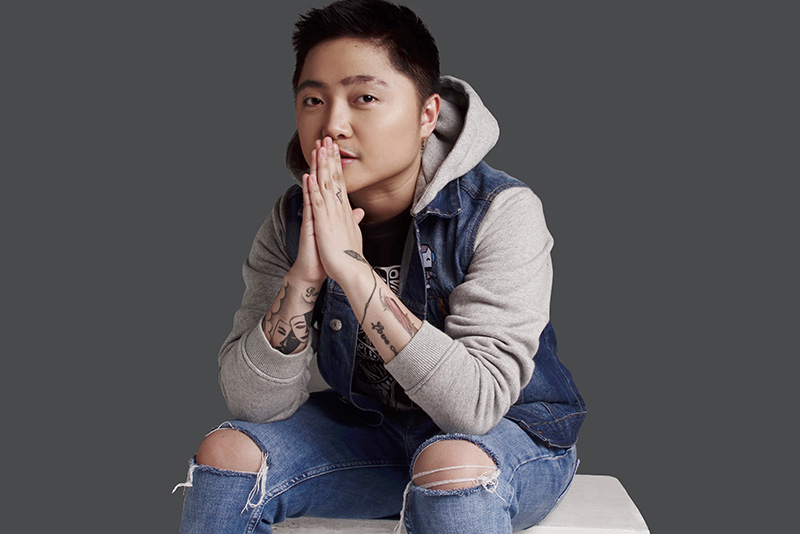 Jake Zyrus will have his first concert, "I Am Jake Zyrus," at Music Museum on Friday, October 6, 8 p.m.
Jake Zyrus to do duet with his old self, Charice
MANILA, Philippines — Jake Zyrus arrives early for his first meet and greet with media. There is no trace of the Charice who once was part of his storied life.
Cropped hair, a dark suit and a pair of sneakers have replaced Charice's long, curly locks, pastel-colored ruffled dresses and high heels. The voice has plunged an octave lower.
Jake knows others frown on his admission that he is a transgender. But this seems to be the least of Jake's worries.
"You can't expect everyone to accept you," he told a few media staff who stayed behind after the press con for his first concert, "I Am Jake Zyrus" at Music Museum on Friday, October 6, 8 p.m.
He has come to terms with the fact that not everybody will like his social media posts. What is far more important to Jake is that he likes himself enough to ignore his bashers.
"People will always react to what's happening to you," he pointed out. "But at the end of the day, it has to start from you. You and you alone can answer the questions."
Once you have answered those questions, all doubts and criticisms, become secondary. This sense of self has kept Jake from feeling sorry for himself because not everybody likes his decision to become a transgender. He even manages to laugh at the trolls.
Jake knows crab mentality is a cultural thing. So he refuses to fall into its trap.
"What's important is you're happy, and you can make others happy," he explained.
Part of that happiness comes from finally performing the songs he – not others – wants to sing.
Now, Jake can look at members of his audience in the eye and share his musical tastes. It is like opening his heart and letting his fans in.
That is why he thinks "I Am Jake Zyrus" is a turning point in his life. He is introducing himself as a new artist with a repertoire as varied as his rich musical background.
The difference between him and a new artist, however, is that the latter cannot choose his/her repertoire. Jake does.
He takes his favorite rock song and gives it a new arrangement with the help of his musical director Troy Laureta, the Fil-Am musician and record producer who counts Ariana Grande, David Foster, Stevie Wonder and other big artists as some of his co-workers.
Jake can also do ballads, dance, altenative rock and everything in-between because he has earned the privilege to call the shots on stage.
"The only thing I can't do is opera. I'll have a hard time with transitioning to falsetto," referring to his lower voice range.
Jake even promises to perform a duet with Charice. It is his tribute to someone who opened wide so many doors but shut them down for good decades later.
In fact, Jake does not recall where Charice's many trophies are kept. She seems so distant, so alien even.
He now feels happy that it takes him less than 10 minutes to put makeup on for a show, and he spends less on clothes and footwear.
"I'm into street style. It's less costly. I just have a pair of sneakers, and clothes I buy from the boys' section because those for men are too big for me."
He looks forward to his total transformation after he completes the testosterone injections that are calculated to give him more muscles, a much lower voice and other male traits.
"They let me sleep for three hours when I get injections every three months," shared Jake.
He recalled waking up after one session to the tune of the "Happy Birthday" song, because the doctors and the staff feel they are facing a totally new person.
Jake knows he is not the tall, dark and handsome type who makes heads turn. All he knows is that he loves to share his music, and he is willing to work hard to make his dreams come true.
This, for him, is something to be excited about, something that pushes him to count the days when he will go on stage as Jake Zyrus, not a creation of publicity machines and business-minded people.
He is asking everyone, "Here I am. Take me as I am."