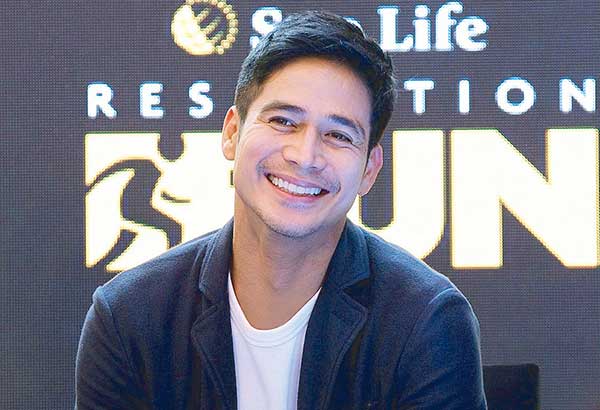 The annual fun run Piolo Pascual headlines with Sun Life Financial Philippines will now cater to both runners and cyclists, as it evolves into a two-fold event tagged as Sunpiology Duo. — Photos by Jun Mendoza
Piolo makes 'Sunpiology' a father-son affair
MANILA, Philippines — Interests outside work are paying off for Piolo Pascual.
The annual run event Sunpiology — the brainchild of the actor with Sun Life Financial Philippines (of which he's a long-time endorser) — turns nine this year. And this time, it has expanded into a two-fold event called Sunpiology Duo that includes cycling, another interest of his.
Obviously, his sporting passions have paid off in terms of physical health. Now 40, Piolo remains to be one of the top leading men around. "I'm always active. In this industry, we got to look our best. That alone is a motivation for me," Piolo said.
The ABS-CBN star, who has also been a fixture in Ironman races for several years now, said, "I find time (to train) or squeeze it into my schedule due to my health even if I'm getting older. In the triathlon scene, the older you are, the tougher the competition gets. Yung mga 'oldies,' they get more challenged, of course, by the younger ones. But you look at it as a challenge, not as a handicap. Basta, wala pa namang sumasakit ngayon (sa katawan ko), sa awa ng Diyos."
These days, he happily has his son Iñigo to share his active lifestyle with. "We just started (training). He's been riding with me. That's what I do every day: either I run, swim, bike or play. So, when he sleeps over, he has no choice but to join me," he mused.
Both father and son will see action in the upcoming Sunpiology, which is why the actor considers the latest as "more personal" than previous editions. Since he and Iñigo have separate showbiz lives, there's more indeed to the time spent together than just gearing up for a race. "You don't necessarily train for the race, (you) also bond. We're talking here about an hour or two a day. It's simple time that we get to spend together, which is very special to me."
No doubt Piolo takes pride in being his son's "personal trainer." But he claims his approach is "not very strict." "I'm not very strict. Baka mag-collapse yung tao, kasalanan ko pa. He's more into music and arts, but I encourage him to do fitness because it will benefit his health. He's OK. If he wants to tap out, I let him. If I'm able to train him for an hour or two, no matter the distance, that's what I do. I will always push him, but if he wants to rest, I let him."
So, how does Piolo — who stars in Last Night (opposite Toni Gonzaga) now showing in theaters and recently co-produced the highest-grossing indie film ever Kita Kita — find the time and energy for non-showbiz pursuits?
He said, "It's just a matter of balancing your life. The thing is, you don't complicate your life. If wala naman kailangang pagpuyatan, then you sleep. In the 20 years I've been in the business, I've learned to simplify my life by not adding things... As long as I'm able to sleep at least six hours a night, I'm OK."
Meanwhile, Sunpiology's Sun Life Cycle PH happens on Nov. 18 at the Bonifacio Global City in Taguig. It will have seven categories, including the charity-oriented Bid2Bike that allows fans of Piolo and Iñigo, Matteo Guidicelli, Gerald Anderson, other Star Magic celebs and cycling legend Robbie McEwen to ride alongside their idols. The Sun Life Resolution Run, on the other hand, takes place on Jan. 20, 2018, with 3k, 5k and 10k categories.
To register for both races, log on to www.sunpiology.com. Organizers said Sunpiology Duo will continue to benefit various causes, including the education of the scholars of Piolo's Hebreo 12:1 Foundation.