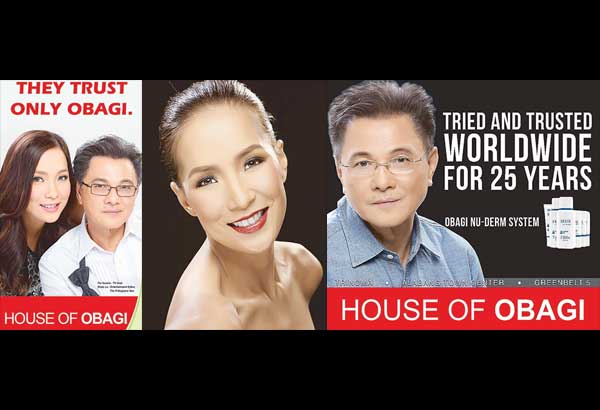 Ricky Lo
(The Philippine Star) - September 30, 2017 - 4:00pm
MANILA, Philippines — I woke one morning seven years ago and found my face all over the city, blown up far bigger than life with a beautiful girl with a big smile who looked like Pia Guanio right beside me.
I pulled over, my old-model CRV almost hitting the pavement along the Nepa Q-Mart on EDSA, rubbed my eyes hard and looked up again. I couldn't be wrong. The huge face on the billboard looked exactly like the one I saw in the mirror that morning, only well groomed and, ehem, unblemished.
OMG, it's Obagi!!!
How did I get there?
Yes, I remembered.
Lolit Solis called me a one month earlier. "I have good news for you," she said. "I got you as Obagi endorser."
I was incredulous. "How did you know?" I was puzzled. "How did you do it? And who gave you the authority to 'meddle' in my life!?!"
"I am now your manager," she told me.
"Manager!?!" I gasped. "Since when!?!"
In her characteristic nonchalant manner, she confirmed, "Since yesterday."
As my self-appointed manager, Lolit had closed the deal with Obagi boss Joey Santos (who happened to be our friend...hmmm, there's the catch, hahaha!!!) with neither my knowledge nor permission…and who was I to say no to the once-in-a-lifetime chance to see my face magnified a hundred times? I could have done it for free (as I just said, Joey is a good friend) but Lolit insisted that it would be a business deal.
"At huwag mo kalimutan ang komisyon ko, ha," she stressed with an undisguised warning, "at kung hindi, makikita mo…" You know how Lolit is when it comes to datung (money), she would count to the last penny. (The "honorarium" wasn't much, really, enough only to have my car's brakes replaced and the two rear tires that kept on threatening to run flat in heavy traffic.).
To make a rather long story short, Pia and I posed for a pictorial at Edward dela Cuesta's studio (on Scout Tuason St. in Quezon City, right across from Max's Chicken) that took the whole afternoon, with Eileen Marcelo (Obagi VP for Marketing and Business Development) checking and rechecking the proofs and not packing up until she got the right shots that eventually made it to the billboards. Look, Ma, no photo-shopping, huh!!!
My face on the billboards (samples shown here) was changed a few times, up there through thunderstorms and floods, folded up only when typhoon signal hit No. 3.
I woke up this morning and looked again. The billboards were gone, replaced by other endorsers that included basketball star Marc Pingris and Quezon City Rep. Alfred Vargas (more on them in future issues).
Postscript: You wonder, why am I writing this throwback piece? Well, Obagi is celebrating its "10th anniversary of precision skincare, 10 years of expertise and 10 years of healthy/beautiful skin," and the Obagi bosses requested for a short story to go with the ad (see front page of this section).