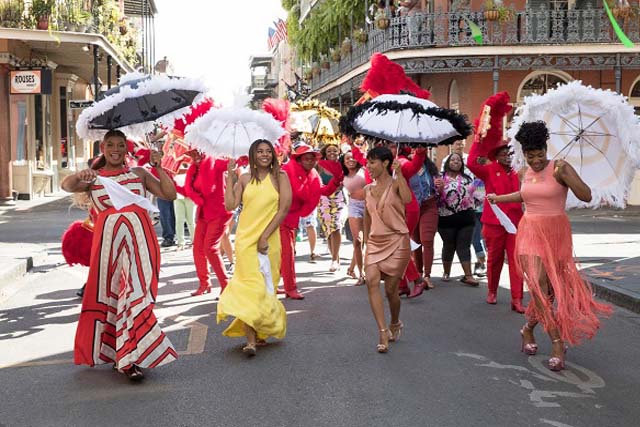 "Girls Trip" distributed by United International Pictures through Columbia Pictures is exclusively being shown at Ayala Malls Cinemas, Trinoma, Greenbelt 1 starting Wednesday. Released
Review: 'Girls Trip' celebrates friendship, womanhood
MANILA, Philippines — When long-time friends reunite for a weekend, it surely is a wild one and a reminiscent of the past years of friendship.
This was proven in the blockbuster US comedy film, "Girls Trip" directed by Malcom Lee and written by Kenya Baris and Tracy Oliver.
The film follows four lifelong friends––Ryan Pierce (Regina Hall), Dina (Tiffany Haddish), Lisa Cooper (Jada Pinkett Smith) and Sasha Franklin (Queen Latifah)—as they travel to New Orleans for the annual Essence Festival.
During their weekend get-together, the group called of friends called "Flossy Posse" rekindled their sisterhood. Their wild sides were also rediscovered with enough dancing, drinking, brawling and romancing.
Packaged with an all-star cast, the whole film was successful in making the audience laugh with its hilarious R-rated jokes and revealing screenplay but it still never left the message across of giving value to friendship.
Each character faces their internal struggles: Ryan Pierce is a successful author going through a rough road in her marriage; Dina is a free-spirited and fiercely loyal friend; Lisa Cooper is a conservative nurse and mother of two children who desperately needs a weekend getaway; and Sasha Franklin is a gossip blogger who is circling a life reset of her own.
Their friendship however conquered these problems. The entire film is a celebration womanhood and friendship of the Flossy Posse.
"Girls Trip" also never failed to take the audience to their party and let them feel how wild, fun, and endearing the film and their friendship is.
Not to mention the engaging cameo roles and performances of Ne-Yo, Mariah Carey, P. Diddy, among others. These performances added to the upbeat and nostalgic soundtrack.
"Girls Trip" distributed by United International Pictures through Columbia Pictures is exclusively being shown at Ayala Malls Cinemas, Trinoma, Greenbelt. It opened on Wednesday.