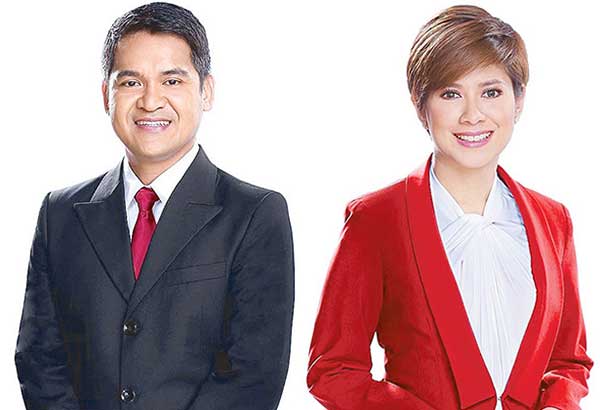 24 Oras Weekend anchors Jiggy Manicad and Pia Arcangel: Reading news is a form of public service.
Jiggy, Pia serve your dose of weekend news
Jerry Donato
(The Philippine Star) - September 24, 2017 - 4:00pm
MANILA, Philippines — Yes, Virginia. More people tune in on their preferred news sources in times of crisis. Nowadays, people tend to consume more news than ever before given the now dynamic political landscape. That's why viewers look for sources like GMA 7's 24 Oras Weekend, which serves the Kapuso a dose of news information with light features on the side.
"I think there's a significant change," said Jiggy Manicad, who co-anchors the weekend newscast with Pia Arcangel, on how viewers consume news these days, in a media call. "The public's interest in weekend news has increased, may nangyayari pa rin (on a) Friday night o sa weekend." The program's good showing in the ratings game speaks of its standing as a news source on Saturdays and Sundays.
According to Pia, 24 Oras Weekend came about when big stories happened one after another on a weekend. "We only had Flash Report then and special edition of Flash Report," she recalled. "Ondoy happened on a Saturday… it was the first time that 24 Oras Weekend aired not during election times. Then came a need for news even not on a weekday." Thus, it was launched right before the 2010 elections. Since then, Jiggy and Pia have become the face of weekend news.
As anchors, they go beyond the call of news reading. Jiggy and Pia are part of the team that oversees the veracity of reports. She said the process involves checking the reporter's facts by the news desk, reporter's writing the news, another fact-checking made by the news editor, program managers and VPs, and checking the final product done by the anchors.
This is backed up by the training, which grounds in balance and fairness, their news organization has given them from Day One.
"It also (begins) with the reporter's honesty," shared Jiggy on the proper handling of reports and reporting of news.
"It depends on how the reporter sees it," said Pia. "From the very beginning, we have been trained (na) malakas ang ethical component. Our conscience can't take it to only show one angle of the story, kasi yun ang tingin mo na magugustuhan ng viewers. Alam din namin na yung mga boss namin, sisingilin din kami. They will look for all (possible) angles. You will not even attempt to limit the context of any particular news."
This also says a lot about the quality of news they share with the public.
"That's what we take pride in at GMA… hindi kami nagpapadala sa race to be first. Mas priority pa rin namin yung mas tama yung binabalita," said Pia. "It's more important than being the first to break the news. If the report fails (in accuracy), there's this chance that the public might not believe you the next time."
Following that line of thought, Jiggy shared an anecdote.
"Before I was asked about which matters to me between (getting a) scoop or (assuring its) accuracy, then I answered 'accuracy.' Kasi dapat kumpleto. Mahirap na naka-scoop ka nga, tapos mali, mali yung details. The organization will suffer."
All this has served them well in sifting through real news from fake ones and vice versa.
"The challenge is to do our fact-checking," said Pia. "As anchors, our knowledge base (should be) wide. When you're interviewing (personalities) like via phone patch, make sure you have fact checked them on the spot, yung mga tao na yun mayroon silang sources of information."
Jiggy, on his part, trusts his audience and believes that they are intelligent to assess whether the news is fake or legit.
Aside from 24 Oras Weekend, Jiggy and Pia are seen in Quick Response Team (QRT) and Saksi, respectively.
"There's no conscious effort," said Pia if she is required to project a different image for anchoring a late-night news program and a weekend newscast. "I guess there's a difference in news treatment since Saksi is a daily newscast, which airs only for 30 minutes, mas compact yung news, mas pina-pack all into one story as compared to weekend (news) na mas mahaba."
As for Jiggy, he said, "Sa 24, mas mukhang mabango ako duon (laughs). I'm wearing make-up and in suit. With QRT, I go where the breaking story is — dun kami pupunta. Kung baha o bagyo, kailangan nanduon ka. We do our set-up there and go live without the teleprompter. (Doing it) is more challenging."
Jiggy anchors the show despite weather conditions (sweltering heat and heavy rainfall) and competes with the natural noise from the crowd and their location.
Asked what they like about doing the weekend news program, Pia said, "The fact that (news) is different every day, hindi mo alam kung anong mangyayari pagpasok mo. There are also perks, like (being in) front row (seat) to history and witnessing everything firsthand. I guess the best part is you have the chance to use your work for public service. Any career in broadcasting, for me, is a career in public service. (It's) the best when you are able to combine the two."
"It's also the public service component," Jiggy agreed with his co-anchor. "Hindi lahat ng trabaho ay talagang makakapag-serve (ka) sa public. I think that's the beauty of what we do — you work and at the same time you give the public the right information."