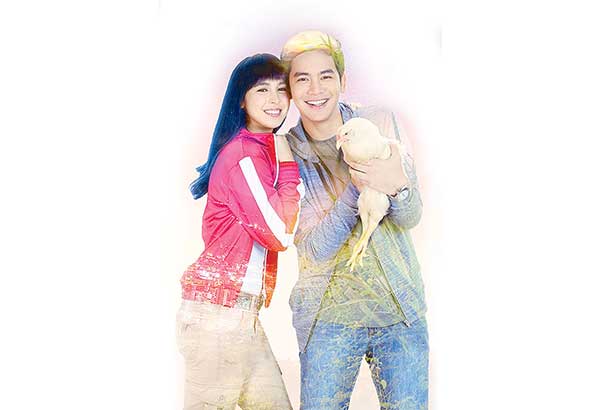 Joshua Garcia and Julia Barretto displayed a rare flair for acting in Love You To The Stars and Back
What sets JoshLia apart from other loveteams
Love You To The Stars and Back is not your ordinary rom-com. It was praised by critics for its "realistic portrayal of extended conversations" and for the lead actors' "delightful and astute" acting. Despite it being a mainstream movie, some called it as having an "indie" touch which added to the movie's delightfulness.
The main actors Joshua Garcia and Julia Barretto displayed a rare flair for acting. Rumored to be extremely sweet to each other, it became a challenge to director Antoinette Jadaone to make them feel and look like strangers to each other. The trio was my guests on Tonight with Boy Abunda a few weeks ago. Read on.
Welcome to the program, Joshua, direk Tonette and Julia.
Joshua: Thank you, Tito Boy.
First of all, I wanna go to the chant. How does it go?
Julia: It's actually, "Ashira grevinda mama ajaarum."
Say it again...
Julia:?? Ashira
Ashira…
Julia:?? Grevinda
Ashira Grevinda…
Julia:?? Mama
Mama…
Julia:?? Ajaarum
Ajaarum. If you watch the movie, we will know how it is. How did you come up with the story?
Direk Antoinette: The story was initially pitched to direk Paul Soriano. That was two or three years ago. But I was not able to finish writing it. And when Star Cinema offered me a project with Joshua and Julia, I thought about it. I felt the story fit the two actors to a T. So I talked to direk Paul, nag-paalam ako sa kanya. I really didn't expect it would be given the green light by Star Cinema.
In my last interview with Josh and Julia, we talked about the sweetness between the two of them which undoubtedly is real. As a director, how did you handle that on-screen?
Antoinette:? This movie is a road trip. So, at the beginning they are strangers to each other. It was hard at first to control their sweetness for each other because in reality, makukulit sila, malambing sa isa't isa, di ba?
Was it hard keeping them in reins of their emotions?
Antoinette:? Opo. I had to tell them, "Oh wag kayong masyadong ano dyan ah!"
Julia:? Tito Boy, I remember, yung first time na dapat walang kilig, she didn't want us to talk to each other before a take.
Joshua:? Siya naman kinakausap niya ako palagi.
Antoinette:? Oh hahaha!
How did you feel?
Julia:?? Hirap na hirap po. I couldn't contain.
Okay. I just got a copy of a tweet Tonette. I have to read this. This tweet represents how people are reacting to this movie. From Rarar Miranda. Direk, this is for you. Meron din ako chronic disease. Lately, parang gusto ko na magpakuha sa alien. Gaya nga ni Kaloy, napapagod at nakakasawa na magpagamot at naaawa na rin ako sa family ko. Pero after watching your movie, binigyan ako ng glimpse of hope. Sabi nga sa pelikula, walang sigurado pero minsan kailangan lang maniwala. Thank you, direk for inspiring me.
Antoinette:? Wooow! I am so overwhelmed. A lot of people are posting and tweeting and most of them say, they love the movie and Joshua and Julia were good. When I read posts saying that the movie really touched their hearts or that it has somehow changed a part of their lives, I feel very happy because I know I am in the right industry. I am also happy for Joshua and Julia. They are very young actors, 19 and 20 year olds, but they were believable as Mika and Caloy.
Tonette, sana magkaroon muli ako ng pagkakataong makatrabaho ka.
Joshua:? Yeees!
Antoinette:? Promise. Hindi na po ako lalampas. Di na po ko lalampas ng...
Ng araw. Congratulations, guys! I'm proud of you. Congratulations!
Julia:?? Thank you.
Joshua:? Thank you po, Tito Boy.
Let us support Love You to the Stars and Back. It's a wonderful, beautiful movie. Thank you!