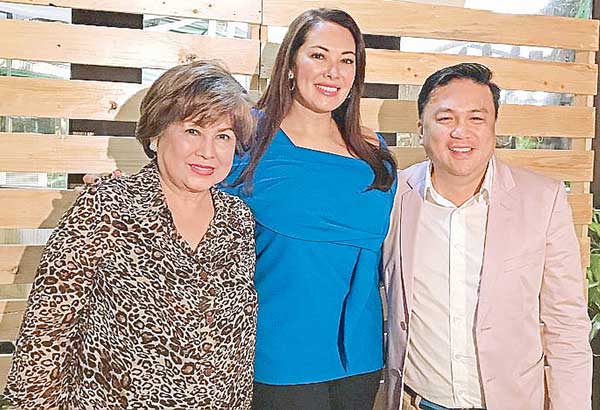 From left: Annabelle Rama, daughter Ruffa Gutierrez and Ruffa's new manager Arnold Vegafria
Annabelle entrusts Ruffa & daughters to Arnold
FUNFARE
-
Ricky Lo
(The Philippine Star) - September 15, 2017 - 4:00pm
Curtain-raisers: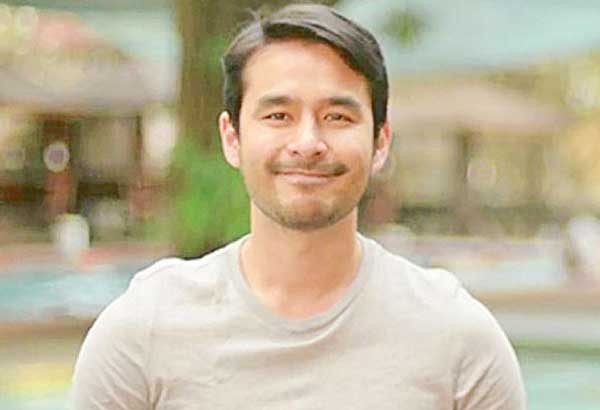 Atom Araullo (photo) has moved from Kapamilya to Kapuso. Yesterday morning on Umagang Kay Ganda (UKG), Atom has bidden goodbye to the network that has been his home for years and gladly welcomed by Mike Enriquez on his DZBB show.
Here's Atom's official statement: Working with ABS-CBN for over a decade has been an amazing adventure. However, the time has come to explore emerging opportunities and challenges beyond the organization. Although I am taking a new path, I have nothing but respect and gratitude for the company that helped me become the journalist I am today. To all the hardworking men and women of ABS-CBN, maraming-maraming salamat.
And here's ABS-CBN's official statement on Atom's departure:
ABS-CBN has allowed journalist Atom Araullo to explore new interests in film, broadcast and digital media outside of the company. Atom says the training and exposure he got from the network as reporter and TV host have equipped him to try out other opportunities in the media industry here and abroad.
ABS-CBN wishes Atom all the best in his future endeavors. He will always remain a Kapamilya.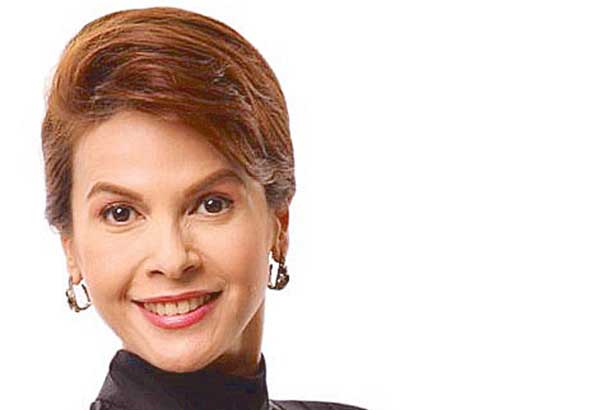 As mentioned in an earlier Funfare story, Rita Avila (photo) has scheduled a book signing for her new books at the St. Pauls Booth, SMX MOA, from 5 to 7 p.m. today. Rita has been writing books for children that have won her awards. She's inviting everybody to today's book signing.
The much-awaited annual Star Magic Ball is happening soon. Invitations have been delivered and one of the invitees was a young actor who has been with the Kapamilya network for five years. The actor was surprised when the invitation was taken back. He just found out the reason why: the network doesn't recognize him anymore as member of the family after he signed up with a big talent agency.
* * *
A strong tie binds Annabelle Rama and Arnold Vegafria, founded on mutual trust. That's why when her doctor advised Annabelle to cut down on her work load and avoid stress ("If you want to live longer," she was told), first thing she did was called Arnold (head of his own ALV Talent Agency) to entrust to him the management of her daughter Ruffa Gutierrez and granddaughters Lorin, 14, and Venice, 13.
"I used to manage more than 25 talents but I gave up many of them," said Annabelle. "Now I have only my husband Eddie (Gutierrez), my son Richard and his son Zion, TJ Trinidad and Assunta de Rossi." (Richard's girfriend Sarah Lahbati is managed by Leo Dominguez.) "Pagdating sa pera, wala kaming problema ni Arnold," added Annabelle who was present during the contract signing between Arnold and Ruffa yesterday afternoon at Anabel's restaurant. "When I ran for Congress a few years ago, I asked Arnold for his talents to help me in my campaign. Umo-o kaagad sya at wala kaming pinag-usapan tungkol sa pera."
Ruffa was upbeat about working with and under Arnold who has the most number of talents that include showbiz stars, athletes, models and now beauty queens, especially after he acquired the Miss World Philippines franchise and recently chosen Laura Lehmann who will represent the country in the 2017 Miss World pageant in China in November.
"When my mom told me about the deal," admitted Ruffa, "I was happy. My mom as manager can be controlling and I feel safe with Arnold because I've known him for 15 years."
Now a single mom, Ruffa said that she's working hard because her ex-husband Yilmaz Bektas is not giving sustento to their children.
"What he gives is peanuts," said Ruffa (now a semi-regular on Eat, Bulaga! where she acts as the "Ruffa-ree" in the Jackpot En Poy segment), meaning not enough, "and the last time he gave $2,000 was years ago. After that, wala na. My mom told me not to ask Yilmaz for support at ayoko ko naman talaga. Kaya ko naman palakihin ang mga anak ko and I'm working so hard. Mahal ang tuition sa exclusive schools, no!"
Asked what projects he's lining up for Ruffa, Arnold said that he would attend to endorsements first before TV and movie projects.
And how long is the contract between him and Ruffa?
"Forever!" smiled Arnold.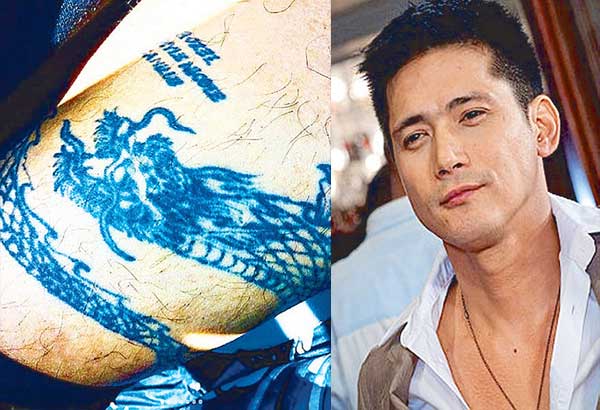 Robin Padilla's controversial dragon tattoo
The story behind Robin's tattoo
You have heard how, according to Robin Padilla, he was "barred" from leaving for China as invited guest by the Sultanate of Sulu to an important event there. He said that when he was granted conditional pardon (he was jailed at the National Penitentiary for illegal possession of firearms), he didn't have any problem leaving the country. "And now that I have been granted Absolute Pardon (by Pres. DU30)," Robin was quoted as saying, "saka pa ako nagkaroon ng hold order. Wala akong makitang dahilan maliban sa tattoo ko na dragon." (The Bureau of Immigration denied that Robin was "barred" from leaving but his name is still in the Watchlist database system and what he needs is a "clearance to travel" from BI.)
Now, about the tattoo.
According to Robin's manager Betchay Vidanes, "Robin believes that the Chinese dragon tattoo provides luck and protection against evil. At sabi ng tattoo artist, kaya katabi ng tattoo ang mga pangalan ng mga anak ni Robin. Those were the days na allowed pa siya magpa-tattoo."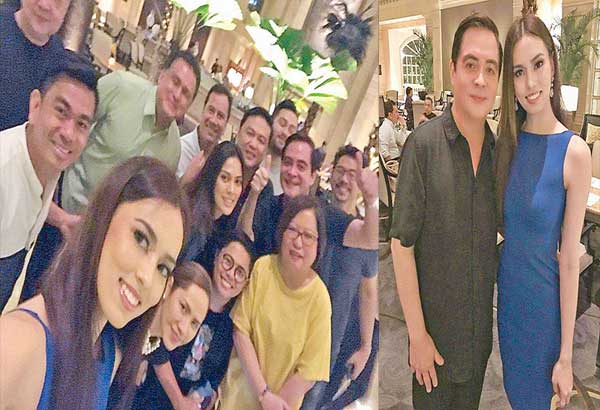 Close friends give a thanksgiving dinner for Laura Lehmann, Miss World Philippines 2017, at The Manila Peninsula lobby. Present were Miss World Philippines organizers headed by Arnold Vegafria, Ryan Calmante and Bessie Besana; and also Girlie Rodis, George Salud, Arturo Go, Gabby and Gia Estrella, Arnold Mercado (Lehmann's trainer), designer Mark Bumgarner, Miss Universe third runner-up Ariella Arida and Louie Heredia (also shown at right with Laura) who spearheaded the get-together.
Louie is a queen maker
Congratulations to Louie Heredia, a beauty-contest enthusiast, for being the newest queen maker. It was Louie who discovered Laura Lehmann who has just won 2017 Miss World Philippines.
"I knew that she was a winner from the very start," said Louie who encouraged Laura first to join the 2014 Bb. Pilipinas pageant in which she finished first runner-up to MJ Lastimosa. "Lau is shining, blooming! I am telling you that we will have our second Miss World (after Megan Young (in 2013). If it does happen, I will die in front of Mama Ru and Duds since I will be with them in Sanya, China, for the 2017 Miss World pageant. It all started with a little chat with Lau in La Vista four Christmases ago. I remember my exact words vividly, 'Laura, you know you can be a Miss Universe! Or, should I say, a Miss World.'"
Sana magdilang-anghel si Louie!
(E-mail reactions at entphilstar@yahoo.com. For more updates, photos and videos, visit www.philstar.com/funfare or follow me on Instagram @therealrickylo.)