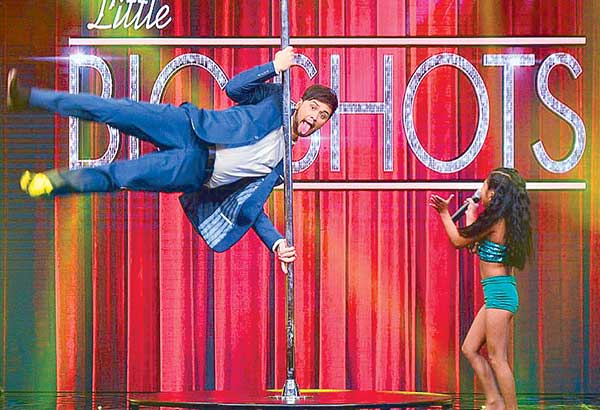 Host Billy Crawford with pole dancer Allyza
What parents & kids can learn from Little Big Shots
Little Big Shots is a consistent weekend top-rater, and here's probably why: It's a feel-good show where kids get to showcase themselves without competing against each other. You can see kids simply enjoying their time, and the sight of their parents beaming with pride gives the show a heartwarming touch.
Aside from an abundance of talent and charm, there are other reasons why it's the perfect show for the whole family to watch and bond over every weekend.
Here are five things that make it more than just a talent-variety and talk show:
1.) It teaches kids the value of discipline, passion and education.
If there is one saying that we've probably heard more often than others, it is "practice makes perfect." Little Big Shots reminds us that at such a young age, the talented kids featured on the show did not gain their skills overnight but that they worked hard to get better at their craft.
It is best summed up by Melbourne, father of nine-year-old magician Kyla: "Lagi kong sinasabi sa kanila, magic is an art. Kailangan lang protektahan mo kasi 'pag wala kang pagmamahal sa craft mo, walang mangyayari. Kailangan mahalin mo siya para 'pag pinerform mo siya sa mga tao, mas ma-enjoy mo talaga. Saka papraktisin mo talaga para perfect na perfect 'pag nilabas sa mga tao."
While the parents on the show encourage their kids to take up different skills, they also emphasize the importance of prioritizing education and constantly remind the kids to focus on their studies.
2.) It shows the importance of parental support and encouragement.
Behind every talented kid applauded by many is a parent enthusiastically cheering on in the background. In the show, however, it's not just the kids who take center stage. Their parents also get to talk about their experiences raising gifted kids, and highlight just how providing a supportive and encouraging environment allows kids to reach their full potential.
"Ipagpatuloy niya lang ang pangarap niya, nandito kami laging sumusuporta sa kanya," is a line we heard from biker John-John's mom, whose son thrilled us with his death-defying stunts.
Wanlu, father of marionettist Eli, also shared his advice with parents whose kids have attention-deficit/hyperactivity disorder (ADHD): "Tiwala lang sa Diyos at suportahan lang natin ang gusto nila, (kung) ang palagay natin 'dun sila interested. Just try to find their hidden talent."
3.) It features inspiring and heartwarming stories about families.
While Little Big Shots can make you laugh, it can also make you cry buckets.
When 11-year-old Marky appeared on the show, his whole family of headspinners came along with him to cheer him on. Their appearance also produced one of the most tear-jerking and entertaining segments yet, as the kids turned emotional, swore to use their skill to help their family and invaded the Little Big Shots stage.
Hula hoop dancer Jane, at 13, already helps her parents send her siblings to school with the prize money she brings home from joining competitions. Her mother Glen, tearing up, called her a "gift from God."
4.) It highlights the positive effects of having skills and hobbies on one's personality.
While many kids featured on the show are confident and armed with wit and charm, some of them have also had to deal with personal issues.
Kat, an archer, has gained more friends with hearing disabilities, shared her mother Charice. "Stronger na siya ngayon, mas balance, kasi medyo madali siyang madapa dati. So ngayon mas confident siya, mas stable."
Caroline, mom of another archer Basti, also said the sport has made her son calm down and more focused.
Vincent, an 11-year-old wushu artist, revealed he got into wushu after experiencing bullying and has since then developed his self-confidence.
Want to expose your kids to different skills they might probably be interested in and master? Just watch Little Big Shots, Saturday and Sunday nights on ABS-CBN.