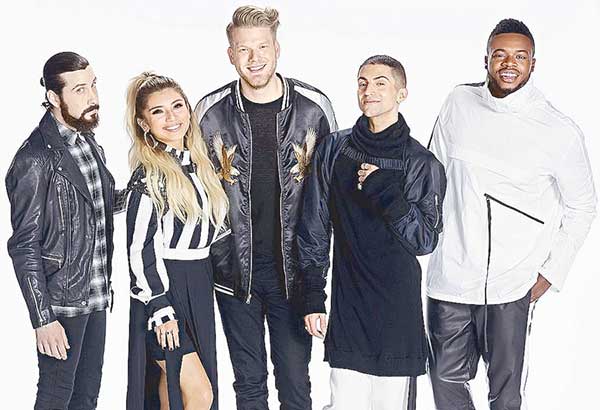 Pentatonix is made up of Scott Hoying, baritone; Kirstin Maldonado, alto; Mitch Grassi, tenor; Avi Kaplan, bass; and Kevin Olusola, the percussion and beat boxer.
Pentatonix takes on the pop classics
Pentatonix continues to create beautiful sounds and its latest release is certainly one of its best. The group also known as PTX was the big winner at the 2011 Sing Out!, a reality competition for a cappella singers on television. That is right. Pentatonix sings in a cappella. No musical instruments around for these guys and they must be the most successful a cappella group ever in the field of popular music.
PTX has sort of come up with a formula for its recordings. The members usually mix hits by other artists with their new compositions. This has resulted in four successful albums including the career-making That's Christmas To Me. This is the one that includes their moving rendition of one of the most meaningful songs composed for the Blessed Virgin Mary, Mary Did You Know and the Grammy-winning arrangement of Dance Of The Sugar Plum Fairy from Tchaikovsky's Christmas ballet, The Nutcracker.
The group though took a different turn for the EP, PTX, Vol. IV — Classics. This time around, it picked out seven classics from the areas of pop, rock and country and gave them a cappella arrangements. These are Bohemian Rhapsody by Queen; Imagine by John Lennon; Boogie Woogie Bugle Boy by The Andrews Sisters; Over The Rainbow by Judy Garland from The Wizard of Oz; Take On Me by A-ha; Can't Help Falling In Love by Elvis Presley; and Jolene by Dolly Parton and featuring Dolly herself.
A lot of work surely went into the production of the album. The very fact that the voices of Pentatonix were able to approximate the original arrangements of these famous songs is no mean feat. For the gifted and the hardworking, there is nothing that the human voice cannot do. No wonder PTX and the legendary Dolly were honored with a Grammy Award for Best Country Duo/Group Performance for their haunting and I must say heavenly version of Jolene. It was Dolly's third Grammy for the song that she released early in the '70s.
I expect another Grammy nomination for Pentatonix this year for its fantastic take on Bohemian Rhapsody. Covering the song created by the flamboyant Freddie Mercury of the amazing vocal range is a gargantuan task, let alone doing it a cappella. But PTX members were not only able to do their take on that complicated original arrangement very well, their voices here exceed all expectations. Note their solos, all sweet and note perfect and those breathtaking harmonies. I have a feeling that the great Freddie himself is thinking, why did I not do that one in a cappella.
My personal favorite in the line-up though is Can't Help Falling In Love. I listen to it and I think of how the song was based by Hugo Peretti, Luigi Creatore and George David Weiss on Plaisir d'Amour, a song by the 18th century composer Jean Paul Egide Martini. It was used in the Presley movie Blue Hawaii in 1961 and is now acknowledged as his biggest-selling song. That means nearly three centuries of existence for the song and Pentatonix has made it even more beautiful.
But pay no mind to these preferences PTX Classics is an album you will enjoy listening to many times over. My only complaint is that there are only seven cuts. That is too short. I hope a second volume is in the works. Just think of all those great songs that Pentatonix can make exciting again.
Pentatonix is made up of Scott Hoying, baritone; Mitch Grassi, tenor; Kirstin Maldonado, alto; Avi Kaplan, bass; and Kevin Olusola, the percussion and beat boxer. They all sing lead and backing vocals.
Speaking of Bohemian Rhapsody. This is also the title of an upcoming movie about the band Queen and lead singer Freddie Mercury. It is directed by Bryan Singer of X-Men fame and restages actual live performances by Queen.
Playing the lead roles are the part-Egyptian star of the TV series, Mr. Robot, Rami Malek as Mercury; Ben Hardy as drummer Roger Taylor; Guilym Lee as guitarist Brian May; and Joseph Mazzello as bassist John Deacon. I do not think they do the actual singing and playing in the movie. That would be impossible. But they are such gifted actors that you can almost believe that they are.
Bohemian Rhapsody has a Christmas, 2017 release. Watch out for it.